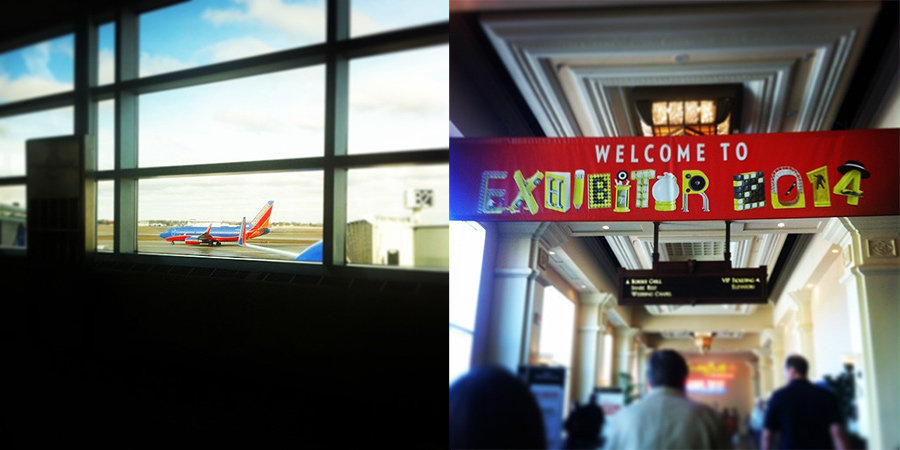 When I told friends I would be going to Vegas to attend a "trade show for the trade show industry," the meta nature of the whole thing got a laugh or two. To someone outside the industry, the idea seemed crazy, but for me it was exciting. After all, if anyone can throw an awesome trade show, it's the trade show industry.
This was my first year traveling to EXHIBITOR with my team, many of whom had been several times before. After the dust settled from the whole experience, I wanted to share a few things I loved about attending as a newbie.
the fearless use of technology and social media
Though I've only been involved in this industry for a short time, it feels like I joined at a pivotal moment when trade shows were evolving beyond face-to-face. Just two years ago it seemed like the word "hybrid" could cause panic, and conjure up images of headlines reading "TRADE SHOWS ARE DEAD" but now trade shows are naturally morphing into hybrid events and I love it.
Hybrid aspects aren't killing trade shows, they're fueling them. Walking the floor at EXHIBITOR2014 I saw booths embracing hashtags and encouraging people to share their content and more online. I saw tweets from sessions and social sharing that aimed to extend the face-to-face experience to those unable to attend in person. It's a trend that's growing into a standard, and as someone who experiences many shows via social media I'm grateful for that.
the awe inspiring design
When you hold a trade show for the trade show industry, exhibitors do it right. There was no lack of creativity on the show floor. The smaller booths were as beautiful and impressive as the large. Every inch of the floor was filled with organic and angular fabric shapes, bright colors and unique concepts. Competitors or not, it was impossible not to show respect for the amazing work done by all.
putting faces to emails & tweets
Here at Nimlok, I head up our social media, public relations and photography programs, which means I spend a large amount of my day-to-day communicating and building relationships through the computer. I was very excited at the opportunity to meet some of the people I regularly e-converse with in person. I met our exhibit photographers, a few of my press contacts and even had a quick face-to-face chat with a few #ExpoChat members!
getting the exhibitor and attendee perspective
I spend a lot of time reading about what exhibitors and attendees want, how the whole process works and how shows are organized but not a whole lot of time really actively being a part of them. This was an amazing opportunity to get a feel for both sides. I spent part of my time helping out in our booths (you may have seen me running around with the camera) and part of the time walking the floor as an attendee.
future potential
As a first-timer it was all a bit overwhelming, but I took note after mental note on everything so if/when I return I can be better prepared. Overall the experience was a positive one, but I hope I can attend again with a more cohesive plan to participate in some of the networking and educational events. Additionally I left feeling a huge sense of motivational energy. I was filled with face-to-face marketing ideas, design inspiration and true excitement about where trade shows are headed.
Now as a newbie, I definitely just barely scratched the surface of this show. I'd love to hear from the EXHIBITOR pros! What did you love about this year's show? What did you want to see more of? How did it compare to last year? Let us know in the comments or tweet me @Nimlok because I love a good Twitter chat!