Most marketers utilize some sort of email marketing program, and event marketers are no different. Email allows you to reach a wide audience in a personalized way for a relatively low cost and – yes, there's an 'and' – provides marketers with a wealth of data and engagement knowledge. Leveraging the power of event email marketing is the perfect way to nurture your clients and prospects through a more sophisticated life cycle.
The infographic in this post covers effective event email marketing best practices on a high-level. We expanded upon the infographic with additional thoughts and insight.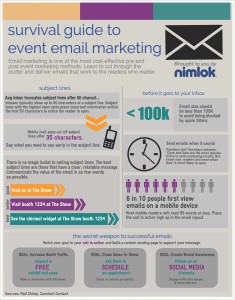 creating killer subject lines
There is no magic bullet for the perfect subject line. Instead, focus on crafting subject lines between 30 and 50 characters that specifically relate to a call to action and – if possible – a reader benefit.
"Visit us at The Show"
Why it's good: The call to action – "Visit" is direct and clear. The reader will know exactly what the content of the email will aim to do.
Make it Better: Try to include more relevant information, such as specific location at the event or a reader-oriented benefit to visit.
"Visit booth 1234 at The Show"
Why it's good: While still being clear and concise with the call to action, this subject line tells the reader where, exactly, to find "us" at The Show.
Make it Better: Spell out the benefit to the reader! What's in it for them if they open?
"See the shiniest widget at The Show booth 1234"
Why it's good: This version of the subject line is very reader-benefit oriented, but still packs a ton of information in 46 little characters. Plus, the benefit – or the hook to entice an open – is within the first 35 characters of the subject line, which is ideal for mobile reading.
Make it Better: Consider adding an element of timeliness to the subject line, such as "See the shiniest widget tomorrow at The Show booth 1234."
Pro Tip: Check out www.subjectline.com. Their free tool lets you test the deliverability and marketability of a subject line.
designing emails that work
With every email, we're actually hoping that a reader converts twice: once with the click and once with the purchase, conversion or lead capture form. This could, honestly, be a separate post on its own, but the skinny version of how to create emails that work are twofold: (1) Spell out the call to action as soon as possible and (2) make converting easy with a built-to-match-the-email landing page.
For example, if your event marketing goal is to increase traffic to your space at the event or trade show, place your "visit us" enticement high and early in the email (such as a "save 5% with this coupon" or "get a free exhibit hall pass" button). Having the call to action high in the email means that the reader will not need to scroll or read through the email before figuring out where to go.
Next up: creating a landing page with the same call to action as the email. If you claim in your email, "save 5% with this coupon," the link should take a reader to a landing page where they could print out or request a coupon. If you send them to your homepage or a general "promotions" page, you run the risk of making the reader work too hard. The average web user expects to find what they're looking for in less than five seconds. If you make them work too hard, the chances are high that they will give up and leave.
Pro tip: Use A/B testing before an event email marketing campaign to determine which email layout and/or landing page layout converts the best.
Do you have any email marketing tips and tools that you use and would like to share? Leave us a comment below!