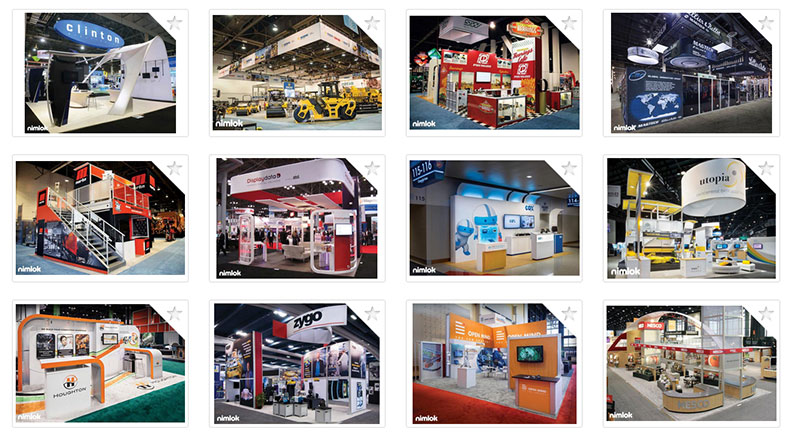 If you've been preparing for a trade show by researching what kind of exhibit options are available for your space and budget, I bet you've run across an industry term or two that's left you scratching your head. If this sounds familiar, have no fear! In this week's Exhibiting101 post we go back to basics again and break down some of the most popular types of exhibits, spaces and products to help you make your decision.
Let's start with the kind of space you'll need to fill with your booth…
sizes, shapes & spaces
We're mainly going to touch on the most common booth sizes and shapes in the US, as standards do differ in other countries.
sizes
The sizes are pretty straightforward. Standard sizes on a trade show floor include 10'x10', 10'x20' and 20'x20'. While these are standard you'll also run into floor layouts with larger or more oblong sizes like 40×40, 10×30, 20×40 and more. The availability of each size will depend on the conference space and how the show has decided to organize it.
shapes/floor positions
We'll go over some of the classic types of exhibit spaces below, but do keep in mind that as trade shows continue to evolve and innovate, organizers may decide to experiment with new floor layouts to include spaces that don't fit into the categories below.
inline
Inline exhibits, also known as Linear, are an exhibit space surrounded on at least one side or back by another exhibit.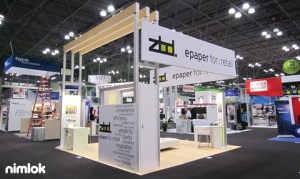 island
Typically a 20'x20' booth or larger, an Island exhibit is exactly what it sounds like; an exhibit exposed on all sides to the trade show aisles.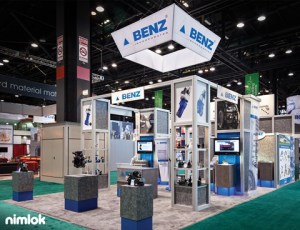 peninsula
Once again, this shape is what it sounds like. A Peninsula exhibit will be exposed to the aisles on 3 out of 4 sides.
exhibit types
Below we'll go through some of the most common types of exhibits you're likely to run into as you research your options.
portable exhibits
The portable category of exhibits is made to be more affordable, easier to set up for small teams and of course, portable! Typically they're made out of lightweight materials that pack down small and require few tools or none at all to assemble.
Portable exhibits come in a variety of standard sizes including tabletop, 10ft and 20ft. Additionally portable exhibits cover a range of accessories including counters and add-ons like monitor mounts and shelving. Because portable exhibits can vary greatly we'll take a moment to touch on some of the more popular examples…
banner stands
Banner stands are as basic as you can get for trade show displays. Often they are added into booths as an accessory, or used for a variety of other marketing needs in lobbies, sponsored events and more. These portables feature retractable graphics usual available in vinyl or dye-sub graphic options. Banner stands pack up small into soft or molded carry bags that are easy to travel with.
pop-up displays
While you may think "pop-up" is just a fun way to describe these exhibits, it's actually pretty dead on. Pop-up displays do indeed literally pop up. Constructed using a collapsible lightweight aluminum frame with plastic locking arms, pop-up exhibits are highly portable and assemble in minutes.
Graphics for pop-up displays vary depending on the type of pop-up ranging from tension fabric to more rigid (but still flexible) graphic panels which can come pre-attached or can be attached separately via Velcro or hook and lock systems.
Some pop-up exhibits even come with backlit options, including lights within that when defused by the graphic give a glowing effect to the display. Additional options include straight or curved frames and optional "end-cap" graphics, which cover the sides.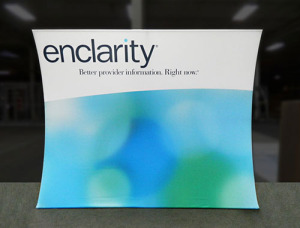 tension fabric portables
A fairly new, but quickly growing addition to the portable family of exhibits, tension fabric exhibits bring the trend of fabric to the masses. In the past fabric structure work would be more prevalent in a custom environment, but today there are a number of portable options available. Tension fabric displays are constructed from lightweight, aluminum extrusion frames and feature stretch fabric graphics that attach in a variety of ways:
Pillowcase graphics: Attach snuggly by zipping over the frame
SEG fabric graphics: Feature a silicon edge that fits into the seam of the metal extrusion.
Velcro: Most common on tension fabric pop-up displays. Graphics attach via strong Velcro strips on the edges.
Fabric pocket: Fabric stretches and attaches to corners using a small, triangular fabric pocket.
Tension fabric is also often featured on other types of displays like kiosks, tablet stands and hanging signs.
portable panel displays
Panel displays come in a variety of sizes including tabletop, 10×10, 10×20 and larger depending on the build. Panel displays feature fabric or graphic panels within metal extrusion frames that connect using a locking system. Once again graphics range from soft, tension fabric, to flexible panels and rigid panels.
kiosks & tablet stands
Kiosks are stand-alone displays that often feature television monitors, tablet attachments, basic signage and more. For example, a kiosk may be present in a hotel lobby for digital check-in, in a business showroom featuring looping video, or on a trade show floor displaying collateral.
Tablet stands have also become another stable of trade shows as booths become more interactive. These stands can be simple, metal structures that hold the tablet, or more elaborate fabric or kiosk style displays.
modular kits
Here we take one step up from basic portables to exhibits that stick to the portable principles of easy, quick assembly, but can feature more intricate, and versatile designs. Modular kits are usually available in the standard 10×10, 20×20 and 20×20 booth sizes. These booths feature aluminum extrusion pieces that fit together simply with the use of an allen wrench. However unlike portables, modular kits usually require multiple people for setup.
Oftentimes, modular kits also come standard with counters, shelving, lights or monitor brackets as part of the kit, which easily slide into place on the extrusion. As far as graphics, depending on the kit they may range from tension fabric to rigid accent pieces. Below are a few examples of modular style kits.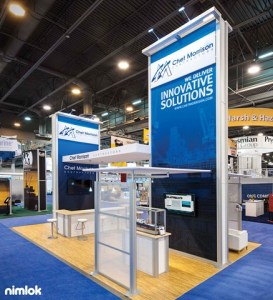 custom modular exhibits
One more level up we have custom modular exhibits. While they feature some of the same base elements of modular kits (i.e. aluminum extrusions, fabric and rigid graphics, accessories etc.), these exhibits are not out-of-the-box kits. Instead, the same pieces are used to design and build an exhibit to specifically fit the needs of the client. For example, a client can add extra storage, custom technology accents, fabric structures, custom counters and more. Further their booth can be created for any size and even be designed for reconfiguration show-to-show.
Designs can range from the simplistic to the more complex. Many clients will choose custom modular booths because they combine the straightforward setup and versatile design of a modular kit with the eye-catching look of a custom designed booth. Depending on the size and intricacy of the design, these booths may require professional setup.
custom exhibits
With custom exhibits the sky is really the limit. Fabricated from a variety of materials including metals, fabrics, wood and more, these exhibits are designed and built to meet the particular needs of each individual client. Unlike custom modular displays, fully custom exhibits are built using special made parts. These exhibits usually require an on-site crew for setup, and feature materials that require shipping in larger crates or cases.
Hopefully this quick breakdown will help you in your search for the next perfect display. Are their more exhibit types you'd like defined? Share them in the comments and we'll add them to the post!