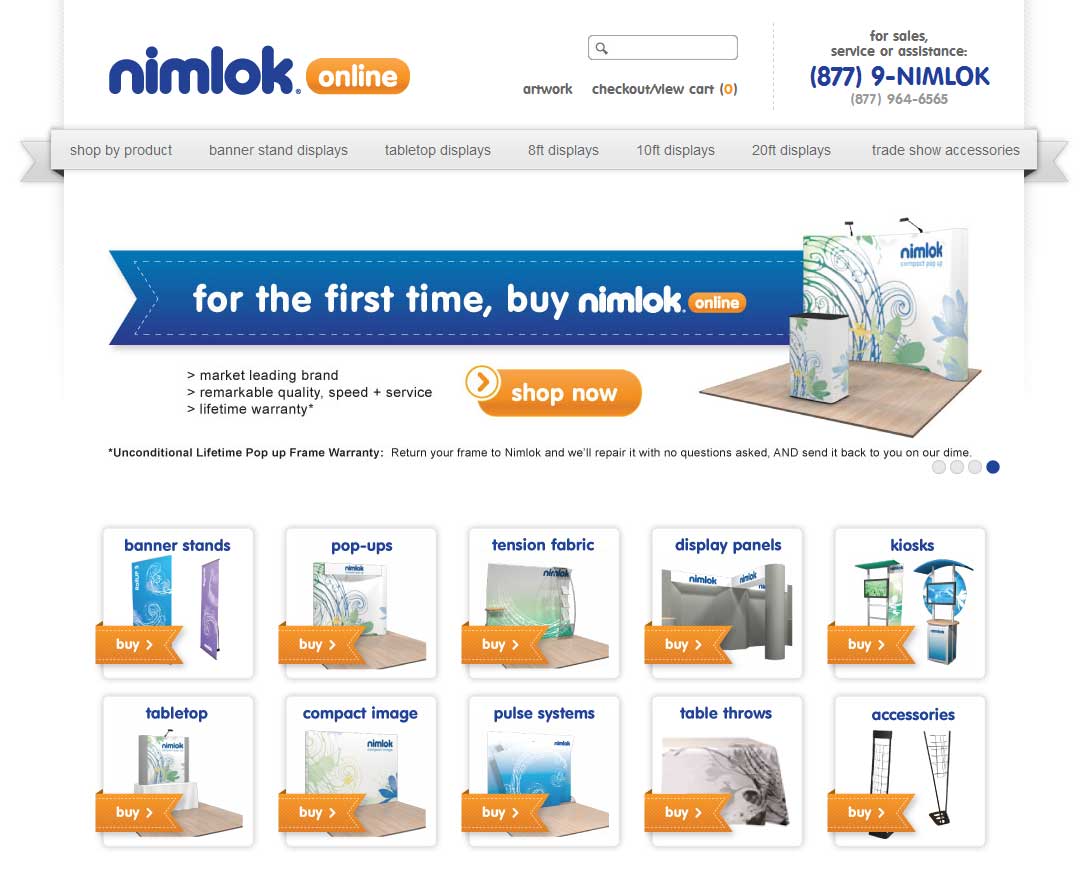 We're proud to introduce Nimlok's new e-commerce website, Nimlok Online. In response to the ever-evolving needs of our customers and the undeniable rise in online buyer confidence in the portable trade show products industry, for the first time ever, customers will have the ability to purchase quality Nimlok portable trade show display products online at www.nimloktradeshowdisplays.com.
In honor of our exciting new step into e-commerce, we've decided to spotlight 9 great reasons to buy portable displays online:
1. Fast and Convenient:
There's a reason why two thirds of shoppers begin their search online – it's quick and convenient! Nimlok's renowned face-to-face service is now strengthened with an easy to use e-commerce platform. Within just a few clicks, your small portable trade show exhibit is on its way.
2. Fast Turnaround Time:
A fast and convenient ordering process ensures that you will receive your display quicker than ever.
3. Take Your Time:
The process is fast, but it doesn't mean you have to be. A trade show display is an investment piece for your brand and it requires time and consideration. No pressure to make a quick decision means reducing the risk that you'll make the wrong one. Plus, Nimlok Online provides simple, step-by-step instructions to guide you through the process no matter what your needs are.
4. Comparison Shopping:
Portable trade show exhibits come in all shapes, sizes, styles and pricing. If you're not sure exactly what you're looking for or are a first time buyer, take your time to find the best solution. You can easily compare products and find the portable display that's right for you.
5. Accessibility:
Let's face it, work doesn't always end at 5pm or on Fridays! As long as you have an internet connection, all hours are business hours. Now you have direct access to purchase select quality premium brand Nimlok trade show solutions online with a click of a button, to meet any and all your needs 24 hours a day.
6. Guaranteed Quality:
With over 40 years of experience in the trade show display industry, Nimlok Online only offers Nimlok products which means, with every purchase you can expect the same state-of-the-art design and quality our customers know and love. This includes Nimlok's guaranteed no-questions-asked lifetime warranty on a multitude of products.
7. Secure and Trustworthy:
Over 50% of internet users are reluctant to shop online due to security concerns. Just like quality, purchasing security isn't always a guarantee on other trade show display e-commerce sites. With Nimlok Online, and in collaboration with Nimlok's nationwide distributor network, you can trust that you're ordering with a secure and trustworthy company.
8. Graphic Services & Design:
There's no guess work when it comes to dealing with graphics and design on Nimlok Online. A skilled graphic design team plus quality graphic production and world-class graphic finishing and tailoring will set your trade show display apart from the rest.
9. Exceptional Customer Service:
Not all customer service is created equal, and this is especially true with trade show display websites. Nimlok online provides customer service for all questions and concerns regarding our products and your orders. With a dedicated toll free customer service phone number (1-877-9-NIMLOK), you can expect quality customer service from start to finish.
So whether you're looking for a simple banner stand or a portable 10×10 display with high quality graphics, purchasing premium Nimlok portable trade show exhibits has never been easier. Be sure to check out Nimlok Online and let us know what you think! Of course, if you're looking for a custom or custom modular trade show exhibit, our network of over 80 trusted distributors are here to help and ready to bring your next creative exhibit ideas to life. Find your local distributor now.