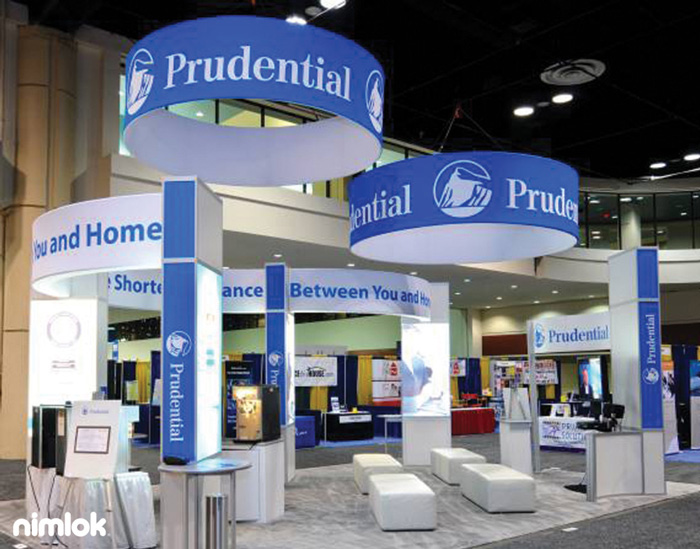 In the trade show marketing world appearance and substance are married together, and it is unlikely that the two lovebirds will be getting divorced any time soon. A brand must utilize their trade show booth to enhance their industry profile, while letting the public know who they are and what their company has to offer consumers. Conveying these messages seems like a simple proposition, however, many exhibitors find it difficult to condense everything their brand is trying to communicate into a 10′ x  10′, 10′ x 20′, 20′ x 20′ or larger exhibit space. This post will help educate exhibitors on the finer points of using their trade show booth as a mouthpiece for their brand.
A Trade Show Booth Should Reflect a Brand's Personality
Educating the public on a brand is one of the primary reasons for exhibiting at a trade show, therefore an attendee should never leave an exhibit space without getting a thorough understanding of the brand they just visited. What's more, educating attendees does not begin and end with selling products and services from a trade show booth. Exhibitors need to be able to sell their brand's story just as much as their offerings.
A trade show booth can help facilitate the storytelling aspect of exhibiting. The design of a trade show booth can reflect the history and the motivations of a brand visually, without a booth staffer ever having to say a word. Before planning for a trade show booth, exhibitors should make sure that their graphics communicate the core elements of their brand's mission statement. Thoughtful reflection on the company culture, vision and commitment to their community and customer are all essential in letting the public know who they are and what they stand for. Smartly-planned exhibit graphics can help drive home this messaging to attendees.
The use of visual media is also an incredible narrative tool that every exhibitor should keep in mind. In the modern era videos have become effortlessly accessible, making them the number one source people turn to learn more about a brand, story or individual. Including monitors in an exhibit that play video of production floors, employees speaking about what their company or product means to them or testimonials all make the attendee's experience with a brand more personal.
Booth staffers can also be helpful communicators. A well-trained booth staff educated on the history and core commitments of a brand can become your in-booth evangelist. Some of the most convincing selling doesn't come from a slick sales script spouted off by someone paid to hawk products, but rather from a true believer, someone who intensely believes in the cause of their company.
A Trade Show Booth Should Offer Attendee's Solutions
Companies exist for a reason, and yes that reason is to turn a profit. Cynicism aside, companies also exist to address a question or concern shared by consumers. Trade shows and face-to-face marketing events offer exhibitors a space to broadcast to the world how they have creatively conceived of a solution to these consumer questions, issues or concerns. Attendees are at a trade show exhibition to have their questions answered, so if a brand's trade show booth lacks the ability to offer satisfactory answers they will lose out to competitors who can.
Offering solutions can be difficult on the trade show floor. What can make it even more difficult is if an exhibitor doesn't ask and answer their own questions prior to designing their exhibit. An exhibitor should start by asking themselves this: "What do our consumers want, do we currently offer that, and if not how can we still be of service?". The answer to these questions can be found by crafting a buyer persona which is a mockup of an ideal consumer that touches on pain-points and attempts to address them.
Product demonstrations offer exhibitors the power of both showing their prospects their products while also opening up the opportunity to answer any questions they may have. When planning for a trade show booth, considering whether or not a space for product demonstration is needed is crucial.
Marketing brochures serve a similar purpose to product demonstrations in that they offer a closer look at a brand's offerings, while addressing question the prospect may have. Planning for space within a booth for literature racks and plenty of in-booth storage can help turn an exhibit into a library of information on a brand's offerings.
A Trade Show Booth Should Convey A Brand's Unique Selling Proposition
Trade shows are essentially a face-to-face marketing battle royal, with scores of brand's vying for the attention of attendees. In this winner-take-all battlefield, the ability to stand out and capture the interest of attendees is arguably the most import trade show objective.
Identifying a Unique Selling Proposition can help brands craft messaging that not only helps them sell more of their products, but also carve out a unique space amongst their competitors. Essentially, a unique selling proposition is a pinpointed advantage a brand has in their industry, i.e. M&M's famous "Melts in your mouth, not in your hand." tagline which illustrates one of the candies main attributes.
To create a unique selling proposition the following questions must be answered:
• Who are you?
• What is it that you do?
• How do you do it better than your competition?
Once these questions are answered, it's up to a brand to strategically plan for how they can best illustrate their unique selling proposition to trade show attendees via their trade show booth. A brand can adorn a hanging-sign with graphics featuring a tagline that calls out an unique advantage they have over their competition, helping broadcast and communicate their messaging.
The theme of a trade show booth can also relate to a unique selling proposition. If a brand prides itself on fast service they can incorporate imagery and structural components that reflect speed. A brand that has durability at the heart of their unique selling proposition can commission a booth with exposed extrusions and truss to give the space a more blue-collar and hardy look.