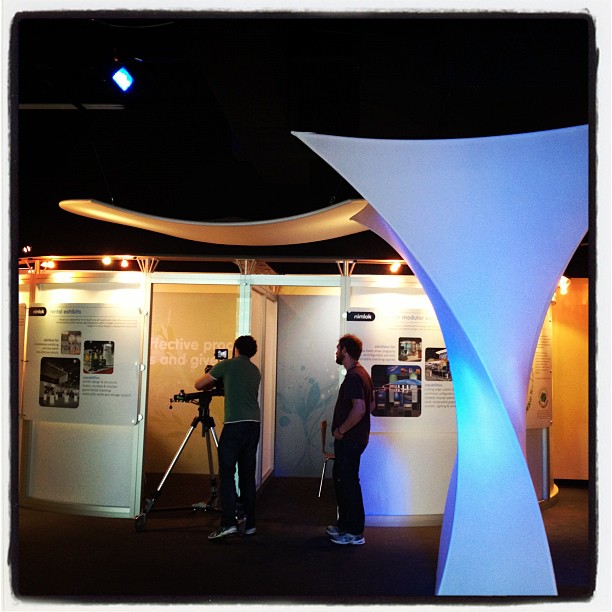 Nimlok was recently featured on a segment of Manufacturing Marvels on the Fox Business Network as part of their coverage of the trade show manufacturing industry. We were very proud to have been selected to be featured and couldn't wait to share our trade show exhibit manufacturing process, and now we're excited share some fun facts about the process and behind the scenes. So check out the video below, and take a look at our list of fun facts!
Behind The Scenes Fun Facts!
We started everything off with a tour of the Nimlok facility to get the film crew familiar with our space. This is when they got all the establishing shots outside and around the office.
The entire filming took around 7 hours to complete.
The timeline at :14 covers the walls of a hallway in our showroom. It begins with the founding of Nimlok in 1970 and covers every milestone up to 2010!
Around :30 you get a glimpse of one of our conference rooms filled with a collection of all our global leaders. You can see what lines the walls of this room at 1:10.
All the trade show displays you see featured in the video were being constructed for client previews. Chances are many of those exhibits have been on a trade show floor by now.
See those printers? We can do 280 square feet of dye-sublimation printing per hour.
At 1:07 you can see our brand manager, design director and customer service manager gathered around the table for a meeting.
After the segment was completed, Marvel Production Group (MPG) provided us with all the beautiful footage and we can't thank them enough. We'll be using some of the footage in an upcoming corporate video so keep an eye out for that!
We wish we could have met John Criswell, what a voice!