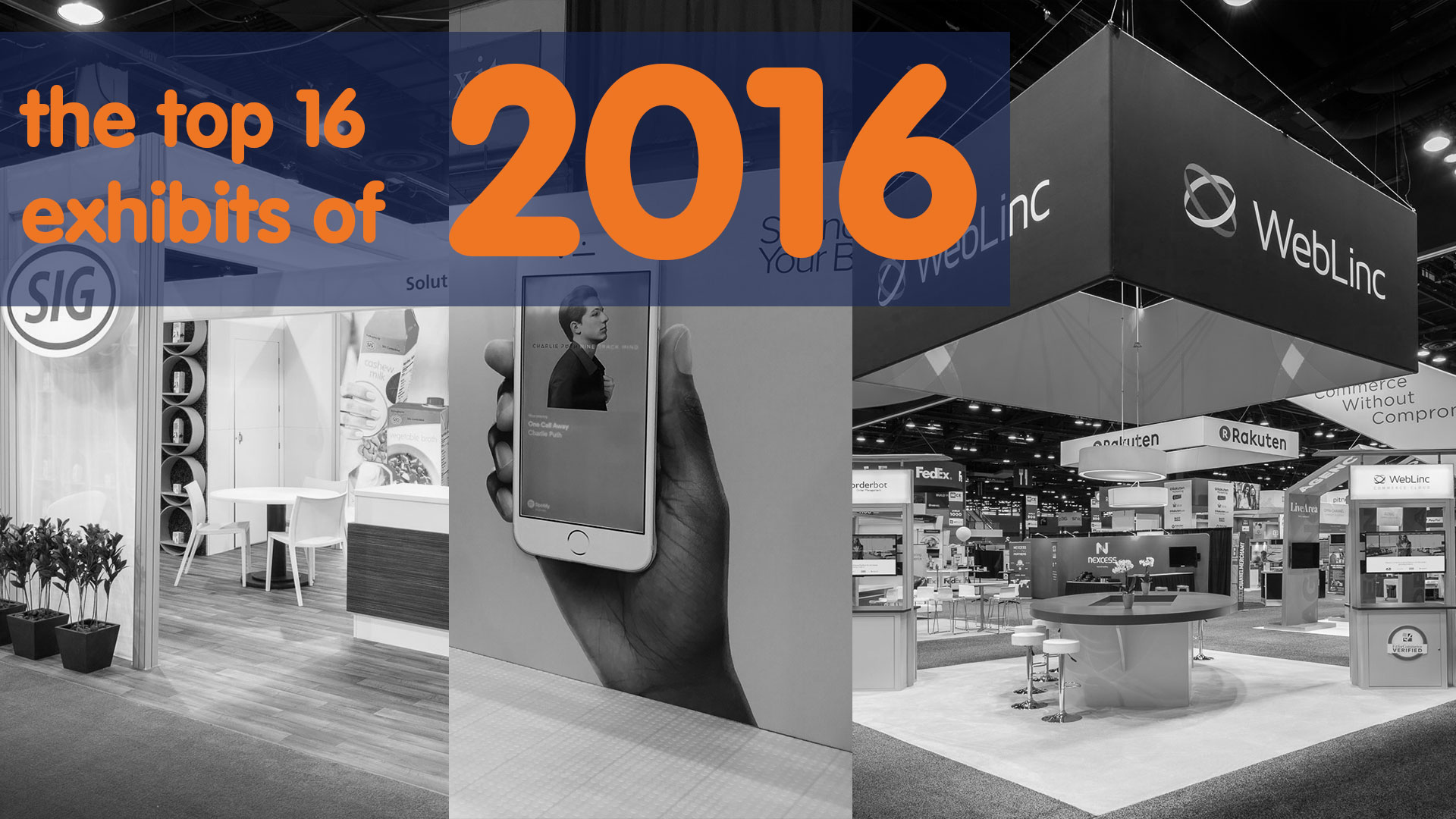 Nimlok has been busy all year building countless unique and attention-grabbing trade show exhibits, far too many to mention in one blog post, so we have narrowed it down to 16 exhibits of the top designs of 2016. Please enjoy our holiday offering and have a safe and memorable holiday season.
Krispy Krunchy Chicken: 20' x 30' brand-inspired exhibit

This large 20' x 30' island exhibit transports attendees from the show floor to the farm with its creative and fun design. Laminate panels, extrusion infills and fabric graphics all combine to create a barn-inspired environment that mirrors the brand's logo and emulates Krispy Krunchy Chicken retail environments.
R3 Distribution: reconfigurable trade show exhibit

Embrace the unique with this attractive and original 50' x 60' island exhibit that can reconfigure to fit into smaller spaces, all the way down to a 10' x 10' exhibit. Exhibit elements such as vibrant fabric graphics, a circular fabric hanging structure and multi-media kiosks make this superstar exhibit one of the top in 2016.
Mitsubishi: 50' x 80' exhibit with consultation spaces

Command attention on the trade show floor with this impressive 50' x 80' island exhibit. The star of this exhibit is the large fabric hanging sign that hovers prominently over the space and serves as a branded beacon, beckoning passersby to come into the confines of the space. Inside, several conference rooms and meeting nooks allow for one-on-one meetings with clients and prospects.
SIG: inline exhibit incorporating varied textures and eco-friendly components

Wow crowds and attract prospects with this stunning 15' x 25' inline exhibit, which incorporates eco-friendly materials that reflect the eco-friendly commitment of the brand. An archway combining aluminum frames with fabric graphics and a branded sign extends from the exhibit's backwall to the aisle and serves as a natural welcoming point. The backwall of the exhibit houses shelving made from SIG's packaging products, which provides booth staff with a perfect way to showcase SIG capabilities.
Winfield: temporary branded environment

Give your visitors the ultimate experience with this 64' x 64' lush green branded environment. The exhibit is composed of a series of wedge-shaped product education kiosks spread throughout the space to create a labyrinth-like environment where visitors are encouraged to learn about the brand and products.
Fuji Seal: 20' x 50' product-focused trade show exhibit

This 20' x 50' island trade show exhibit kept products in focus with creative and stylish product shelving and space to house large machinery, which illustrated Fuji Seal production capabilities. Wood-textured fabric graphic accents, strategic in-booth lighting and semi-private spaces for consultation make this one of the top exhibits of 2016.
IFI Gourmet: reconfigurable 10' x 20' inline exhibit

IFI Gourmet's 10' x 20' exhibit reconfigures into two standalone 10' x 10' displays, allowing the exhibitor to attend multiple shows at the same time without investing in additional exhibit assets. The 10' x 20' arrangement features built-in product shelving and a graphically-rich backwall. The 10' x 10' arrangements scale down the backwall to better fit into a more compact space.
Promega: an exhibit designed around a creative campaign theme idea

Promega's team wanted to apply a creative "candy shop" marketing campaign theme into their trade show program and partnered with Nimlok to build a 20' x 30' island exhibit. The exhibit incorporated brick-textured printed graphics and fabric graphic awning to create a store-front look and feel on the trade show floor.
SevOne: 30' x 30' custom exhibit with vibrant backlit graphics

This remarkable 30' x 30' island exhibit is an example of creative design meeting practical functionality. The open layout of the exhibit houses a roomy multimedia presentation area perfect for showcasing brand capabilities to audiences on the show floor. The presentation area includes fabric structures enhanced by backlighting, making the space bright and high-energy. Multiple product demonstration stations with vibrant backlit graphics placed at strategic points in the exhibit helped attract visitors and allowed booth staffers to educate prospects on the company's offerings.
PharMerica: rigging-free, reconfigurable, fabric-based island exhibit

This stylish 30' x 30' exhibit features two curving fabric structures – supported by kiosks to avoid requiring rigging – that broadcast the brand and enclose the space, all while maintaining an open layout. Inside the exhibit, two free-standing attendee engagement centers serve as the perfect space for educating visitors on brand capabilities. This exhibit also reconfigures to fit into a 20' x 20' space.
Accenture: 10' x 20' inline trade show exhibit

This stylish 10′ x 20′ exhibit features backlit, push-fit fabric graphics, literature racks, built-in monitor mounts and reception counter. Nimlok worked with Accenture to creatively incorporate the brand through an additional fabric structure, layered walls and angular accents.
St. Mary's Press: engaging, product-focused island exhibit

This sweeping 20' x 60' island trade show exhibit balances visual flair with functionality. Large hanging signs set the tone of the exhibit and broadcast the brand across the show floor. Strategically positioned custom-built bookshelves topped with canopies serve as product displays and a large fabric graphic book – with actual turn-able pages- models the brand's product to attendees on the show floor.
DMI Industries: stylish rental trade show exhibit

The four circular fabric structures of this 20' x 50' rental island exhibit create a brand-immersive environment. Fabric-based pillars placed at strategic points in the space adorned with vivid graphics communicate brand capabilities. This exhibit was named Best of 2016 for its dominant appearance that kept within budget.
WebLinc: 20' x 20' trade show exhibit with hanging structure

This 20' x 20' trade show exhibit's most prominent element is its large, square, fabric hanging sign. WebLinc needed an exhibit that kept the floor space open, but prominently promoted the brand. The hanging structure accomplishes this goal, wowing audiences and drawing in foot traffic. Inside the space, a unique "bar" style counter features a center cutout space for booth staffers as they present products to a circle of clients and prospects.
Soundtrack Your Brand: 10' x 20' inline exhibit with creative technology incorporation

This exhibit was named best of 2016 due to its creative incorporation of a TV monitor, which showcased Soundtrack Your Brand's premier software solutions. The inline exhibit used a minimalist design approach to allow visitors to focus on the brand and its products while enabling booth staff to effectively sell on the show floor.
Kurz: 30' x 40' custom trade show exhibit

This 30' x 40' custom trade show exhibit was designed to showcase products on the show floor. Custom wood display cases allowed Kurz to separate products by division, to better communicate scope of offerings. Fabric hanging signs accented with unique accents further communicated brand messaging to trade show attendees while leaving the in-booth space open. The elegant design and unique use of a variety of display products – from portable literature stands to custom-built display cases – earned it a spot in the top 16 exhibits of 2016.
These 16 exhibits barely scratch the surface! Browse Nimlok's entire custom and custom modular exhibits portfolio and view over 1,000 unique exhibit design ideas.