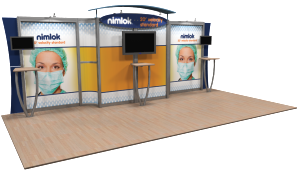 Portability has become one of the driving forces behind the development of new technology. From phones to computers we all want the ability to take our toys with us on the go. In the event marketing and trade show space portability is also a highly sought after feature in exhibit designs. If you are considering portable displays as an option for your brand check out some of the many advantages they have to offer:
The right fit for the right show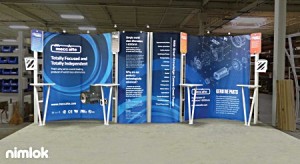 Large custom modular exhibit displays are beautiful impressive feats of design and engineering. That being said, bringing one to a small-scale marketing event or gathering is akin to wearing a tuxedo to a 1 year olds birthday party, sure you look great, but people will quietly whisper to one another "what's that guys deal?" To avoid being ostracized by your peers consider purchasing a more size appropriate portable exhibit design that can be packed up in minutes, assembled at the venue quickly and make your brand standout in a good way.

Portable displays are designed to fit all applications:
EXHIBITIONS
EVENTS
POINTS OF SALE
DISPLAYS
PROMOTIONS
Modular features and interchangeable graphics
Portable displays can be very chameleon like, shifting and changing quickly like costume changes in a Broadway production.They are adaptable to a range of event marketing environments and can be a great way to show off your brand with different looks from event to event. You can purchase a smaller portable design that will evolve to meet your event marketing needs. As your brand grows you can expand on your exhibit by adding on modular pieces to keep up with your growing business. The graphics on your design can also be swapped to give your portable exhibit a new look when you want a change in colors or imagery.
Add-on options to consider:
You don't have to buy one
If your organization exhibits infrequently, renting an exhibit can be an affordable, easy and fast way to broadcast your brand. Renting allows you the opportunity to mix and match modular accessories and portable displays to find the perfect fit for your brand. It also allow you the opportunity to cut cost because rental options are cheaper and you can avoid storage fees and other associated cost that come with owning a display. Also, you may only need to exhibit once and purchasing an exhibit would be more of a hassle than an assets so renting eliminates the headache.
Built to Last
Things fall apart, but they don't have to and that is one of the great features of portable displays, they are made to last. You can use a portable display for years if you make sure that it is taken care of. The fact that a portable display is customizable and durable means that you can save year after year on your exhibition expenses without having the same look event after event.
Interested in portable displays? Want to learn more?
If you would like to learn more about portable display solutions visit Nimlok Online for our online catalog of portable displays and accessories.