Our resident Marketing Supervisor Amy shares some of her favorite moments from EXHIBITOR2013:
Before I begin, a little confession. Last week's EXHIBITOR2013 show was my first trade show experience. To be fair, I've attended a handful of shows as an attendee, but never as an exhibitor. So I thought I would highlight my top 10 moments of the Nimlok booth at the show!
1. Suit Pick-up
This is when it really hit me – the show was happening. Joe's suit looked great!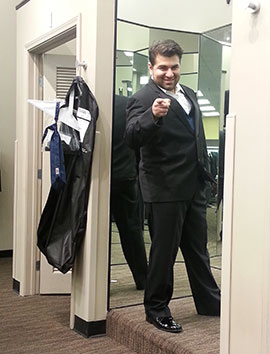 2. Sunday Evening Sound Check
Our volumes were way too high, but we didn't know that until we hit "Play." The Price is Right theme roared from our booth and filled the empty floor – empty except for unsuspecting exhibitors, who were startled by the sudden sound. Quite a first impression!
3. The Booth
Our booth design was just awesome.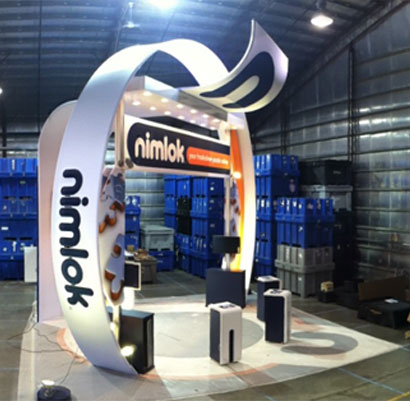 4. The First Contestant
Day #1, contestant #1 happened at 11:33 AM on Monday morning. Thank you, contestant #1, for starting us off!
5. The First $500 Cash Prize Winner
She even did a happy jump for joy when her number was called.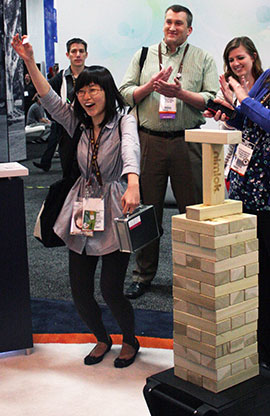 6. Game Show Tunes
After listening to game show tunes the entire day, I kept humming the theme for Wheel of Fortune. It never got old.
7. The Giant JENGA Battle
These two competitive friends were determined to outdo each other.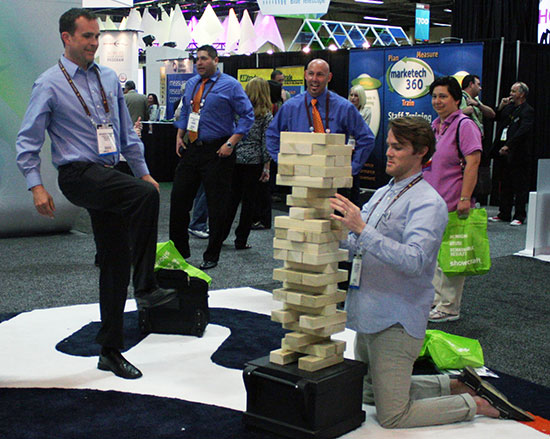 8. Our Happiest Winner
This winner had the best celebratory dance after winning a cash prize.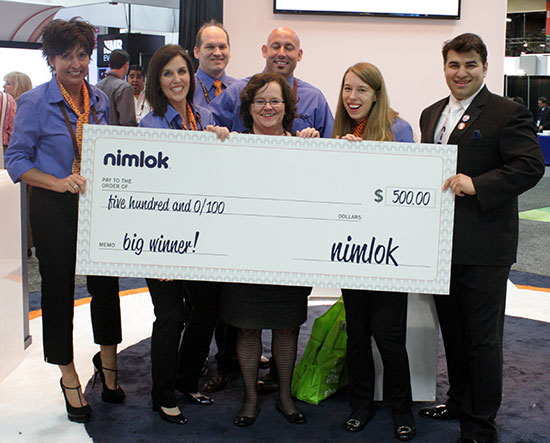 9. Unconscious Dancing
I noticed staff from each of our surrounding booths unconsciously dancing to our game show tunes. We'd played the infectious tunes non-stop for three days, so it was only a matter of time.
10. The Most Suspenseful Drawing Ever
We held a drawing at the end of each day for $100, $250 and $500. Contestants must have been present to win. The last drawing on the last day was for $500. We called five numbers before this team won. The suspense was intense!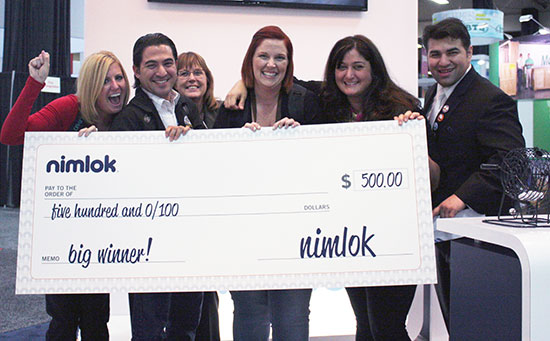 Overall, great show. I can't wait for next year!
If you have your own favorite moments from EXHIBITOR2013 (perhaps winning $500 at the Nimlok booth?) share them with us in the comments!