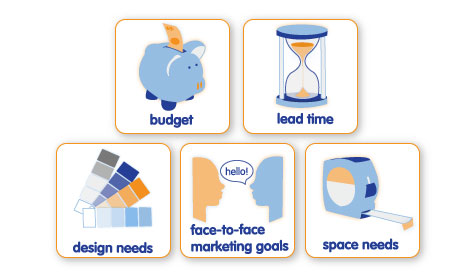 It's time once again for another trade show 101 lesson in which we go in-depth to help you out with the basics. Today's topic is the most important, choosing the perfect trade show display. With the growing amount of choices out there it can be a bit overwhelming, but have no fear we're here to help break down the process to a few simple tips for a smoother experience.
What do you need?
Decide what your company's needs are, then design to fit those needs. Establish goals and determine how you will use your trade show booth to meet them. Goals may include enhancing your standing with current clients, establishing yourself as a thought leader, or to attract and land new customers. These needs will impact the type of display you choose and how you present yourself as a company.
What do you want to say?
What kind of image and message is your company is trying to represent? You may be hoping to be cutting edge or going for a more traditional look. Whatever you decide, it should mesh with the overall brand of your company. This decision will have a large impact on the structural and visual design of your trade show exhibit.
What can you afford?
Always be aware of your budget, and how you will need to tailor your display based on those budgetary constraints. If the purchase of a new trade show display isn't in your budget, you may have to work with what you already have. Focus on getting the most from your money by adjusting your display as needed.
What if the sky is the limit?
Perhaps you have a bit more leeway with your trade show budget, and are thinking about a custom display. This can be an effective and even economical way to go, as your designers will work with you to come up with the right display out of the gate. In the long run this is more efficient than the trial-and-error that can occur when designing a display yourself.
When selecting a company to work with to design a custom-built trade show display, go with a well-established company in the industry. Look for evidence of close attention to individual needs and high-impact displays that deliver clear ROI. After all, there's no point in going custom if you wind up with a cookie cutter exhibit. Your custom trade show display designers should work hard to understand your specific needs and goals, and provide an estimate that fits your budget. Ultimately, any company you work with should exceed your expectations, which is sure to be the case if you conduct proper research into your trade show exhibit wants and needs.