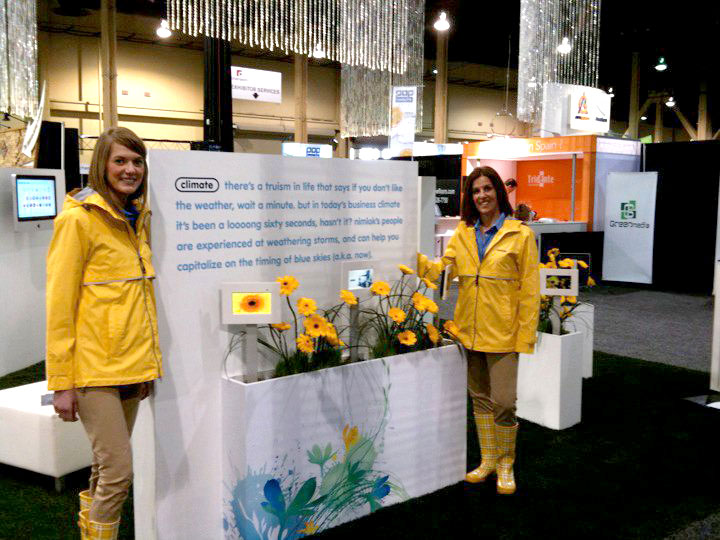 Trade show staffing can present obstacles for even the most seasoned of companies, as the top star within the confines of your company's offices may not necessarily be the best choice for a trade show exhibit. Some people are simply better at building relationships over time, rather than being able to draw others in within seconds of a meeting. Here are five factors that will set your company's next trade show exhibition up for success:
Bring Your "A" Game
You have only seconds to engage attendees, so this is not a situation for those with a more cautious approach. For the trade show scenario, you need an animated and approachable staff that won't scare people off with a hard sell. You should be aware of who your best talent is for this situation, or know who to talk to in order to get the needed information.
Training Is Always Important when trade show staffing
Even if this is the latest in a long series of trade shows that your staff has attended, the pre-show training session should still be mandatory. The session will ensure that the goals of the company are top of mind and present a united front. If new employees see that long-standing employees are not fully engaged, they too are likely to be less committed than they should be.
Never Stop Learning
Every meeting offers the chance to reinforce basic show principles, such as not blocking the flow of traffic into and out of the booth space, and reminding staffers that they shouldn't congregate amongst themselves.
Always Have A Backup Plan
Though you may have everything planned precisely, something can still go wrong. A missed plane or bad weather can cause key staffers to be unable to make it to the trade show venue. A back up plan will keep you and your staff prepared.
Reward A Job Well Done
We all need a bit of positive reinforcement now and then, and a little goes a long way. Not only will it encourage your best and brightest employees to participate in the show, it'll also remind them you appreciate their good work.