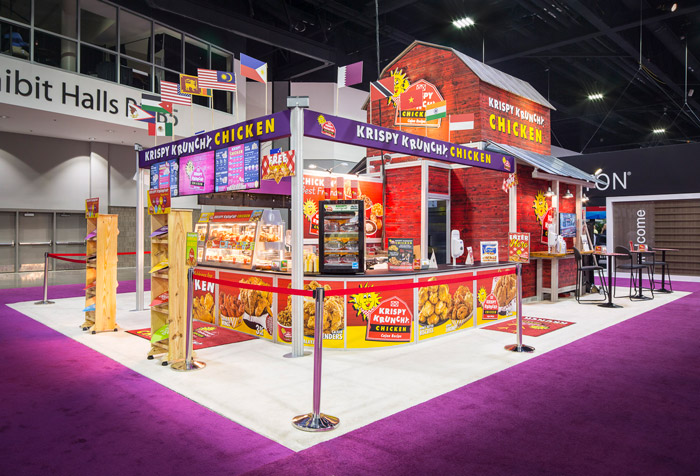 A powerful trade show exhibit is similar to a well-designed home. Both structures rely on basic architectural design elements and principles such as functional space, lighting and color. These elements–when blended with care–achieve incredible results and create a sense of awe and splendor in onlookers.  If you are planning to commission a new exhibit it is crucial that your trade show asset attracts traffic, and one of the best ways to generate traffic is through  smart booth design. Read below to find out how to create a booth that inspires a sense of home and comfort in your attendees.
Space
When building a home, zoning and land constrictions have to be overcome with creative use of space. As any seasoned exhibitor can attest to, exhibiting space is both expensive and at a premium at a trade show necessitating the same creative use of space to maximum impact. When planning for your next trade show exhibit consider the following space related design concerns:
Make sure your trade show exhibit has enough space for booth staffers and attendees
If you want to display products make sure you can fit them into your booth space comfortably
Consider private conference rooms for your exhibit if you want a more intimate space for meeting
Open layouts can often be more inviting for attendees and prospects
Small spaces can be be made to feel larger with archways or overhead hanging structures

Lighting
A smartly-lit home can accentuate design features and minimize trouble-areas. The same can be said for a trade show exhibit that utilizes lighting in creative and unique ways.  There is a derverse array of lighting options that can help make your exhibit stand out on the trade show floor.
Backlit laminate paneling can be effective in highlighting branded messaging while simultaneously illuminating the exhibit space
Overhead lighting hanging or affixed to an exhibit can be used to brighten key areas
Accent lighting can help bring out the details and textures of an exhibit
All displayed products should be in well-lit areas of a trade show exhibit
You want lighting bright enough to draw attention without blinding attendees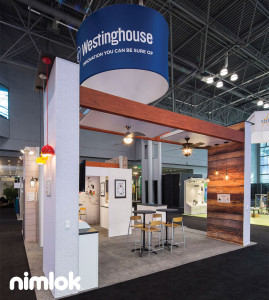 Color
Homes painted with vibrant colors attract attention and give off an air of confidence and personality. Vivid graphics and colors can also add this effect to a trade show design. Attracting prospects is vital to creating a strong return on investment, so it is important to create a high-level of visual appeal within a trade show exhibit.
Bright colors are best used to make certain spaces in the booth pop
Yellow is great for branded messages, studies have shown that people read yellow more than any other color
Make sure your color choices convey the emotions you want to create in your visitors
When in doubt, keep your color scheme close to your organizations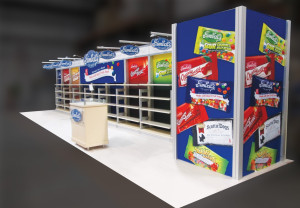 Remember, the most important aspect of booth design is an exhibit's ability to convey a brand's story. If you follow all of the tips in this post, but your booth fails to tell the right narrative or fails to represent the spirit of your brand then you will have given the public a feast for their eyes, but you will neglect to show them the soul of your brand