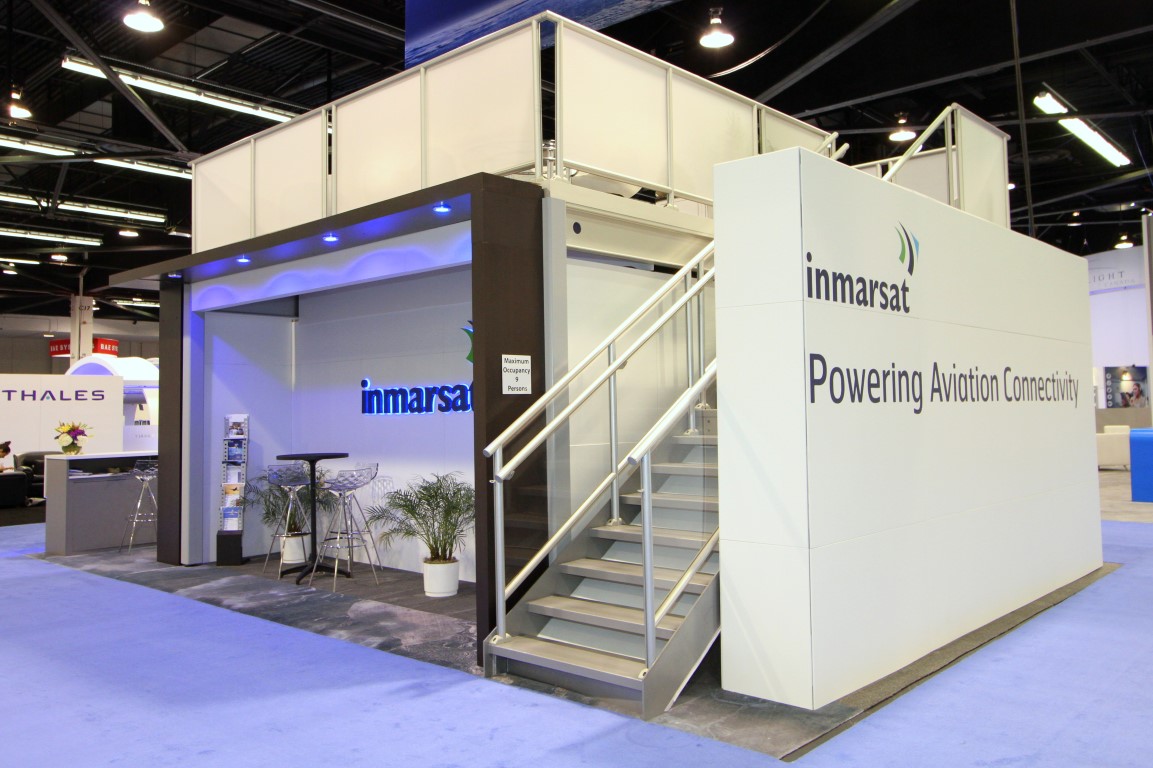 Think back to the great meals you've had. Let your mind resurrect the tastes, textures, smells and sights that engulfed your senses. What was it about those meals that made them truly great? It's difficult to answer that question. So much of what makes up our great life experiences is in a word, intangible. However, what our mind struggles to define with words, can often be explained by perfect top to bottom execution. Take trade show exhibits for example, many factors attract visitors to a space and knowing how to construct an immersive trade show environment is key to trade show success.
Up Above
"As a consumer, you want to associate with brands whose powerful presence creates a halo effect that rubs off on you." 
– Tom Peters
The primary aim of a face-to-face marketing professional is, and will always be, the pursuit of driving traffic to an exhibit space. What's more, a face-to-face marketer not only wants to draw attention to their space, they also want to drown out or render invisible their competition. An effective way to achieve visual prominence without taking up too much valuable real estate within an exhibit is to use hanging signage. Hanging signs serve as a halo of sorts, hanging brightly above a trade show exhibit, widening the reach of a brand's message and presence across a convention hall.
When designing trade show exhibits, it's very important to remember the impact that a well-crafted hanging sign can have in terms attracting prospects and visitors to a space. Attendees will often seek out certain brands at a show. To find these brands they rely on maps supplied by the event planners. However, event maps can often be confusing and unclear. Why depend on a map to lead prospects to a space when a hanging sign displayed prominently can pinpoint exactly where they need to go?  Essentially, hanging signs, like lighthouses of old, can serve as a beacon of sorts, assisting attendees in their navigation of the convention hall.
Hanging signs also give exhibitors a distinct and clear advantage over competition. Humans can only interpret and decipher a limited amount of information within short spaces of time, so our brains make snap decisions based on cues. For example, if two brands sell a similar product, and their exhibits are within close proximity to each other, it can be hard for and attendee to choose which space they should visit. In this scenario a hanging sign is the "cue" letting an attendee know that one brand is more appealing than the other.
In the Middle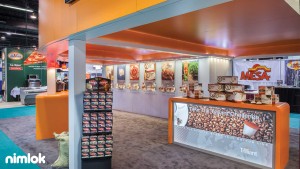 "We dance round in a ring and suppose, but the secret sits in the middle and knows." 
– Robert Frost
The main structure of a trade show exhibit is the centerpiece of every event marketing campaign. Many of the most creative ideas and design elements fall within the walls of these trade show juggernauts. As such, an exhibit should be more interesting than complex, as complexity can lead to confusion. Whats more, the idea behind an exhibit space should be to create an immersive branded experience that the attendee will never forget.
The graphic work in an exhibit should always tell an attendee the story of a brand. Pictures of products, staff or text work great to this end. Also, monitor mounts with branded images, looping video testimonials or product demonstration go a long way in informing an attendee.
The dimensions of a trade show exhibit are crucial as well. The bigger the brand the more important it is for them to present themselves as larger-than-life at a trade show. It's also important to consider the effect space has on the attendee. Open layouts tend to offer more room for products, demonstrations and attendee booth staff interactions, which are all key elements to attracting visitors.
Stay Grounded
"Never go cheap on things that separate you from the ground."
– Unknown
This statement is not only true for shoes, tires and mattresses, but also for the flooring in a trade show exhibit. Carpeting, tiles, mats and rugs can be an after thought when considering the abundance of design challenges and accent features presented when commissioning an exhibit. This is why it is important to focus on the complete exhibit layout while planning. Well-planned trade show exhibit flooring begins with understanding the statement a brand wants to convey to the world.
For example, if an organization is transitioning through a rebranding phase, it would be wise for them to utilize graphic tiles or printed flooring with the new brand and logo on them. This way new branding can be reinforced with each step an attendee makes within the exhibit space.
There are also other strategic uses of trade show exhibit flooring. If an exhibitor wishes for their visitor traffic to flow in a certain direction, they can employ an inlay a "path" in the flooring or carpet of their exhibit. Directing attendee traffic can ensure ease-of-movement, while also allowing attendees to pass through key messaging areas or product demonstration stations.
The Things In-between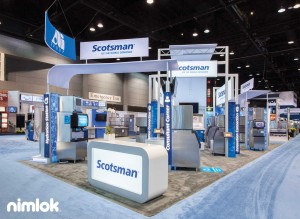 "A mountain is composed of tiny grains of earth. The ocean is made up of tiny drops of water. Even so, life is but an endless series of little details, actions, speeches, and thoughts."
– Swami Sivananda
The smallest details can often make the biggest impact, this is especially true when it comes to the setup and layout of a trade show exhibit. An exhibitor can create the most interesting design in the world, but it would be for not if they don't also pay attention to the finer details.
The human senses are powerful holders of memories. Smells, tastes and visuals can stay with us forever. Exhibitors can capitalize on this by enhancing an attendees experience with snacks, pleasant non-overpowering smells and well-dressed and mannered booth staffers.
 Notes on a Trade Show Exhibit
Design consistency is key, every design element must complement the space from top to bottom
A trade show exhibit should be a completely immersive experience for attendees
Details matter, no matter how small
Flooring is an essential
Maximize space
Graphics should tell a story
Less complex, more interesting