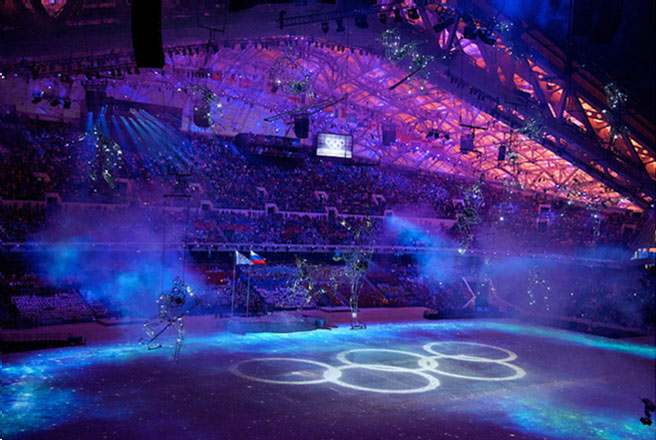 This week the 2014 Winter Olympics official come to a close, and it has us reflecting on some of the lessons we learned while following over the last 2 weeks.
Properly Prepare for Social Media Blunders
This year's Winter Olympics spawned a whole new hashtag on twitter, but probably not the one event organizers were hoping for. #SochiProblems has become a social media phenomenon with press, athletes and guests sharing their negative experiences.
I know, this is probably one of those general social media rules you've been beaten over the head with, but it's a lesson that's even more important for trade shows. What happens at a show doesn't just stay at a show anymore. Most conferences and trade shows now naturally function as hybrid events so expect your guests to share the good, the bad and the ugly. If you're not prepared to respond to the bad and ugly, you could end up making the situation worse. See: Olympic Organizing Committee President's suggestion for room-less hotel guests to turn and look at the mountains (Fortunately he recovered shortly after with an apology and contact info).
Make Sure Your Schedule Aligns with Your Guests' Schedules
What spawned all the negative (and often comical) posts under #SochiProblems? There may be a variety of reasons why there were problems but one thing's for sure; accommodations were just not completed on schedule and as a result guests ran into odd and sometimes dangerous situations.
Now, chances are you won't be missing doors and locks at your event, but there's a lesson to be learned here for those organizing any sort of event. For guests, their experience begins the moment they step foot in the location so don't discount the hours or even days before your show opens. For example, if a guest has a terrible experience with the hotel you chose, it could reflect negatively on your event as a whole.
Offer Ample Coverage and Content
While the spotlight may have been on many of the problems surrounding the 2014 Winter Olympics, there was a very positive lesson to be learned from NBC's coverage of the games. Viewers were given a multitude of ways to experience the games.
NBC offered live streaming online throughout the day, pre-taped recordings each night during prime time and even highlights of each day for On-Demand watching! The best part is a lot of this content will likely live on far past the Olympics.
Whether you're organizing a whole show, or just your booth at a trade show, focus on how you can provide your attendees with useful and valuable content that can be easily accessed and shared before, during and after.
Make Room For New Innovators
Snowboarding was pioneered and brought to popularity by Shaun White, but this year the Olympics were dominated by younger athletes who had been inspired by White, some even as young as 15 years old! Does this mean White is irrelevant? By no means! But it does mean there's a new era of innovators to help take the sport to the next level.
The same shift is currently happening in the trade show industry as an increasing number of gen X & Y-ers become attendees, exhibitors and planners. Already we've seen an increase in education, experiential marketing and content development and there's more on the horizon. Making room for the new generation of trade show and meeting innovators will help us all move forward together for a stronger, more future-minded industry.
Did you learn any lessons from paying attention to the 2014 Winter Olympics? Let us know your thoughts in the comments or tweet us @Nimlok!