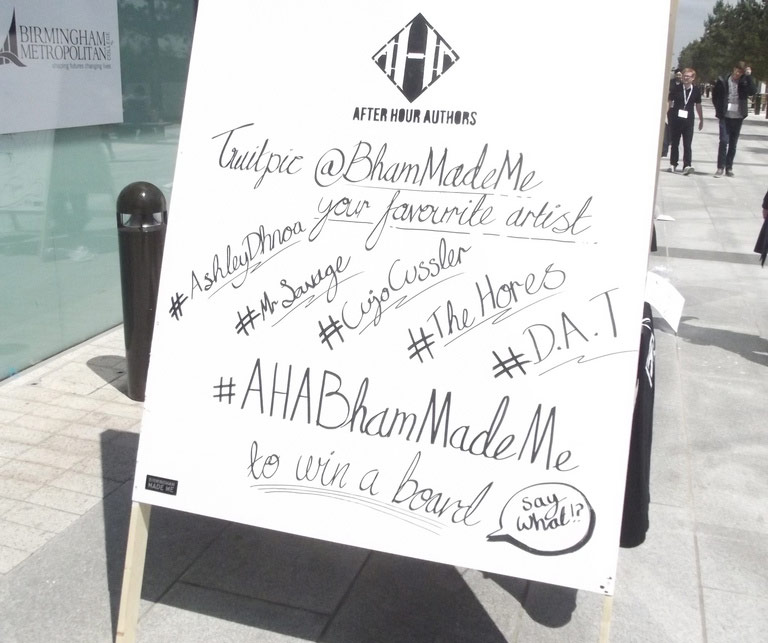 If you've exhibited at a trade show recently I'm sure you've noticed the use of hashtags, and if you travel to multiple shows you probably know that many have their own hashtag. For example the Consumer Electronics Show uses #CES2014, EXHIBITOR show uses #EXHIBITOR2014.
If you're active on social media with your brand, you'll know that hashtags can be used in a variety of ways across Twitter, Instagram and even Facebook for finding posts of interest, sharing content/thoughts on a specific topic and chatting with a group. So what's the right way to use the assigned hashtag for your trade show? Well, the answer begins with asking this simple question; what do the show attendees want?
Does this question sound familiar? It should (if not, you may have bigger issues than hashtag usage). It's the same question that drives decisions on how to use your exhibit space and, on a grander scale, the decisions of show organizers. Ultimately the show hashtag exists for the purpose of building a valuable online community surrounding the show, and your goal is to become a valued member of that community. So how do you do that?
follow & use the hashtag pre-show
One of the best ways to get in tune with your attendee audience is by following the hashtag pre-show. Not only will you see any updates coming directly from show organizers, you can monitor the buzz, stay on top of the hot industry topics surrounding the show and more. Look for conversations where you can get involved to become an active member of the show's online community.
be a knowledge leader & share valuable content
You've followed the hashtag and now you have an idea what your attendees are looking for, so give it to them. Instead of using the show hashtag to talk all about you, take a knowledge leader approach and aim to make a valuable contribution. For example if everyone using the hashtag is talking about a current industry trend, contribute your thoughts, share some expertise or even just repost an interesting article covering the topic. If the topic at hand relates to what you'll do in-booth, share that information but keep it conversational. If you switch into selling mode it could be a turnoff.
stay valuable when the show starts
As the show gets closer, you may be tempted to start blasting your followers with your booth number. It's okay to let people know where you are on the show floor and what you're giving away, but don't let that be the driving force behind your exhibiting social media plan. Yes, do share what is going on in your booth through photos and videos, but combine that with valuable content, tips and information your attendees are asking for. When you share info about your own company, make sure it's still valuable to the online attendee community. Talk about yourself in the way attendees want to hear it. Example: Are they hungry for product info? Share some specific information or photos of the products being shown in your booth. Tweeting, "We're giving away tote bags in booth X!" probably isn't all that useful to the attendee there to make business decision.
share bite-sized info
Education is an important part of many trade shows. If your audience is there to learn, help them learn. Give updates on any sessions you and/or your team are involved with. If you're attending sessions yourself, share 140 characters of that knowledge through photos, quotes and facts. It's great for attendees to recap as well as feel a part of the sessions they were unable to make.
keep non-attendees in mind
People in your industry not attending may be following the hashtag, and I know this from experience because I do it all the time. I don't get to attend many shows, but I follow the hashtags where I find opportunities to learn via the attendees/exhibitors. Share the bite-sized information mentioned above and offer alternative ways to view your in-booth content by making it digital and easy to share. Doing so will help you reach far beyond your physical presence at the show and help add value to post-show marketing.
use the hashtag post-show to stay connected
So the show has ended, you followed all the hashtagging rules, it was great and now it's time to stop. Wrong. Post-show social media is just as important as what you did at the show. Continue to follow conversations surrounding the show and be actively involved. If you had some great chats with specific people, make sure to follow up with them, just like you would with any other lead. Remember how you made sure all your content could be shared digitally? This will come in handy post-show, too. Continue to share that content with attendees to reach those that didn't get the info the first time around.
Following some of these best practices will get you started for your next show, but it doesn't need to be complicated. If you continue to keep attendee wants/needs in mind, you'll be golden.
How do you use your official trade show hashtag as an exhibitor? Share your own tips in the comments or tweet us @nimlok
Photo/Video Credit