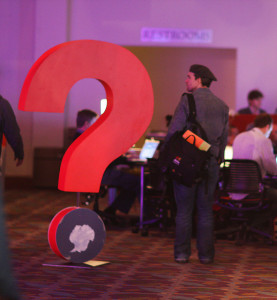 Every year companies experienced at trade show marketing plan out their budget for the upcoming season. When it comes to trade show and marketing events, companies end up being limited to how many tradeshows to participate in due to added costs for booth construction, shipping, set-up, travel costs and more.
Portable trade show displays are an excellent option to increase the number of event marketing opportunities without the additional costs of shipping a larger and heavier trade show display.
At the other end of the marketing spectrum, a company deciding on whether to participate in their first face-to-face event, the benefits of a portable display or even renting a trade show display can limit the financial impact of trade show marketing.
The biggest selling point of a portable trade show display is the word, "portable". Beyond the simple fact that these types of trade show displays are easy to move, ship and carry, there are several other key bonuses to owning a portable display:
Cost
Portable exhibits are often a less expensive option compared to a fully custom trade show display. While custom displays may work for some companies, trade show marketing budget restrictions can limit other businesses.
Though portable displays are a much less expensive trade show display, they can have just as much of a visual impact of a custom display since many portable displays have a large graphic background opportunity to connect with attendees.
Saving on the investment in a trade show display can immediately have an impact on the marketing budget, allowing for spend on additional sales collateral or for a trade show contest to attract visitors. Also, the lighter weight of portable displays will also save on shipping costs.
Ease of Set-Up
Portable displays are easy to setup. Period. Not every company has the crew or budget to hire a union crew at the exhibition hall to set up their booth. Portable booths are quick and easy to put up and only take a couple of people.
Durability
Even though portable exhibits are built to be easy to set up and are lightweight, they're also built to handle heavy usage and built to last. Proper use and care of your portable display will result in it lasting for years.
Versatility
Your trade show marketing look can have the same wow factor without the cost and complications of a custom exhibit or the price for shipping a custom display to an event. With additional exhibit pieces and accessories, you've got the flexibility to get an additional impact in the look and feel of your portable display without sacrificing the "portable" ability.
In addition to being portable, since you'll be using your display for years ahead, there will likely be the need to change out your display graphics for new products, their branding and specific marketing language for a particular trade show. Most portable displays have easy-to-change graphics which will save you the cost of having to buy an entirely new display.
Road Warrior Friendly
Having an event marketing solution like a portable display that is durable, lightweight, can be easily transported, set up and taken down, makes it possible for multiple shows in a short period of time. It's perfect for the sales team who want to attend more tradeshows to reach more customers. More shows mean more opportunities to generate leads and sales. More leads and sales results in a higher ROI on your trade show marketing.
Whether you're a newbie to event marketing or a seasoned vet to the trade show routine, portable trade show displays can be the perfect fit for your next event.
Photo/Video Credit