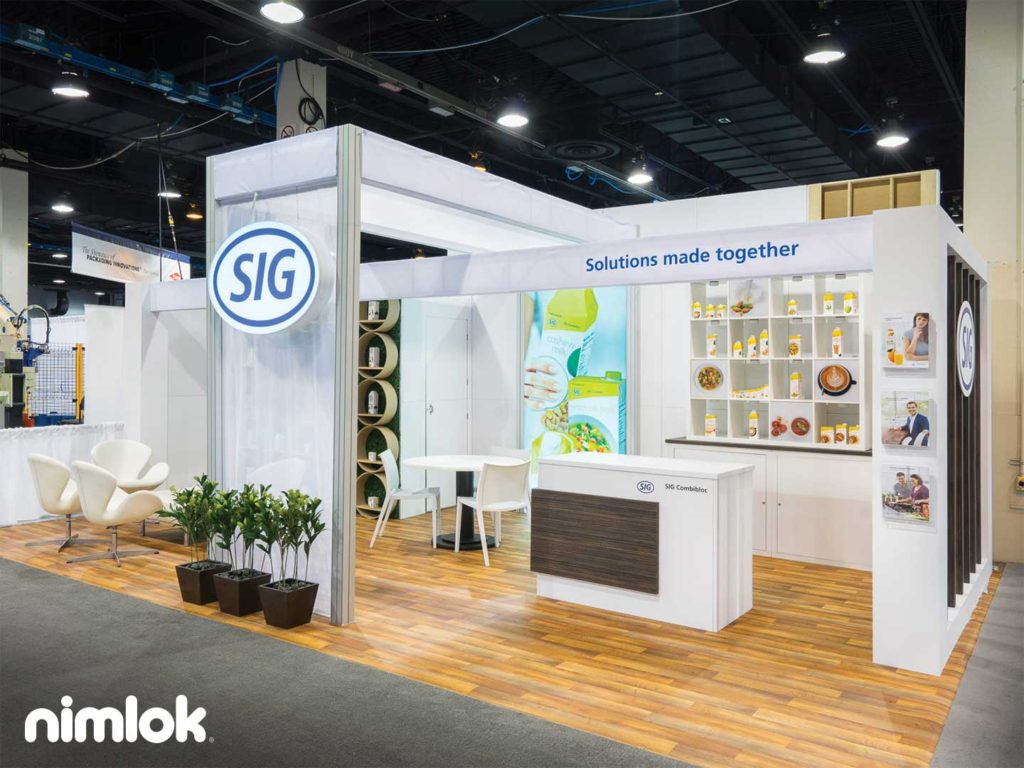 You only have one chance to make a first impression.  Choosing the right trade show booth design company can make it a good one.  It makes sense that when you are exhibiting in a trade show, your chance to make a first impression is primarily in your trade show booth design. Trade shows are a traditional face-to-face marketing strategy used by many businesses. Trade shows have been taking place since the 1960's and 70's and are still one of the most valuable ways to sell, market and build relationships. In fact, trade show exhibition can generate more leads, increase brand awareness and drive sales. If planned and prepared for correctly, the return on investment can be tremendous. 
In order to make that great first impression, stand out on the trade show floor and make an impact against all of the other companies exhibiting, you need a reliable and experienced trade show booth design partner.  By partnering with the right trade show display company, you can rest assured that you will have the expertise and support needed that falls in line with your design idea, budget and timeline.
There are a lot of factors that should be considered when selecting a company for this partnership. Your trade show booth display will account for a large portion of your trade show budget, so you want to be sure you are partnered with an expert who will help you meet your budget and timeline goals for your exhibit design. Here are some things to look for and to consider when choosing a trade show display partner.
Have an idea of what you are looking for
Before you begin reaching out to trade show exhibit builders, you should have some basic information in mind. For example, the size of the exhibit you are looking for, when you will need it completed, any special requests you may have as well as an idea of your budget. The more details that you are able to provide in the beginning, the easier it will be for you to select the exhibit design company that best fits your needs. There are many options from custom to rental.
Have your goal in mind
What is your reason for exhibiting? Are you attempting to grow brand awareness, generate leads or make face-to-face connections? This is important because it will play a role in determining the design requirements of your exhibit.
Know your budget and timeline
It's helpful to have an idea of your budget and timeline so that you can communicate that with the design house. This provides them with a better idea of options that are suitable within your budget and timeline to help meet the goals that you have outlined.
Experience
Trade shows encompass a large portion of your marketing budget. You want to be certain you are working with an experienced exhibit design company that will be able to work within your budget and timeline. Be sure to ask or research how long the design company has been in business, how many booths and displays they create each year, and ask to see a portfolio of their work if it is not available online.
Reviews & Testimonials
Research always goes a long way. We all know people are quick to share bad experiences online, so when you see a positive review or testimonial – it's a true testament that a positive experience was provided.
It also doesn't hurt to contact other experienced event marketers and business owners who have used exhibit design companies for recommendations. Once you have a few recommendations, you can begin to narrow down your options based on research and your needs.
Communication
From your first point of contact, it will be evident who is responsive and who isn't. Designing and building a custom or semi-custom booth, or even coordinating a rental will require a lot of communication for aspects from design to pricing to delivery, etc. Do not choose an exhibit design company who is hard to get a hold of or does not respond in a timely manner. Another part of open communication is to look for an exhibit design partner who will listen to your thoughts and ideas, but also provide their own insights and suggestions to meet your needs. After all, they are the expert and will be able to guide you through the entire process.
Variety
You want to select a trade show design company that has designed and built a variety of booth exhibit designs from 10' x 10' inline booths to custom island exhibits with features galore. This variety of experience will allow them to assist you in getting the most for your marketing dollars. They know what works and what doesn't as well as what you can do to make the most impact on the trade show floor. Another aspect of variety is their ability to provide everything you need for your trade show display. You may or may not be aware that some trade show display companies only provide the frame and you are responsible for sourcing graphics and accessories. With the risk incorrectly sized graphics to timeline delays – it's a risk you may not want to take. Look for an exhibit company who can provide every aspect of your booth design and build.
Following these tips will help you choose the right trade show booth design company for your needs.