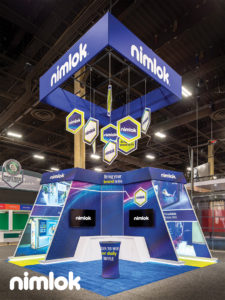 Need help planning for your next trade show or face-to-face marketing event?
Check out Nimlok's full library of trade show resources filled with trade show tips and tricks. Whether you are looking for a trade show e-book, trade show budgeting spreadsheet or other trade show resources Nimlok has got your covered.
Download The Booth You Want For The Budget You Have E-book
Nimlok has helped clients plan for and execute trade show strategies since 1970. Knowing what type of exhibit falls within your required timeline and budget will help you plan and help you guide your exhibit partner in the right direction from the very start of your project.
Inspiring & Interactive Exhibits E-Book
Get inspired to create an unforgettable, interactive trade show exhibits. This e-book showcases how real exhibitors incorporated fun trade show games, interactive demonstrations and stunning product displays to draw a crowd of engaged attendees. From games to giveaways and everywhere in between, Nimlok shares tips and tricks on how to create the ultimate interactive experience.
Webinar: Oh, My Trade Show Graphics!
Watch this webinar recording of Nimlok experts sharing tips on designing, creating and caring for trade show graphics. These helpful tips cover the technical, stylistic and strategic foundations that will equip you to create printer-ready graphics for your next event.
Social Media for Exhibitors E-Book
Having a strong social media presence is key when it comes to connecting with trade show attendees. This e-book will show exhibitors how to harness the power of social media to expand reach and create an open dialogue with consumers before, during and after face-to-face events. Learn how to set goals, track results, while making a strong social impact on the show floor and beyond.
The Ultimate Trade Show Planning Checklist
From reserving booth space to scheduling electrical services to reserving a lead capture machine, there are a lot of moving parts when planning for a trade show or event. Nimlok's Ultimate Trade Show Planning Checklist will help you prepare for a successful exhibiting experience by outlining common "to-do" items in the months leading up to and after an event.

Learn the Process of Creating a Killer Trade Show Exhibit
Nimlok's new e-book, Exhibit Design to Show Floor: The Process of Creating a Killer Trade Show Exhibit, explores the planning, prep and processes surrounding the design of a semi-custom or custom trade show exhibit. Start planning your next killer trade show exhibit today by downloading this free e-book.
Learn to Exhibit Better With This Trade Show Resource
If you would like to learn more trade show marketing tips and advice for exhibitors, download our Beginner to Winner: Trade Show Guide to Become a Better Exhibitor, which contains expert guidance on how you can take your trade show program to the next level.
Trade Show Idea e-book
All successful trade show and event marketing campaigns how one thing in common, they Wow audiences, engage visitors and sell the brand. This e-book, features 20+ exhibiting success stories that combine creative event marketing strategies and ideas that helped exhibitors define and achieve their goals on the trade show floor.
Island Exhibits Guide
Choosing how your island exhibit will be organized and laid out is essential for trade show success. Nimlok's Design Guide to Island Exhibits will help guide you through the basic elements of island exhibits and highlight more common layouts.
Improve Your Trade Show ROI
Trade shows and face-to-face marketing events can be the secret play for achieving overall sales and marketing success. This trade show resource will help you score big with your trade show ROI by providing you with concise, real-world steps you can take to improve return at your next trade show or event.

Trade Show Budgeting Worksheet
Nimlok's trade show budget worksheet outlines typical expenses associated with trade show participation, providing transparency in expected costs as well as guidance to measuring return.
The Smart Marketer's Guide To Trade Show Marketing
Need help creating your trade show attend a trade show? The Smart Marketers' Guide to trade Show planning provides tips, trick, worksheets and trade show resources to help you maximize your exposure and return on investment at your next show or event.