A successful trade show exhibit design effectively communicates a brand's story with inventive architecture, rich graphics and an imaginative theme. Exhibitors who take time to weave together each of these elements design memorable campaigns that effectively wow, engage and sell to prospects. Below, we look at three eye-catching themed trade show exhibits that rocked the trade show floor with their originality and attracted audience into the space.
Barn-Inspired 20' x 30' Trade Show Exhibit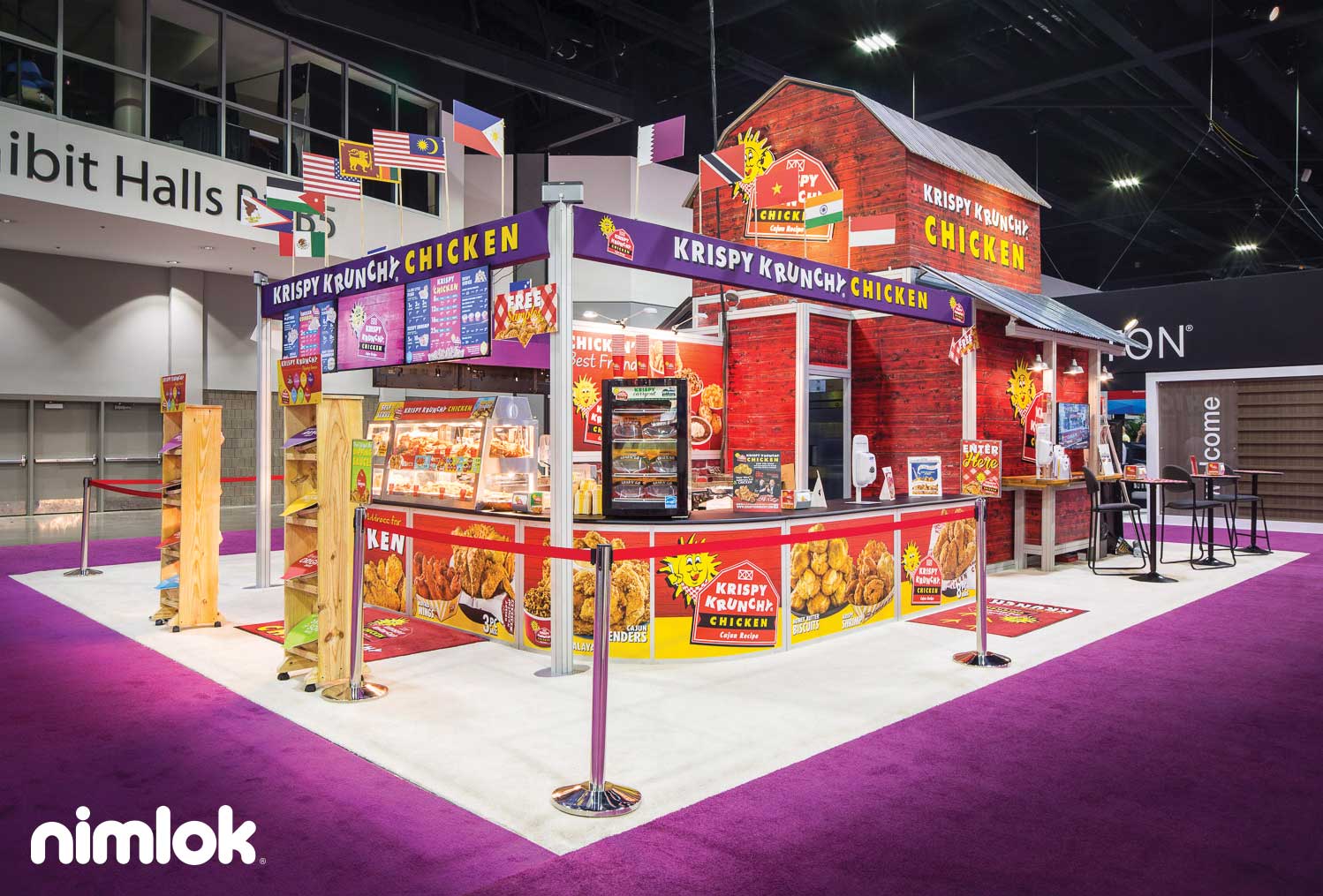 Krispy Krunchy Chicken, a national quick-serve food franchise, wanted a trade show exhibit design that would capture visitor imagination while conveying the brand's unique persona in an original way.
Krispy Krunchy Chicken worked with Nimlok to build a 20' x 30' barn-inspired trade show exhibit design that emulated the brand's fun-loving country-themed logo. Krispy Krunchy Chicken did not stop with the barn on the show floor, they also incorporated a replica of their retail setup into the exhibit, further immersing the audience with the Krispy Krunchy Chicken experience.
The downhome aesthetic of Krispy Krunchy Chicken's exhibit married the Krispy Krunchy Chicken food service solutions, wowed and engaged all those who entered into the space and left a lasting impression that kept the brand top-of-mind with event attendees.
"Candy Shop" Themed 20' x 20' Trade Show Exhibit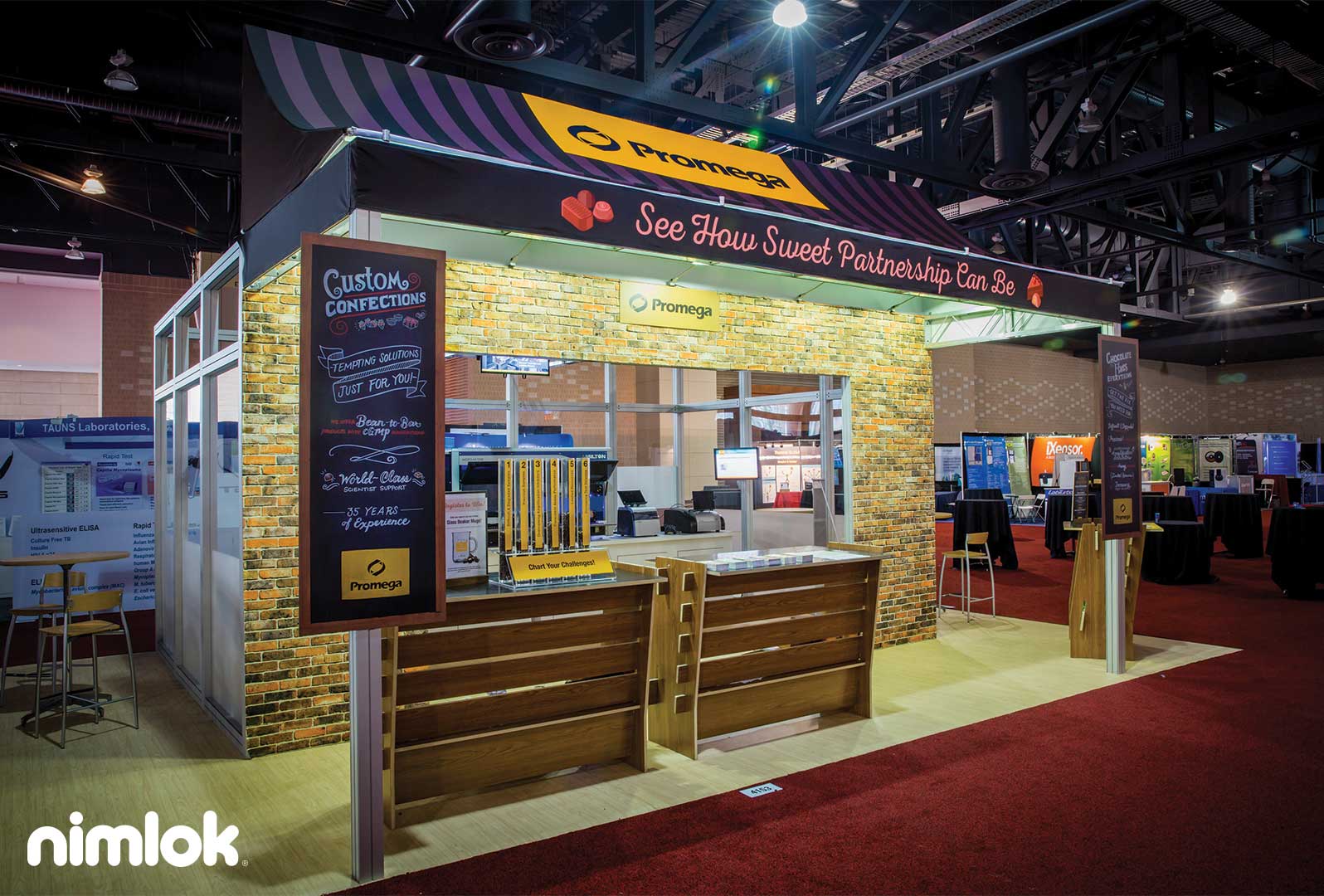 Promega, a global leader in providing life science solutions, thought long and hard about how to simultaneously wow and engage attendees on the show floor by combining their scientific-based brand image with a more lighthearted and approachable theme.
Promega's marketing team developed a "candy shop" themed event marketing campaign they hoped would soften their brand image and help staffers better engage with prospects.
Partnering with Nimlok, Promega transformed their candy shop campaign idea into stunning 20' x 30' trade show exhibit design, wowing attendees and exhibitors alike.
Playing on the candy shop theme, chalkboard menus were attached around the perimeter of the exhibit featuring Promega's life science services as coffee flavors, which helped sell the host of life science solutions Promega provides.
Once visitors entered the exhibit, they were invited to select a service—or coffee flavor—that most interested them. Once served, visitors where asked to step inside of Promega's candy shop to learn more about life sciences solutions.
Promega's "candy shop" themed exhibit helped wow and engage visitors in a unique and unforgettable way while enabling staff to sell life science solutions.
Kentucky-Themed 20' x 20' Reconfigurable Trade Show Exhibit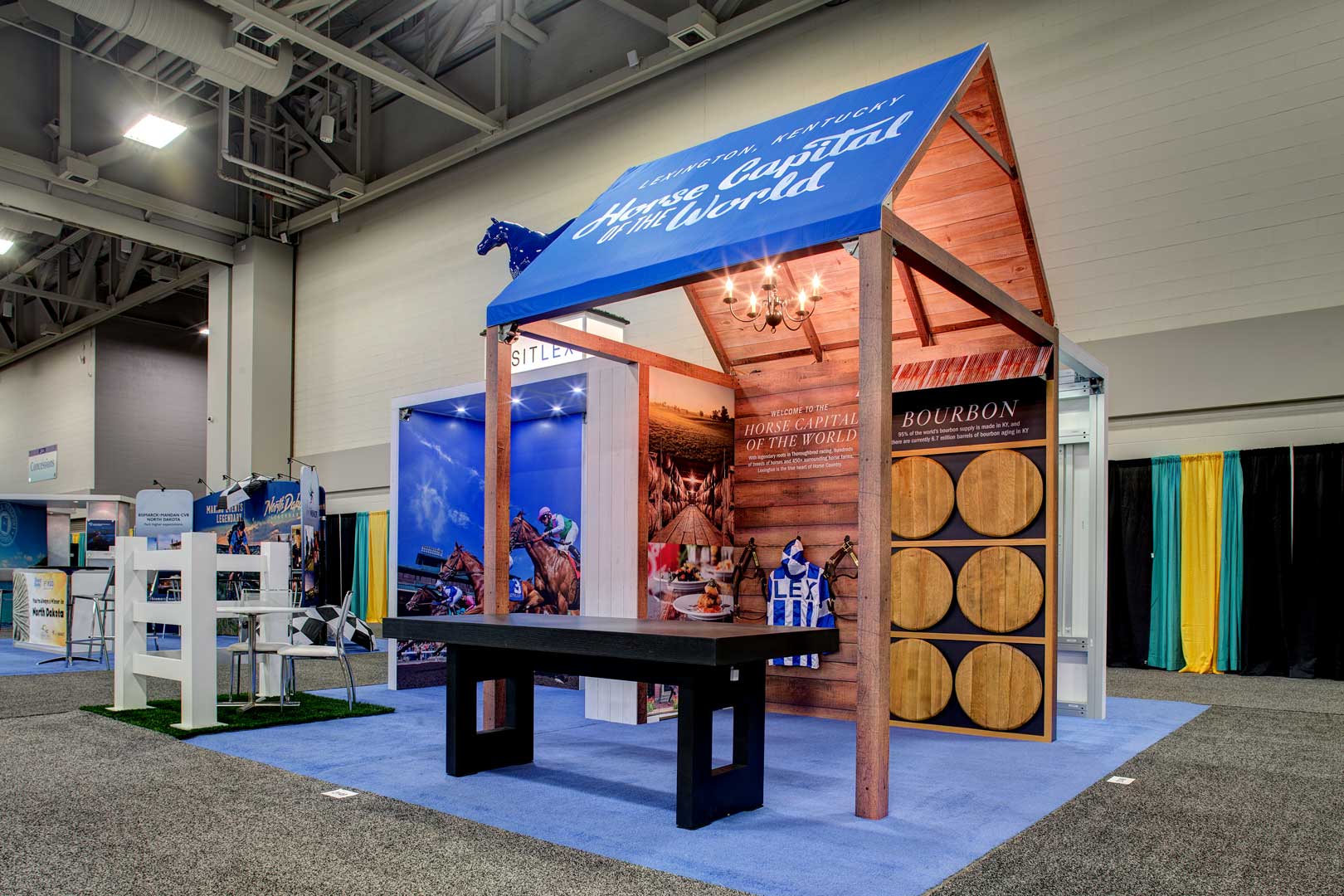 VisitLEX, the tourism organization for Lexington, KY, has a busy and competitive trade show calendar, so they needed an exhibit solution that would not only stand out from the competition, but also reconfigure to fit multiple spaces.
Faced with needing an exhibit solution that could be modified swiftly to fit tight between-show turnaround times, VisitLEX collaborated with Nimlok to design a 20' x 20' trade show exhibit designed to reconfigure into two 10' x 20 exhibits and one smaller 10' x 10' display. All exhibit configurations presented a uniform Kentucky-inspired theme complete with horse and bourbon design elements.
VisitLEX's exhibiting program earned wows from attendees and accolades from show organizers – including a "Best of Show" award.
Nimlok's Trade Show Ideas e-book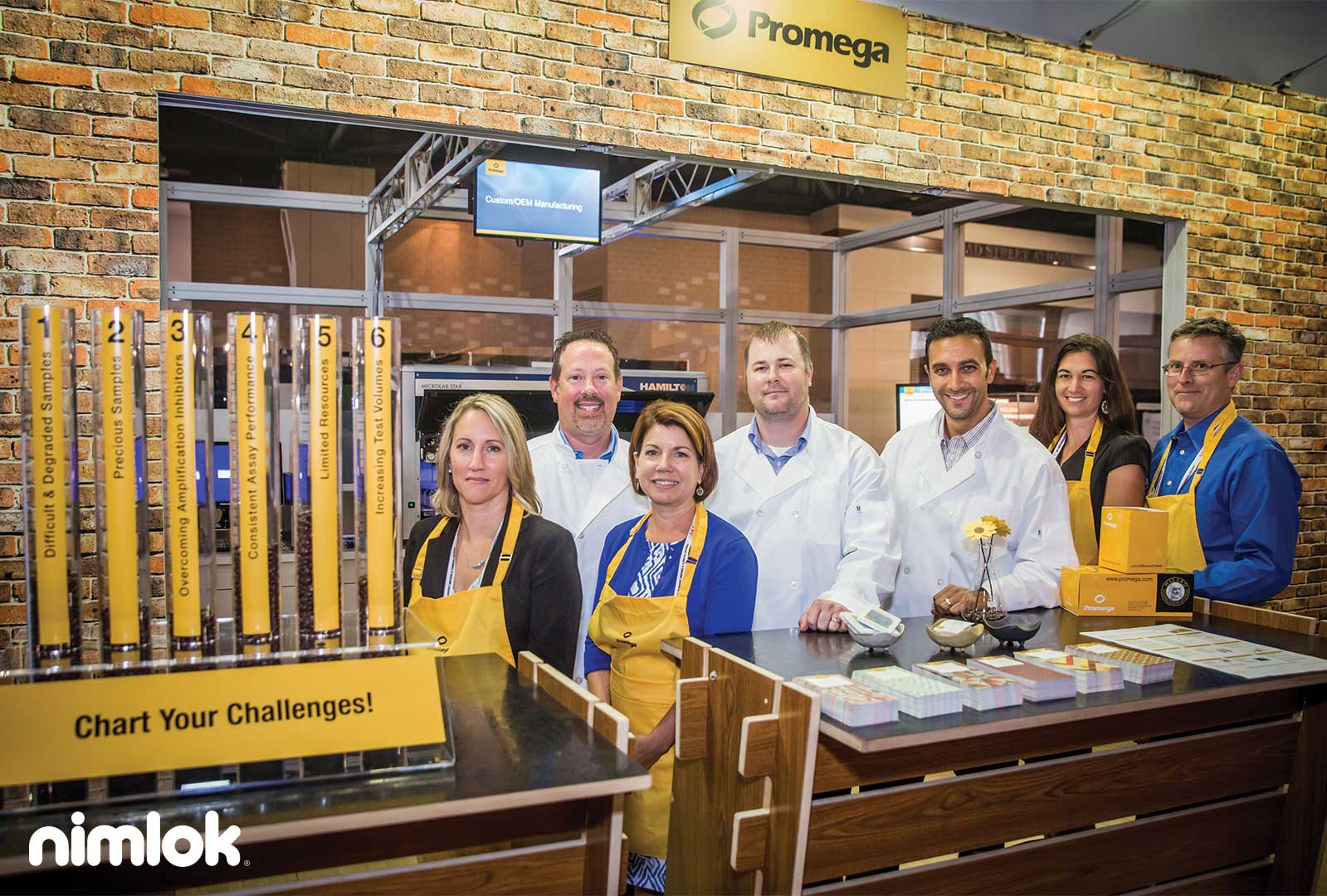 If you are looking for more trade show marketing success stories, download our free Trade Show Ideas e-Book today and read 20+ real-life trade show success stories sure to inspire you just in time to plan for you next event.