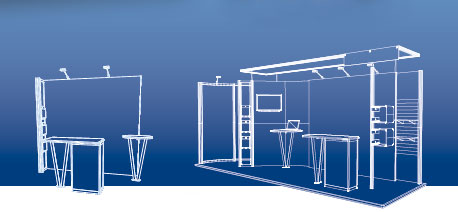 On the trade show floor you have only seconds to convince visitors to enter your booth. During these few seconds your exhibit design must do all the talking and optimizing your design can help attract the most visitors to your booth. There are a number of design elements that go into the proper utilization of your display space:
use noticeable colors
While your coloring scheme should be consistent with your overall marketing design, it should also be bright enough to stand out. Colors that are too drab or neutral tend to cause your exhibit fade into the background. If your color dynamic doesn't include brighter colors, consider incorporating metallic surfaces or interesting textures instead.
have a consistent theme
Your design theme should mesh not only with the company and products, but also the overarching theme of the trade show itself. For example, if the show theme revolves around green living use your space to reflect that. A jarring design theme that reflects neither your company nor the spirit of the trade show will cause attendees to simply walk on by to another exhibit.
lighting
Dimly lit displays are a common mistake often seen at most trade shows. A well-lit display is essential, allowing visitors to easily read signs and promotional materials.
general use of the space
While you don't want to create a space that encourages attendees to linger for hours on end, you do want to make sure they feel welcomed. This requires sensible use and placement of furniture. Make seating available and place tables for literature at the sides of the space to avoid a physical barrier between show staff and attendees.
proper sizing
Having enough space is crucial. Larger conventions typically have a greater number of attendees. Companies should have larger display booths for these larger conventions. If your space is too small for the venue, visitor traffic congestion is apt to occur. Potential clients are less likely to linger and want to speak to show staff if it's difficult for them to maneuver and they find themselves jockeying for space with other attendees.
By following some or all of these exhibit design principles, your trade show display will have a welcoming atmosphere and a better chance of attracting potential clients, rather than having them hurry off to neighboring displays. If you need help with designing your next trade show exhibit, we have experts at Nimlok.com that are always ready to help you!