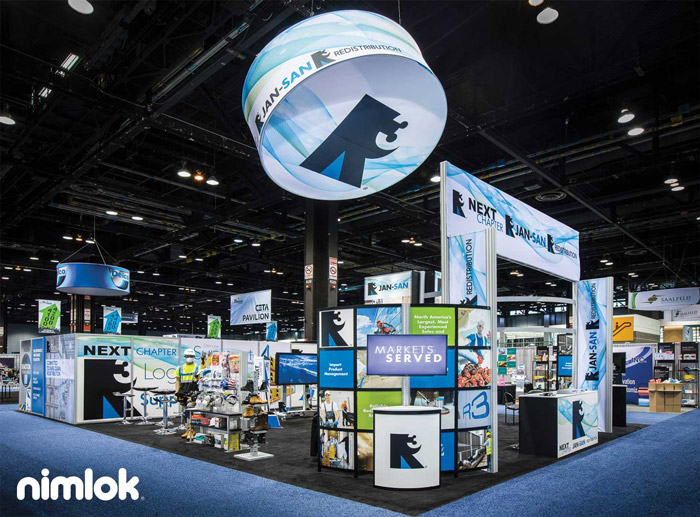 Trade shows, expos and conventions provide companies with a one-of-a-kind marketing opportunity to showcase products and capabilities and engage face-to-face with prospects and clients. In fact, an organization may achieve more at one event than they could over the course of weeks or months of marketing through other mediums.
To reap the many benefits of exhibiting at a trade show, exhibitors need to properly plan for an event. Successful trade show planning takes time, discipline and foresight. This means that exhibitors need to choose the correct show, set clear event marketing objectives, design an effective trade show exhibit and properly promote their presence at the show.
This article will help you prepare for your next trade show by outlining the best practices for planning a trade show, from setting a trade show planning timeline to choosing the right trade show exhibit for your company's needs and more to help you become a better exhibitor.
Defining Success and Create Trade Show Goals

Trade shows are a major investment in time, money and resources. This is why the first step in trade show planning should always be outlining a clear idea of what you want to achieve by attending a trade show.
While planning your trade show goals, it is important to set goals that can be tracked and measured. By having metric-based goals, you can evaluate the performance of each show you attend and make tweaks and adjustments to your trade show planning for great success at future shows.
Common Trade Show Goals:
Increase brand prominence within your industry
Unveil new products
Bolster press coverage
Build better relationships with current clients
Generate qualified leads for your salesforce
Learn about emerging industry trends in your industry
Generate sales orders
Tips for Defining Success:
Be realistic about your goals; it does you no good to set unreachable goals. If you do not have the manpower, enough money or time to achieve a certain goal, you should adjust your expectations to better suit your capacity.
Setting benchmarks is a great way to keep your goals and expectations focused on past performance. Before you begin planning your next event, analyze your year over year numbers to see where you stand and where you need to go in relations to your goals.
Make sure you clearly communicate your trade show goals to your exhibit partner so they can design an exhibit that will help you reach your goals.
Assessing Trade Show Opportunities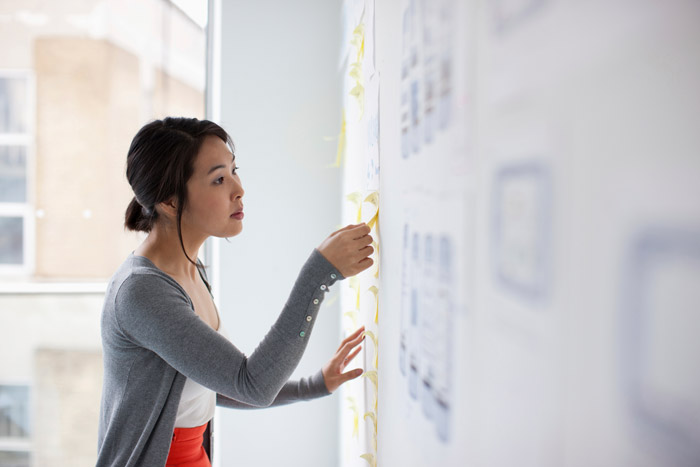 One of the keys to successful trade show planning is selecting the right event. With over 10,000 trade shows held annually in America, choosing the right trade show to can seem like a daunting task.
To make the show selection process easier, familiarize yourself with trade show opportunities within your industry as well as relevant trade shows on an international, national, regional and local scale. Make a list of exhibiting opportunities that best suit your company's trade show marketing goals. After you have compiled your list of shows, highlight events that you believe will yield the highest return on your trade show investment.
Questions to Ask Yourself When Evaluating Trade Shows
Is the show large enough to attract a healthy cross-section of prospects and vendors?
Is the show in the right place geographically to attract your customers?
Does the show date align well with your company's ability to fulfill orders and follow up on leads?
Can you rely on the show's management? Does the event have a long track record of success?
Tips for Assessing Trade Show Opportunities
If your company is looking for heighten brand exposure, consider selecting new trade shows or events on an international or national stage.
To generate a strong return on investment, select trade shows conducive to selling and prospecting on the trade show floor.
Investigate your competition to learn which shows they frequently attend.
Request show statistics from events you are interested in attending. Compare attendee numbers, demographic information, average booth space cost, travel expenses and a list of exhibitors.
Setting Your Budget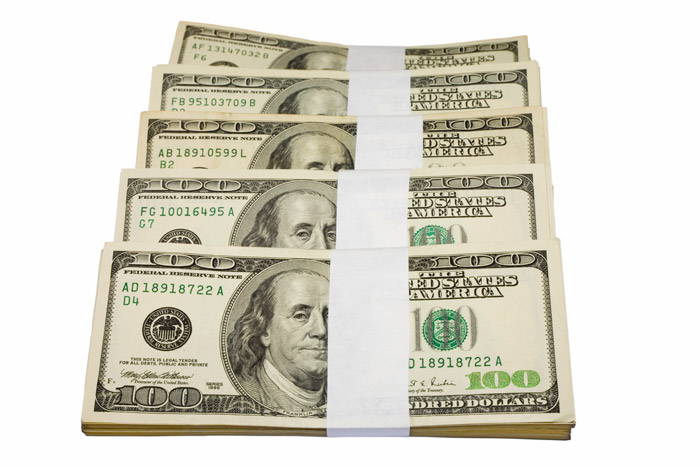 Setting your budget is one of the most important phases of trade show planning. If you want to have an accurate trade show budget, give yourself as much time as possible to plan, take advantage of early bird discounts from vendors. Remember, when setting a trade show budget, your objective should focus on being cost—and marketing—effective.
Tips for setting your trade show budget:
Typically, exhibiting space makes up 25-35% of the average trade show marketing budget. To save money on space, see if your event offers early registration incentives, which can save on the cost per square foot.
Make sure you consult your "exhibitor's kit" to pinpoint shipping cut-off dates. Having an understanding of these dates will help you avoid additional fees.
Show services can be costly, so make sure you take them into account while planning your budget. There are many minor costs related to exhibit services that, if left unrestrained, will really add up.
Download Nimlok's Budget Template for help with your next trade show or event:
Trade Show Planning Timeline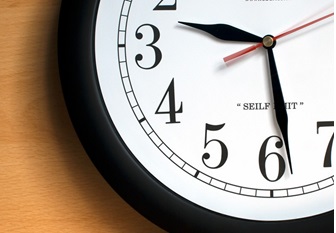 The longer that you have to plan and prepare for a trade show, the better the chances that you will be able to save money and avoid costly potential issues in the process.
Smart exhibitors often begin their trade show planning up to a year in advance of their event. When drafting your trade show timeline, you should begin by organizing your timeline into quarters or three month intervals. Place the most time sensitive items at the beginning of your timeline to make sure they are done promptly and organize less pressing items accordingly.
Tips for setting a Timeline:
The first item on your timeline should be booking your show. Many popular events fill up quickly and, if you wait too long, you may find yourself on a waiting list for booth space. Also, the earlier you book your booth space, the more options you will have regarding the location for your booth.
Many shows will sell you a mailing list of pre-registered attendees. Make room in your trade show timeline to focus on pre-show mailings that include your show contact information, booth number and promotional incentives to help you generate interest in your booth.
Exhibit design can take time to perfect, so when drafting your trade show planning timeline, make sure your give yourself enough time to design the right exhibit for your brand.
Choosing Your Exhibit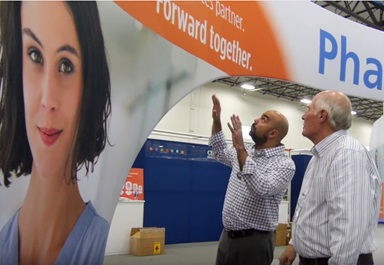 Your trade show exhibit is the centerpiece of your trade show program, so making sure you get the right design is an essential part of trade show planning.
You should prepare for designing your trade show exhibit by researching what kind of exhibit options best fit your space and budget. Will a large custom trade show booth work best for your brand? Or will a smaller portable display do the trick?
Tips for Choosing your Exhibit:
If you are unsure of what design will work for your, remember to keep it simple with your booth graphics and design features.
Design a trade show exhibit that helps visitors experience your product or service. Let them touch, see, feel, hear or taste your offerings.
Promotions, product demonstrations, giveaways and contests can drive traffic to your booth. When planning the design of your exhibit, make sure that your space has room for these in-booth activities.
Staffing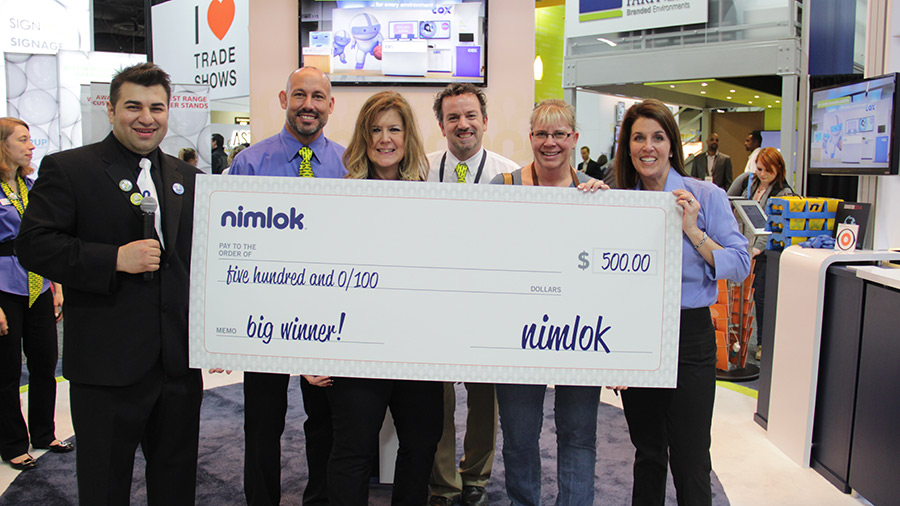 After selecting an event, starting the planning process and designing your exhibit, you are left with one question: who will be staffing your trade show booth?
Best case scenario, you will have a team of personable and experienced sales professionals ready to engage attendees on the show floor. However, are these sales representatives prepared to encounter potentially thousands of prospective buyers over the course of a few days? Will they be able to weed out the lurkers from genuinely interested potential buyers? To make sure you get the most out of your booth staff, outline staff training as part of your trade show planning program.
Tips for staffing:
Account for staff training in your trade show timeline. Make sure your staff are prepared to properly deliver your brand messaging, give product demonstrations, acquire leads/sales and achieve your overall trade show goals.
Understaffing can make it difficult to reach your goals and put extra stress on your booth staff. If you need more staff members to man your booth, plan to hire outside sales staff in your trade show budget.
Enlist your staffers to help you plan for your trade show. Staff will better understand your trade show program if they are incorporated in the trade show planning process.
Shipping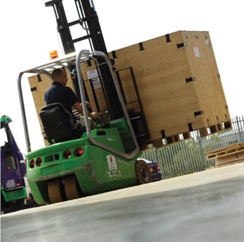 Trade show carriers are a vital part of the trade show planning puzzle. Great carriers can make the logistical and strategic challenges presented by a trade show a breeze. If all goes well, you should have an easy time getting your items to the venue and back into to storage. Remember, planning in advance will save you both time and money, so make sure to do your research.
Questions to Ask Your Trade Show Carrier
How long has your company specialized in trade show freight?
What services do you provide exhibitors?
How can I track my freight once it leaves the warehouse?
How does you company pack and secure freight?
Do your vehicles use air-suspension to avoid bumps and minimize shipping damage?
Can you have a comprehensive shipping quote that covers all your expenses, and can you have it in writing?
Tips for shipping:
Contact event organizers about preferred carriers/vendors for shipping and freight. This will lessen the stress of shipping your exhibit as you can rest easy knowing your carrier is familiar with the show.
To make shipping as painless as possible, schedule shipping to the show as well as return shipping.
Drayage is the cost of venue professionals transporting your exhibit from the warehouse to your booth space. Rates are typically based on weight. Incorporating lightweight materials – such as fabric graphics – can help save on the cost of drayage.
Bring An Emergency Kit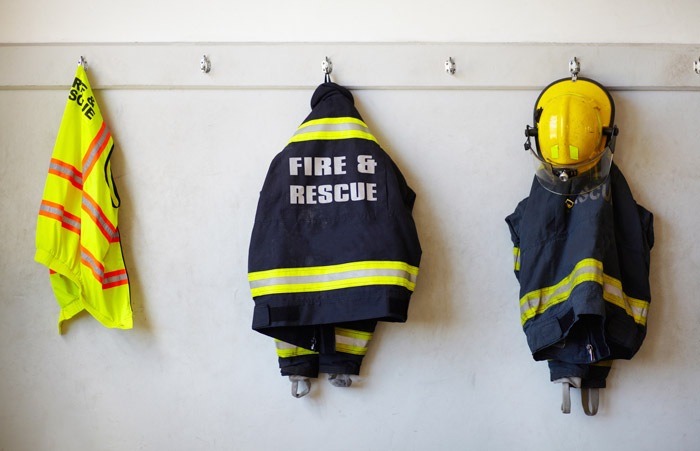 It's a scenario far too many exhibitors are familiar with: you're at the trade show, your trade show display is up and running, you go to reach for something, only to realize that you've forgotten it.
With all of the planning that goes into trade show marketing it can be difficult to remember all of your exhibit essentials. Avoid the possibility of any future trade show blunders with a well-stocked emergency exhibiting kit that covers all scenarios.
Below is a list of some must-have items in your trade show emergency kit.
Office Supplies
This may seem obvious, but pens, business cards and other office supplies are very popular at trade shows simply because everyone uses these items on a daily basis, especially when marketing at a trade show. Some useful office supplies to have nearby are:
Pens/Pencils/Markers/Sharpies
Business Cards
Staples/Paper Clips
Scissors
Notepads
Tools
You never know when a trade show display emergency is going to pop up. It is best to be prepared with a wide assortment of tools that can help you make a quick fix. Key tools to have include:
Flashlight
Screwdriver/Screws
Hammer
Duct Tape
Hot Glue Gun
Box Cutter
Cleaning Supplies
Trade show marketing veterans know that emergencies may arise that require cleaning supplies. Best to be prepared with a wide variety of items like paper towels, stain removers, disinfecting wipes and adhesive remover.
Miscellaneous Trade Show Marketing Items
There are many miscellaneous items that can come in handy for you at your exhibition!
Breath Mints
Ziploc Bags
Tissues
Hand Sanitizer
Basic Medicine (Asprin, Eye Drops, Cough Drops, Antacids, & more)
First Aid Kits
Batteries
Phone Chargers
Avoid Digital Disasters

Confirm Wi-Fi Access
The last thing you want to do is show up to an event and realize your booth is in the one corner where the Wi Fi signal doesn't reach.
If any part of your display or presentation utilizes Wi-Fi, an unstable connection and/or running into the surprise of having no Wi-Fi at all can ruin a trade show for your business.
For that reason, you must do your research beforehand. Confirm booth location and Wi-Fi access prior to the event.
Get Your Devices In A Row
Charge all your devices and bring extra chargers.
We'll say it one more time…charge all your devices and bring extra chargers.
Many displays incorporate devices such as tablets, laptops, cameras and smartphones into their presentation. Prepare booth staff on how to keep these devices charged and ready to be used.
Test Everything, Then Test It Again
Testing your technology is especially important for display elements of your booth. For example, if you plan on using a screen to project Twitter feeds, test both the technology and the feed software the morning of the show (just like with your devices). Testing also extends to anything in your booth using power like lights, audio and or any moving parts.
As you can tell whether it's human error or technical difficulties, when you throw technology into the mix things get a little more complicated. However, don't let this discourage you as the benefits of technology hugely outweigh the possible issues involved.
Conclusion
The more often you attend industry trade shows, the better you will get at budgeting and planning for events. As you continue to hone your trade show prowess, you will be able to increase your customer base and your trade show ROI, making the investments of time and money you put into trade shows well worth it.
Need help planning your next event? Download Nimlok's Ultimate Trade Show Planning Checklist, which outlines common "to-do" items in the months leading up to and after an event.