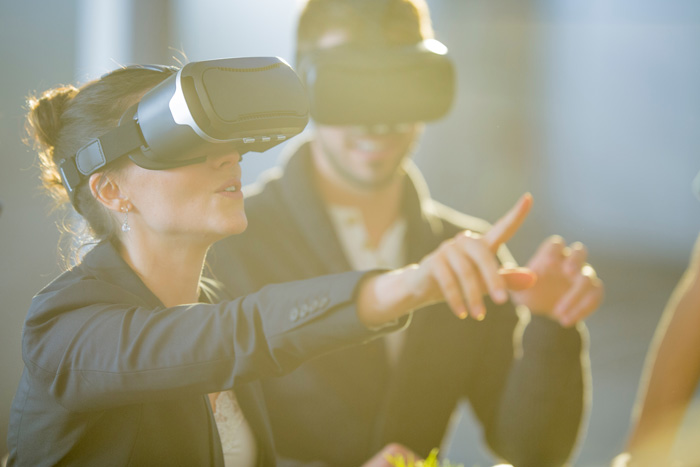 At trade shows, the competition can be fierce. Exhibitors are shoulder-to shoulder with other big names in their industry, trying to catch the attention of a shared audience. Entice trade show attendees with technology!
That's where virtual and augmented reality come into play. This emerging technology has novelty on its side, capturing the attention of attendees and creating an immersive experience that keeps booth visitors excited and involved. It's fair to say that companies from Sony all the way to Nu Bay com are intrigued by the prospect of VR and the impact that it can have on the entertainment we love.
In addition to building hype, virtual and augmented technology offers incredible functional value to exhibitors looking to showcase entire product lines, complete service offerings or an expansive portfolio, all within a limited booth space. Follow these tips to exhibit like a pro using cutting-edge technology.


What's the difference?
Virtual vs. Augmented Reality
Before we dive into crafting a virtual or augmented reality experience for your exhibit, it is helpful to define and distinguish these terms:
Virtual Reality (VR)
Virtual reality commonly utilizes a headset to transport attendees to an immersive environment of your choosing, providing endless applications and possibilities. Completely separated from the trade show floor, users can walk through showrooms, get behind the scenes perspectives of daily operations or interact with products through virtual demonstrations.
Popular VR devices include:
Oculus Rift headsets use state of the art technology designed to fully submerge the user inside a vivid and interactive experience using advanced digital imaging.
Google Cardboard is a lightweight device made from — you guessed it — cardboard. This versatile, low-profile system transforms a smart phone into a virtual reality headset using VR-friendly mobile applications.
Augmented Reality (AR)
Augmented reality adds interactive digital elements to a real-world environment, such as an exhibit space, brochure or product display. AR commonly utilizes handheld devices, such as smart phones or tablets to overlay the current view with information, specifications and more. This allows the participants to stay present within your exhibit, while exploring interactive elements beyond the physical boundaries of the space.
Popular AR devices include:
Smartphone and tablets, powered by mobile applications that allow visitors to interact with the exhibit on their own terms.
QR codes allow attendees to scan various elements throughout the exhibit for quick access to product, service or company information.
Smart Glasses superimpose information based on what items the visitor is viewing within the exhibits.

Benefits of VR/AR at Trade Shows
There are many benefits to leveraging VR/AR at trade shows and we'll highlight a few next.
However, keep in mind that crafting a VR/AR experience takes a lot of planning, preparation and troubleshooting. Make sure to clearly define your goals for using VR/AR technology at your event. Are you trying to reinforce your brand? Looking to drive leads through the presentations? Once established, carefully plan the presentation content around those goals.
Engage Attendees
If you want to create a memorable experience for attendees, then it is important to share your brand's story. VR/AR presentations are a way to engage visitors with thoughtful content, like a creative sales pitch that focuses on fulfilling their needs or company history trivia. Remember, creating VR/AR content is not enough, it must deeply resonate with your average consumer. Listen to their needs, and work from there.
Related: How to Excite and Engage Visitors at Your Trade Show Booth
Expand Your Space
The purpose of trade shows is to connect with consumers in a face-to-face environment, but with VR/AR you can take that a step further by creating an out of the booth experience that transports attendees to a your warehouse, sales floor, production facility and beyond. This can be an incredible tool for exhibitors, especially if the booth space is limited.
Here are a tips for expanding your booth space with VR/AR:
Create a show room of your entire product line using either augmented or virtual reality.
Use virtual reality to walk attendees through how your products are made.
Bring attendees to your business location and introduce your team.
Integrate augmented reality into product displays, providing additional information and selections.
Create an Awesome Product Demo
Traditionally, product demos were limited to products that could be physically brought to the show, or displayed electronically via TV monitors. However, VR/AR technology allows exhibitors to break free of those confines and demo entire product lines regardless of the booth size or display capabilities.
For example, at EXHIBITORLive 2018, the Nimlok team brought exhibit designs to life using VR technology that allowed booth staff to create exhibits in real time. Additionally, VR/AR presentations can include large products such as vehicles or machinery, in-action views of products or services and more.
Related Content: Watch the Nimlok team use virtual reality!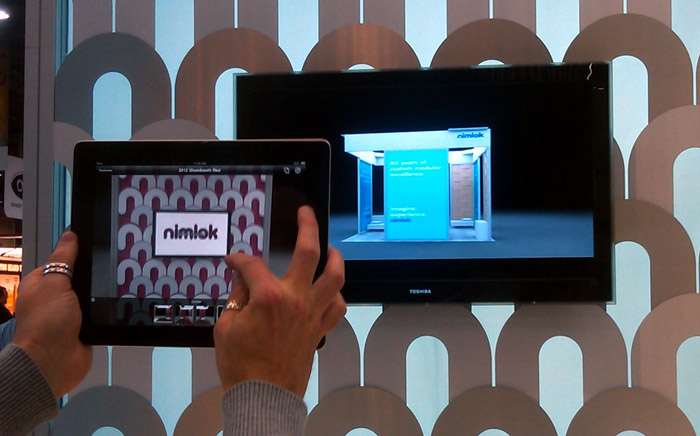 Bonus Tips
Here are a few more things to consider before including VR/AR technology at your next trade show.
Use Virtual & Augmented Reality to Increase Leads
Incorporating VR/AR is a great way to increase traffic, but what about leads?
The easiest way to benefit from all the attention is to request an attendee's information as part of the VR/AR set-up process. Lead capture devices, such as badge scanners, make this an easy, natural process. Creating an interactive experience incentivizes attendees to learn more about your company, increasing high-quality leads based on genuine interest.
Stock Up on Devices
Cutting edge technology tends to draw a crowd, and potentially could create a long line of attendees waiting to participate in your AR/VR experience. Be sure to bring enough devices for attendees, and have staff members ready to engage with visitors who may be waiting their turn. A good rule of thumb is to have at least one device per booth staff, as they can guide the visitor through the experience and answer any questions.
For VR presentations, consider purchasing several inexpensive headsets or renting devices from a supplier, so multiple presentations can take place simultaneously. For AR presentations, it may be easier to integrate the features through a mobile application that visitors can download to interact with the exhibit and products. This allows visitors to use their own devices, while reducing costs and wait times.
Keep in mind, it is important to select a VR/AR technology that works for your trade show budget. Selecting a less expensive device system can be more beneficial if more devices will circulate through the exhibit.
Related Content: Your Trade Show Budget Worksheet
Carefully Plan Experiences
During trade shows, attendees are constantly on the move, trying to cover as much ground as possible in a limited amount of time. When presenting a VR/AR experience to a booth visitor, it is important to make every minute count.
Here are a few tips to get the most of every interaction and entice trade show attendees:
Keep the VR/AR presentation short and sweet, giving more visitors the opportunity to participate in the experience, while leaving time for questions and sales-driven conversations.
Make sure that the VR/AR controls are simple and user-friendly. Complicated technology can detract from the overall experience.
Prioritize comfort by creating relaxed seating areas and an open floorplan that invites attendees to stop by.
Avoid an intense VR/AR experience that will overwhelm participants. Stick to fun and informative content for an enjoyable and memorable experience.
Great Giveaways
Giveaways that feature AR (and can be used by the visitor's device after the show) make excellent giveaways and increase the chances that they will share the item with someone else in their network. A product brochure featuring QR codes that trigger engaging AR content allows participants to interact with products with their peers long after the event.
On the virtual reality side, inexpensive headsets such as Google Cardboard, can become great giveaways or contest prizes. Paired with interactive features throughout your exhibit and effective branding placement, it is the perfect giveaway or prize to attract attendees' attention.
Related Content: Guide to Trade Show Giveaways
Conclusion
Use virtual and augmented reality to design immersive brand experiences that extend beyond the ordinary scope of your marketing strategy. Go beyond the ordinary by using virtual and augmented reality to bring your brand's story to life and entice trade show attendees!
Looking for more ways to boost brand presence at your next event? Download our free e-book, Social Media for Exhibitors!