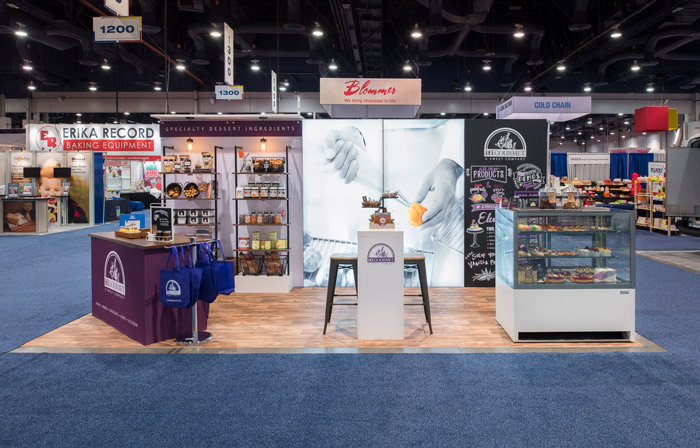 Whether you call them promotional items, tchotchkes or swag, exhibitors at every trade show hand out countless trade show giveaways to attract and encourage attendees to enter their space. Some exhibitions may find that giving away booklets from somewhere similar to this saddle stitch booklet printing company could be a great way of building awareness for their products and brand.
The right trade show giveaways can help generate leads and support integrated marketing messages that will prompt attendees to tie that message back to your company long after the show has ended. Companies like Groggy Dog help companies all over the country with promotional products, which are perfect for any type of trade show
In this post, we cover the best practices for planning, selecting and distributing popular and impactful trade show giveaways, and share our list of the top 10 giveaway items.
Getting Started:
When trade show giveaways are effective, they have the power to enchant attendees at an event, so it is important to properly plan your giveaways to ensure your promotions have as big of an impact as possible.
Brand Alignment

High-performing trade show giveaway items communicate a company's brand strategy, messaging and capabilities to attendees. Before you select trade show giveaway items, first consider whether or not they support your corporate image, brand persona and campaign theme.
Tips for Brand Alignment:
If possible, make sure your trade show giveaway has your company logo printed, etched or chiseled on it. Remember, no matter how cool the giveaway item is, you will lose out on exposure if it cannot be immediately linked back to your brand.
Think of giveaway items that tie-in to your brand and industry. This will help attendees associate your brand with your industry and give you additional brand prominence within your market.
If you have a themed trade show campaign, select trade show giveaways that reflect your theme to strengthen your brand messaging.
Additionally, check out our post on Branding at Trade Shows to learn more on how to properly portray your brand.
Presenting Value to Attendees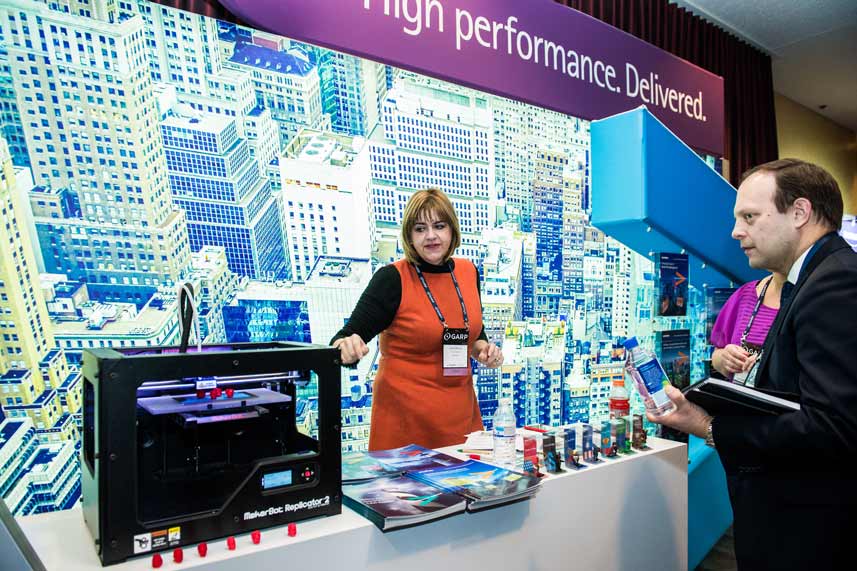 One of the most important functions of a trade show giveaway is its ability to resonate with your clients and prospects. While unique and fun trade show giveaways are always a great way to generate interest in your brand, practical giveaway items can present more value to visitors, creating greater long-term impact.
Tips for Valuable Trade Show Giveaways:
Think of giveaways items that will be immediately useful to attendees such as tote bags, pens, hand sanitizer and water bottles.
Some of the most valuable trade show giveaways are ones that will be in frequent use, such as LED keychain flashlights, phone chargers and even games like mini trashcan basketball hoops.
Related: Trade show booth design is a key element to engaging with attendees.
Budgeting for Trade Show Giveaways

Like exhibits, trade show budgets vary in size from exhibitor to exhibitor. Regardless of your event marketing budget, you should be conscious of the costs associated with the trade show giveaway items, including cost per item, taxes, shipping and storage.
Tips for Cutting Trade Show Giveaway Costs:
Expensive and flashy trade show giveaway items might garner the attention of attendees, but you want to make sure that you get the most bang for your buck. Look for inexpensive alternatives that can pack a similar punch.
Shipping can inflate a budget quickly. Think ahead about the size and weight of your giveaways items and investigate free shipping options with your vendor. Select a provider who has a location in the show city so you can pick up your giveaway and avoid costly freight charges.
Make sure your staffers do not frivolously hand out giveaways to every passerby. Instead, identify actions that earn giveaways like listening to a presentation, scanning a badge or exchanging a business cards as a means to generate leads.
Related: Nimlok's Trade Show Budgeting Worksheet makes the budgeting process simple for exhibitors:
Top 10 Trade Show Giveaway Ideas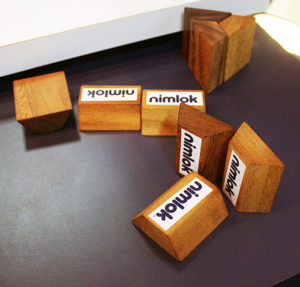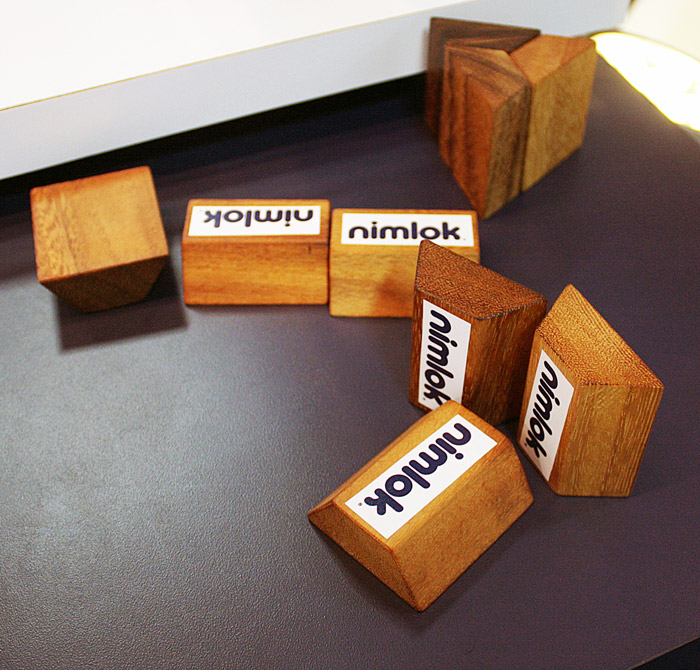 On the surface, trade show giveaways seem to be one of the easiest decisions associated with exhibiting. However, selecting the perfect impactful giveaway item can be difficult. To help you select the right promotional item, we have outlined a list of popular trade show giveaways and their benefits.
Related: Trade Show Games & Contests are the perfect way to implement giveaways into your exhibit.
Smartphone Wallet
Smartphones dominate the mobile device market and are here to stay for the foreseeable future. What better way to provide value to your visitors than offering a smartphone wallet? Make sure the smartphone wallet features your company logo and work with the vendor to style with company colors.
Value to Attendees:
Holds cash, driver's licenses, debit/credit cards and more on the back of their smartphone.
Convenient and good space-savers, especially for traveling business persons.
Value to Exhibitors:
Cost-effective and lightweight, smartphone wallets are an inexpensive way to make an impact with attendees.
Easily branded, smartphone wallets are ideal for displaying your logo or communicating your brand message.
Reusable Water Bottles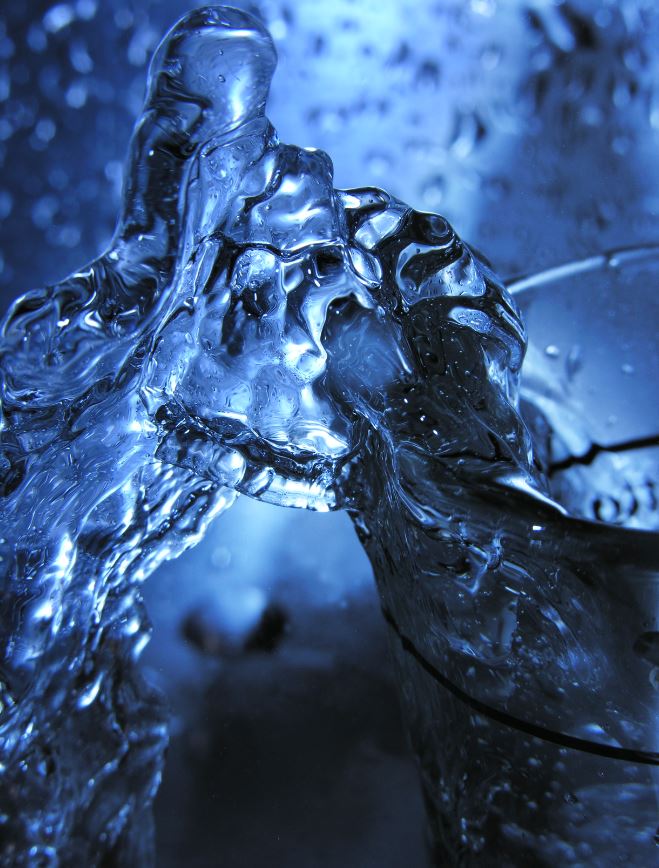 Everywhere you go, from the office to the park, you see people carrying reusable water bottles. Having reusable water bottles, like Custom Water bottles, as a promotional giveaway on the trade show floor will draw lots of traffic to your space with attendees eager to get their hands on your eco-friendly swag.
Value to Attendees:
Can be instantly useful as a way to stay hydrated while walking the trade show floor.
Reusable water bottles have long lifespan and will be used by attendees long after the show is over.
Value to Exhibitors:
Branded reusable water bottles can double as office and trade show swag, allowing exhibitors to kill two birds with one stone.
Reusable water bottles are "green" trade show giveaways and will reinforce environmentally-friendly brand messaging.
Potential long-term branding opportunity as reusable water bottles are likely to be used after the event.
Tote Bags
Branded tote bags are a trade show giveaway staple and can help attendees carry all the goodies they snag up on the trade show floor.
Value to Attendees:
Useful, especially on the trade show floor as a way to hold swag, brochures, product samples and personal possessions.
Tote bags can be used by attendees after the show as eco-friendly bags for groceries, gym clothes, items for work or the beach.
Tote bags constructed from high-quality materials, such as canvass, are durable and long-lasting.
Value to Exhibitors:
Veteran trade show attendees expect to find tote bags on the show floor and will seek out exhibitors offering them as a giveaway item.
Tote bags can include other giveaways for additional branding and messaging opportunities, such as including brochures, special offer coupons or promo codes.
Tote bags offer large print areas perfect for branding, creative graphics and eye-catching colors.
Lip Balm
With all of the conversations taking place on the show floor, attendee's lips are bound to become chapped. Lip balm as a trade show giveaway will remind attendees of your brand every time they reach into their pocket or purse to moisturize their lips.
Value to Attendees:
Many people use lip balm frequently. Having your logo printed on lip balm can keep your brand top of mind.
Lip balm can help attendees keep their lips protected from the elements ranging from cold winter winds to the sweltering summer sun.
Value to Exhibitors:
Lip balms are one of the more inexpensive trade show giveaway items.
If properly stored, lip balm has a long shelf life and can be used from show to show, increasing cost savings and reducing waste.
USB Chargers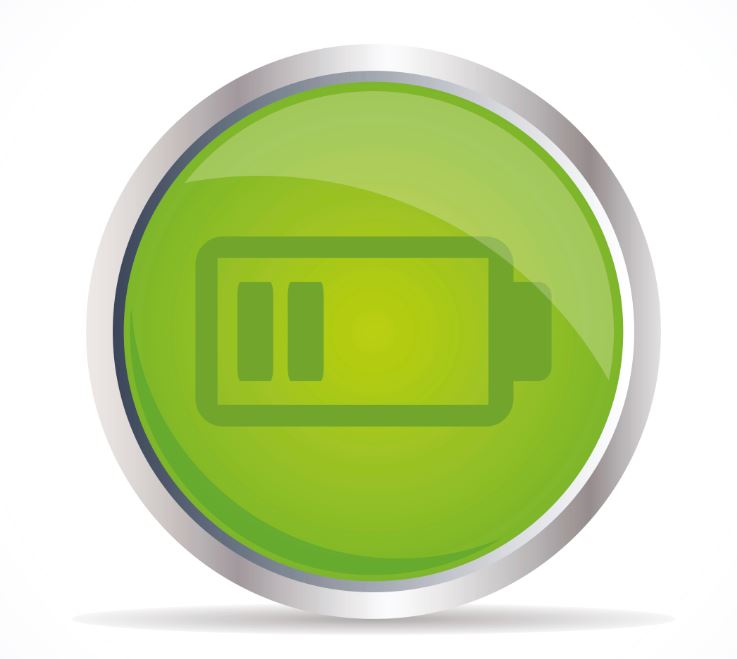 Trade show attendees may not be in the office, but they are still connected to their workplace via email, text and calls. Constant communication can take a toll on battery life, which can send an attendee scrabbling to the nearest outlet. If you have USB chargers as your trade show giveaway, you can provide attendees a lifeline back home when they need it most.
Value to Attendees:
USB chargers are portable and easy to use during the trade show.
Most USB chargers can charge multiple electronic devices, keeping attendees plugged-in to world at-large.
USB chargers are perfect for travel and can be easily packed away in luggage and taken home for future use.
Value to Exhibitors:
USB chargers are useful to the majority of attendees, so you will have no problem generating booth traffic by giving them away.
USB chargers are a relatively inexpensive but high-impact trade show giveaway that will help you stand apart from competitors.
You can select fun colors and add your logo to USB chargers for additional branding and marketing opportunities.
T-Shirts
T-shirts are one of the most sought-after trade show giveaway items. Attendees love to hunt down and collect as many free t-shirts as possible while walking the trade show floor. By utilizing t-shirts as a giveaway item, you will ensure that your trade show booth is flush with attendee traffic.
Value to Attendees:
T-shirts are an easy-to-pack keepsake perfect to take home and wear as workout or lounge clothes.
T-shirts present instant value because they can be worn immediately, whether at the show or back at the hotel.
T-shirts provide a good memory from a fun event and great time.
Value to Exhibitors:
T-shirts are a giveaway that will be worn around the trade show floor, increasing brand exposure and foot traffic to your booth.
T-shirts present lots of room for branding and creative marketing messages.
Fairly safe giveaway, as t-Shirts are generally something that everyone likes receiving.
Breath Mints
We have all been there: about to head into a meeting and suddenly, we wonder about whether or not our breath is fresh. At trade shows, this worry is tenfold. Attendees will speak with and meet potentially hundreds of people, making breath mint giveaways practical and in demand.
Value to Attendees:
Breath mints are lightweight, convenient and easy to carry.
Breath mints help attendees speak more confidently while networking.
Due to their small size, breath mints are an excellent sharable giveaway item that can be offered to other attendees and co-workers.
Value to Exhibitors:
Branded boxes of mints ensure that every time an attendee shares them, they are helping promote your brand to a new potential prospect.
Breath mints are inexpensive, easy to pack and store and can be used from show to show.
Food and Drinks
While walking the trade show floor attendees work up an appetite, and offering snacks to visitors who show interest in your booth is a great way to start conversations. Coffee, pretzels, personalized M & M's chocolates are simple, cost-effective consumable giveaways providing your sales team an opportunity to engage and consult with them.
Value to Attendees:
After spending the day walking the trade show floor, attendees are attracted to and appreciate for food and drink giveaways that hold them over until after their next meal.
Consumable giveaways save from having to buy expensive vending machines and costly concession stands at the venue.
Value to Exhibitors:
Food and drink giveaways are great icebreakers and can be a tipping point in your favor for passersby debating whether or not to stop by your booth.
Good food giveaways can get people talking about your brand, and can get people to seek out your booth.
Product Samples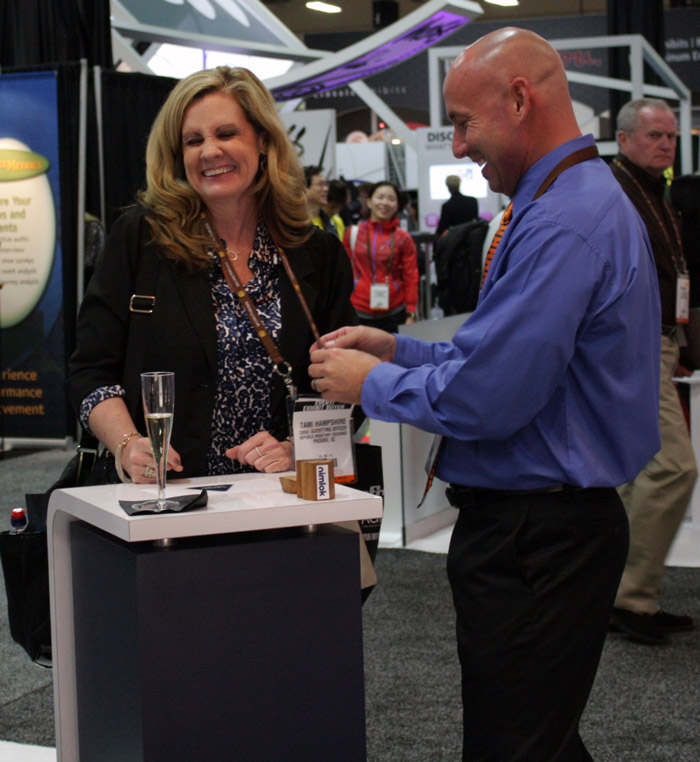 Giving away product samples to prospects is one of the most effective ways to show off your wares while also attracting qualified attendees to your booth. Attendees will be more receptive to sales pitches and consultations if they are able to sample a product on the show floor.
Value to Attendees:
Product samples give attendees the opportunity to try products first-hand before purchasing them.
Attendees will be better informed on your product and can make purchasing decisions with more confidence.
Value to Exhibitors:
Product samples are just about the best giveaway in terms of showcasing your brand's capabilities.
If you have multiple products that can be used as giveaways, they can be tiered depending on how valuable certain attendees may be as prospective clients.
Audio Devices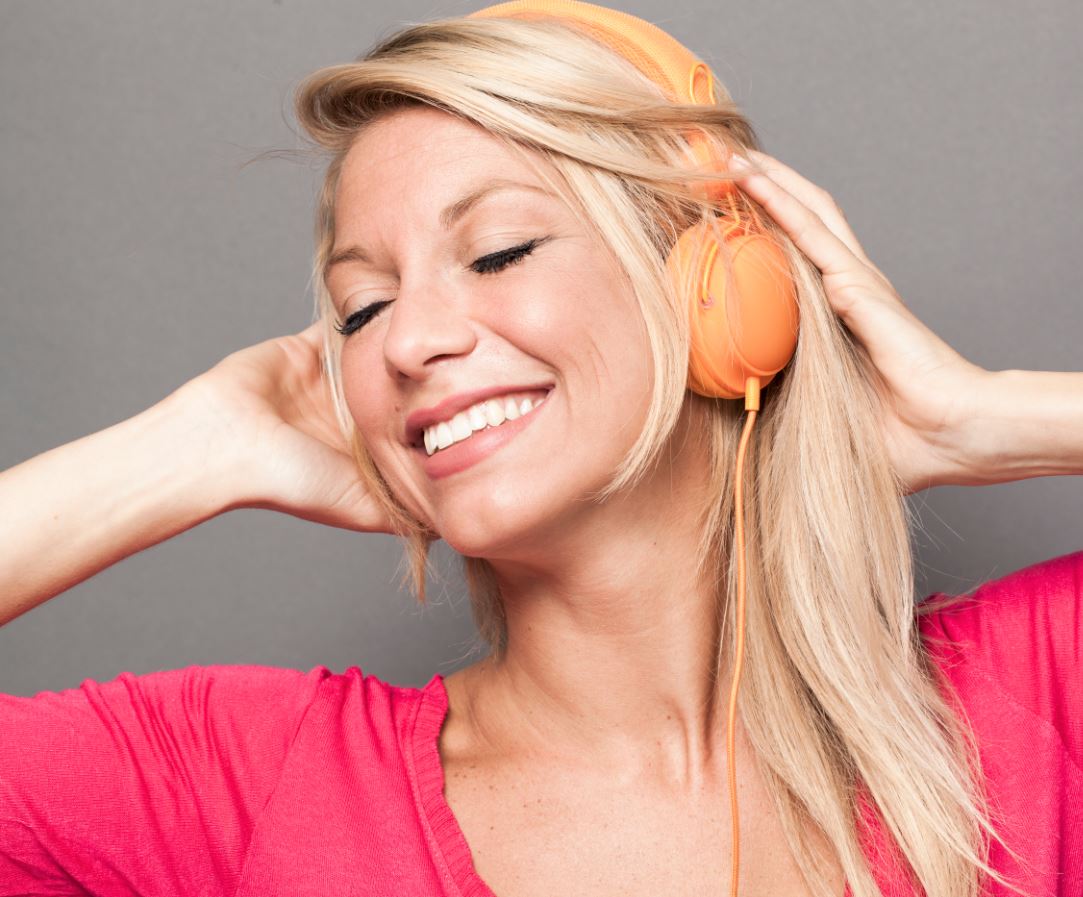 Audio equipment, like Bluetooth speakers and headphones, are great trade show giveaways because they can be used outside of the show in a variety of ways. If you choose headphones as a trade show giveaway, make sure they come in branded cases, otherwise the recipient may forget that the headphones came from your company.
Value to Attendees:
Bluetooth speakers and headphones can be used right away by attendees on the show floor or back in the hotel room and can be great gifts for attendees' loved ones.
Not everyone brings headphones when traveling to trade shows. Some attendees may have forgotten or lost and a pair of promotional headphones could be a lifesaver for a music lover.
Value to Exhibitors:
Headphones and speakers can be customized to feature your logo and your brand's colors.
Headphones and speakers can be reserved for "VIP" clients or prospects to incentivize better quality prospects to engage with your staff.
Conclusion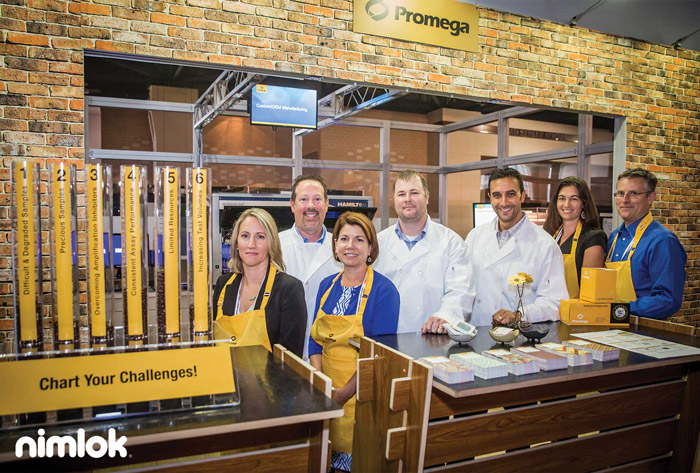 Picking the perfect trade show giveaway items can be challenging at times, but when done right, you will be sure to net amazing returns in both in-booth traffic and attendee engagement with your brand. As with any marketing effort, keep your goals in mind and try to avoid budget and logistical snags and you are sure to be successful.
If you would like to learn more about trade show giveaways and ways to wow, engage and sell at trade shows, download Nimlok's Trade Show Ideas e-book, which contains 20+ real-life event marketing success stories sure to spark your imagination.