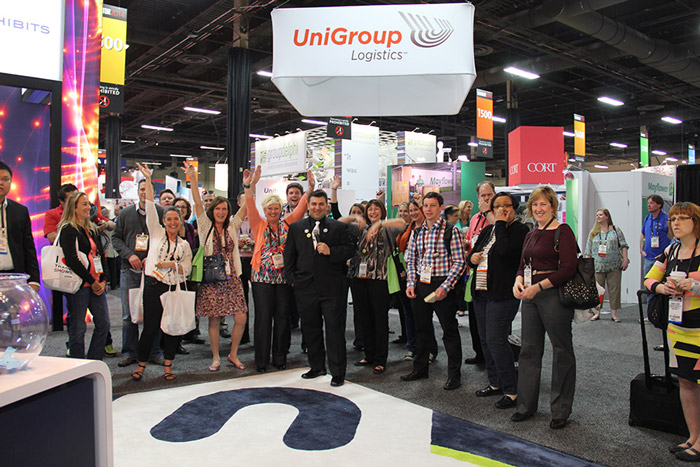 It's your worst exhibiting nightmare.
You've spent months planning, budgeting and executing the perfect trade show program.
Everything is in order, and you're ready to rock your event. The exhibit hall doors open.
A flood of people trickle into the hall…
…but no one is stopping at your booth!
Ahhh! Can someone wake us up from this nightmare!?
Unfortunately, this is an all-too common reality for exhibitors. Thankfully, trade show contests and games can drive more traffic to your booth and create more opportunities to engage with prospects.
In this post, we outline some of the best practices to planning and operating in-booth games and activities, as well as share ideas for contests that will leave your visitors wowed.
Tips for Getting Started
In-booth contests and games are entertaining for exhibitors and attendees alike, but before you begin, you need to master the basics.
Pre-Show Promotion:
Games and contests are extremely effective at drawing crowds to your exhibit.
However, without proper pre-show promotion of your activities, your efforts may fall flat, resulting in fewer visitors to your space.
Tips for Pre-Show Promotion:
Send an email blast to current clients and prospects advertising your in-booth activities up to three months in advance of your show.
Check with show organizers to see if there are pre-event opportunities to advertise your activities in the show book or event newsletter.
Broadcast your contest or game via Facebook, Twitter and LinkedIn early and often and use official event hashtags to reach attendees.
Related: Trade Show Email Marketing Tips
Plan Games and Contests with Engagement in Mind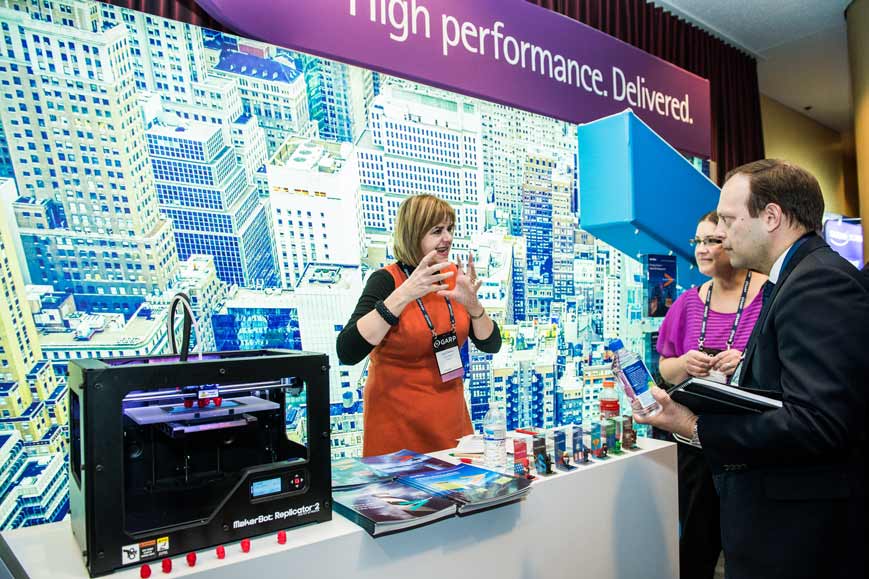 In-booth activities work best when the contestants are active rather than passive participants. When planning your contest, think about ways to get your participants engaged with your staff, product or service. In addition, you can also use various tools to bring more traffic to your site, such as seo tools but you may just want to use contests so keep reading!
Tips for Engagement:
Task yourself or a staffer with playing the role of a host or emcee to introduce contestants, make announcements and engage with the audience to keep the game interesting.
Create games and contests that revolve around contestants inspecting, using or answering questions about your product or service.
Connect your contest to the theme of your trade show campaign or to your brand's image.
Related: Staffing Tips for your Trade Show Booth
Have a Lead Generation Plan
Trade shows and face-to-face marketing events are often themed or industry-specific, making them the perfect place to gather qualified leads.
To capitalize on reaching potential new customers, make sure you incorporate a lead gathering strategy into your in-booth activity game plan.
Tips for Lead Collecting and Follow Up:
Attendees are weary of giving away their contact information, if possible, create an easy-to-win game and collect information from the winners. Attendees will be more apt to hand over information when they win a prize.
To avoid potential unqualified leads, make sure your signage and game make what your business does clear and devise a prize that would be most helpful to attendees who fit your buyer persona.
Trade shows contest and games will help you generate a buzz – but that energy and excitement won't last forever. Make sure to quickly follow up with prospects and use your games as an icebreaker leading into sales calls and emails.
Budget Considerations

Whether you are a large and established brand or an up-and-coming company, trade show budget concerns are a real and serious part of event marketing.
When planning your trade show budget, make sure to account for your contest and game-related expenses.
Tips for Contest and Game Budgeting:
Prizes are the number-one reason an attendee participates in a trade show contest or game, and prizes cost money. Make sure you factor them into your budget.
If you plan on having in-booth activities, you will need more staff to help run them. Take the additional staff into account when budgeting for your trade show.
Keep budget constraints in mind, and don't sacrifice exhibit design because you overspent on your trade show contest because smartly-designed trade show displays can help lure in prospective contestants.
Related: Be sure to check out our Trade Show Budgeting Worksheet to streamline your planning process:
Ideas for Trade Show Contests and Games
Now that you understand the basics of planning trade show contests and games, it is time to choose the right engaging activity for you and your brand.
Below, are some of the most popular, engaging and fun contest and game ideas for your next event.
Prize Wheels
Prize wheels are always a fun way to draw people to your booth. A big, colorful prize wheel will attract attention at a bustling trade show and can help create a game show atmosphere.
It is important for participants to have a good time, but more important that they remember your brand with a memorable giveaway after the show is over.
Prize Wheel Tips:
Make sure your prize wheel is large and colorful, you may want to add lights for added flair.
Engage with the crowd and get them excited for their chance to play on the prize wheel.
When you set up your prize wheel, make sure you include one grand prize, such as a cash reward, gift card to a local top-rated restaurant or highly coveted digital device.
Prize Wheel Alternatives:
You can employ other similar games of chance that offer similar levels of engagement and excitement as prizes wheels including:
Roulette Wheel
Plinko Board
Slot Machines
Trivia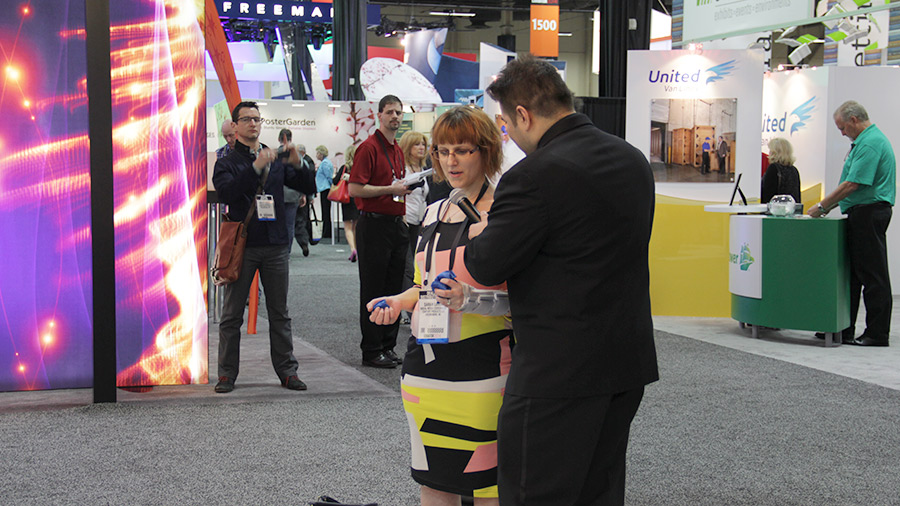 From the barroom to the livingroom, everyone enjoys a good game of trivia. Make your trivia questions specific to your particular business or industry, so visitors can learn about your company while having fun.
The information learned will likely stick with them long after the trade show is over and, as a bonus, spectators will also learn about your company while watching contestants compete.
Tips for Trivia:
Design your trivia game to follow the format of popular trivia gameshows (Family Feud, Jeopardy, etc.).
Include questions about your brand, industry and convention to educate contestants on your product, service or capabilities.
Have prizes for both correct and incorrect answers so everyone is a winner.
Counting Contest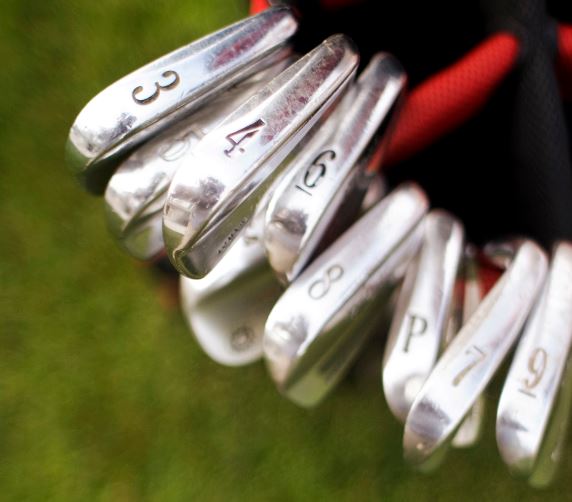 For this classic contest, fill a clear container with jellybeans, pennies, marbles or something that relates to your company or industry. Instruct attendees to guess how many items are in the jar.
Attendees can submit their estimates on the back of their business cards, giving you their contact information and becoming a lead for your sales team to follow up with post-show.
Attendees will be inclined to return to your trade show booth to find out if they won, giving you multiple opportunities to engage and educate.
Tips for Counting Contests
Advise your staffers to use the counting game as an icebreaker when they approach passersby.
Use marbles, candies or coins with your company logo printed on them as a way to reinforce your brand messaging.
Golf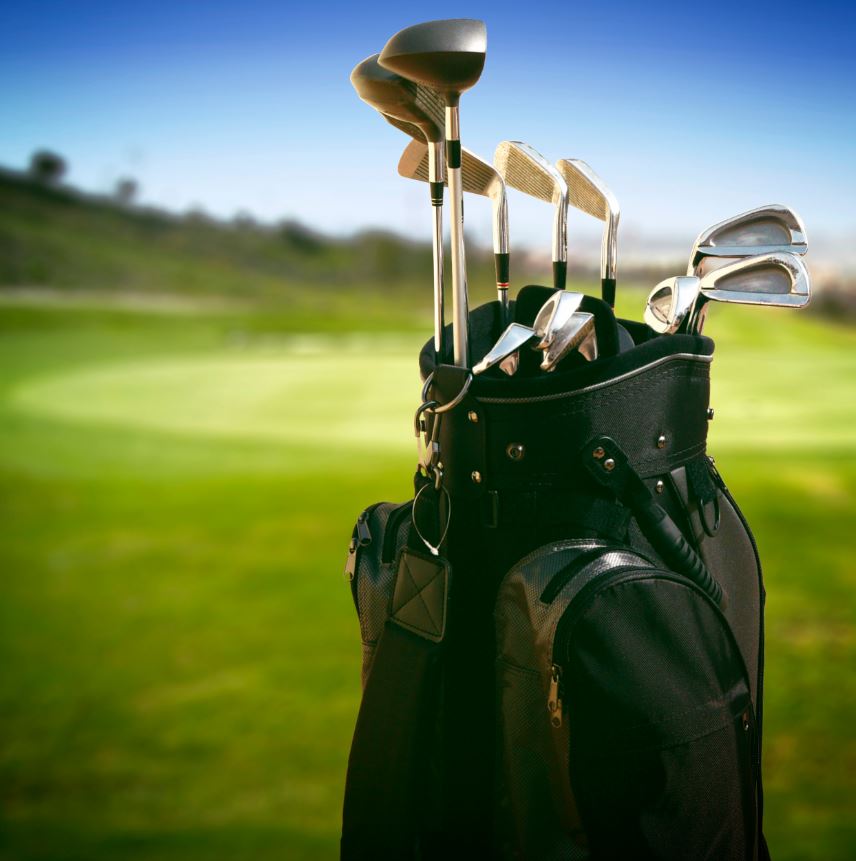 Golf is one of the most universally loved and recognized games around the world, so incorporating a golf-related activity into your trade show exhibit is a great way to attract passersby.
If you host a golfing activity in-booth, you will be amazed at just how fast your exhibit will become "the place to be" on the show floor. Your booth will be filled with attendees looking to hone their putts, improve their drives and drop a few strokes from their game all in a casual and easy environment.
Tips for Golf Activities:
Putting greens are an expensive but worthwhile activity, you can never go wrong with a putting green because it is the easiest and most simple golf activity to incorporate into your booth.
Like a putting green, driving range simulators take participants from the trade show floor to the links and allow them to practice their skills.
Virtual golf games are increasing in popularity because they allow players to get the feel of a day out on the links without having to chase down errant balls.
Jumbo Games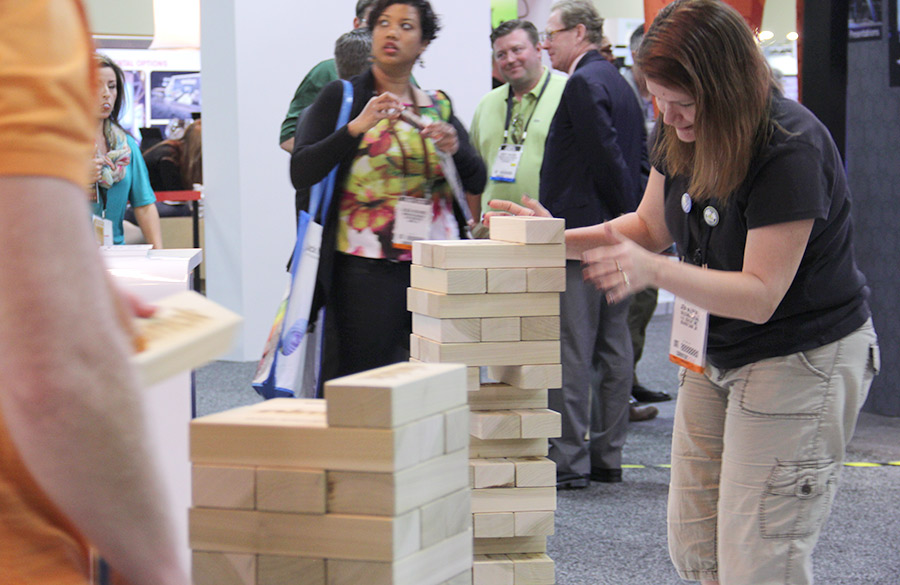 If you are looking for in-booth activities that will have a supersized impact on the show floor, jumbo games should be at the top of the list.
Be it a giant chess board, Malpractice (giant operation board) or a huge Jenga set, attendees will flock to your booth to try their hand at your larger-than-life games.
Tips for Jumbo Games:
Before you pack and head to your event, make sure each and every piece you need for your game is accounted for.
Familiarize yourself with the rules of your game before the show to eliminate confusion and ambiguous judgments calls.
Non-playing audience members are the key to building a lively in-booth atmosphere. Interact with spectators and encourage them to "cheer on" participants.
Photo Contest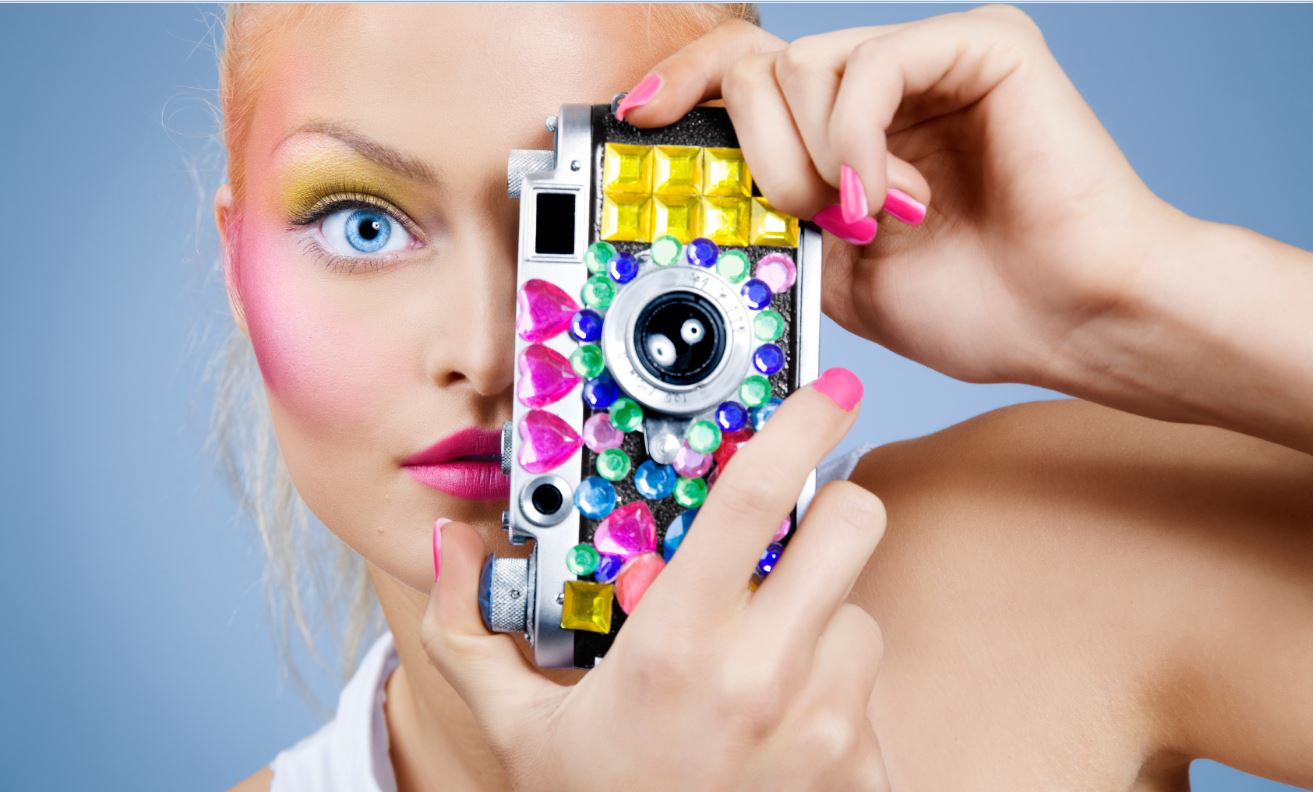 With the rise in smartphones, it seems that everyone is photographer, which is why photo contests have become popular promotional tactics.
Photo contests are a great way to gain exposure (pun intended) for your event marketing campaign on social media by encouraging guests to upload their contest entries to their social media profiles.
Tips for Photo Contests:
Create a hashtag for contest participants to tag to their social media posts. At the end of the day, declare a winning photo and invite the lucky attendee to collect their prize.
Add a photo booth to your exhibit and make sure to provide plenty of props. Task attendees with taking the most creative photo with the props and have other participants vote on the winner.
Looking for more ways to incorporate social media into your next trade show? Check out our 24 Social Media Tips for Trade Show Exhibitors!
Arcade Games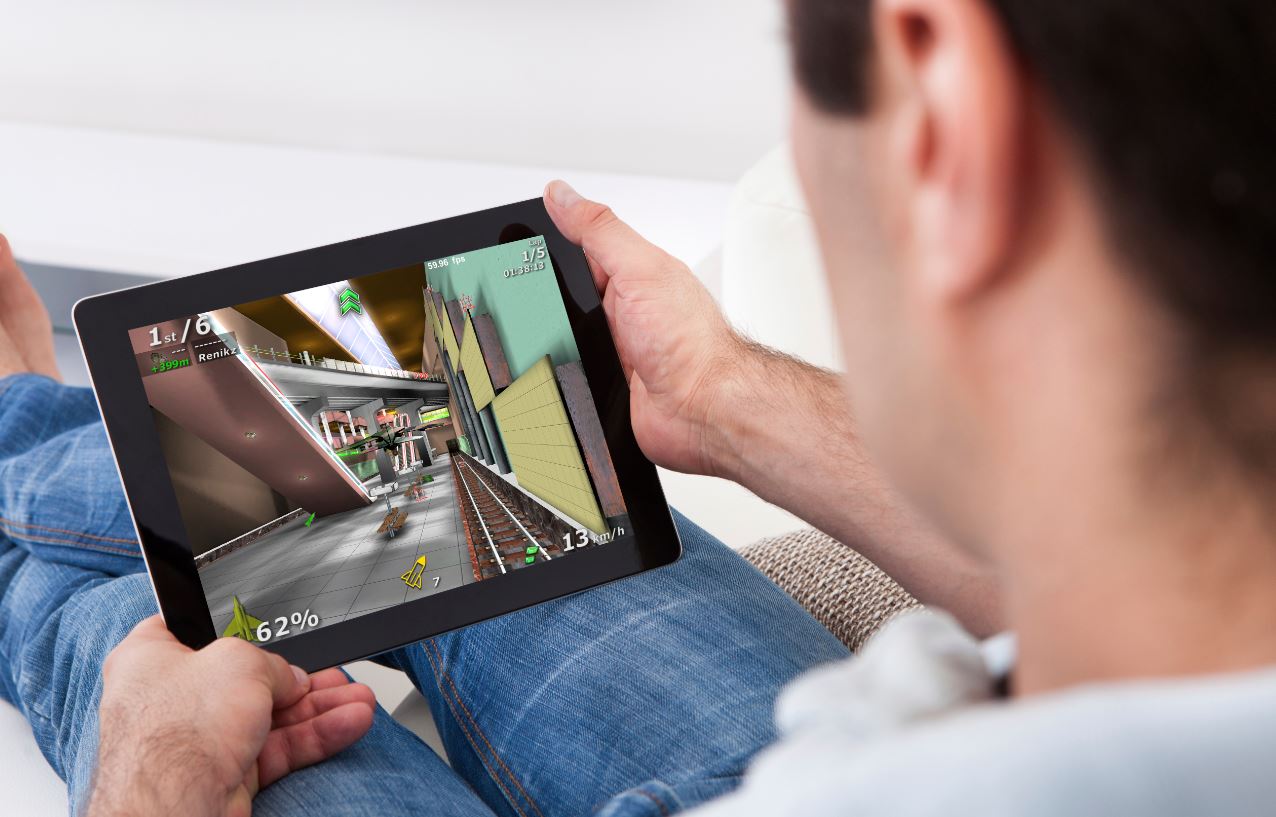 Classic arcade-style games like basketball toss, Skeeball and Air Hockey invoke a sense of youthful excursion and delight in adults and can attract tons of attendee traffic into your trade show booth.
Arcade games also require less staffing than other trade show contests and games, allowing more flexibility in the way in which you utilize your staff.
Tips for Arcade Games:
Make a leader board and post the high scores throughout the day to entice visitors to try their hand at beating the day's leader
Offer tickets instead of a set prize for participating and allow players to spend tickets on a variety of prizes
Make arcade games digital, so players can share scores and photos on social media.
If possible, try to set up head-to-head competitions between players to create a more competitive but friendly atmosphere
Trade Show Contest Prize Ideas
After reading the previous section, you should have an idea of which trade show contests and games would be a good fit for your company. Prizes are an important component to any contest promotion, as they motivate participants and promotes your brand after the event.
Below you will find a list of attractive and attention-grabbing prizes that will be sure to have attendees clamoring on about your exhibit.
Tips for Prizes and Giveaways:

Cash is the king of all prizes, so if you want an easy and universally beloved reward think about handing out a cash prize. It is important to note that cash prizes do not have lasting brand exposure, so consider your goals before you plan a cash prize.
Consider offering a free trial of your service or a supply of your actual products. Not only is the prize relevant and valuable to the audience, but it will get people to sample your product.
Having a mystery box giveaway with multiple prize options is a great way to stoke the imagination of contestants and generate buzz around your contest or game.
High-ticket items like cars, vacations and high-priced electronics always make great prizes, but remember not to overextend your budget.
Additionally, more prize ideas can be found at our trade show giveaways guide.
Remember, Everyone Wins with Trade Show Contests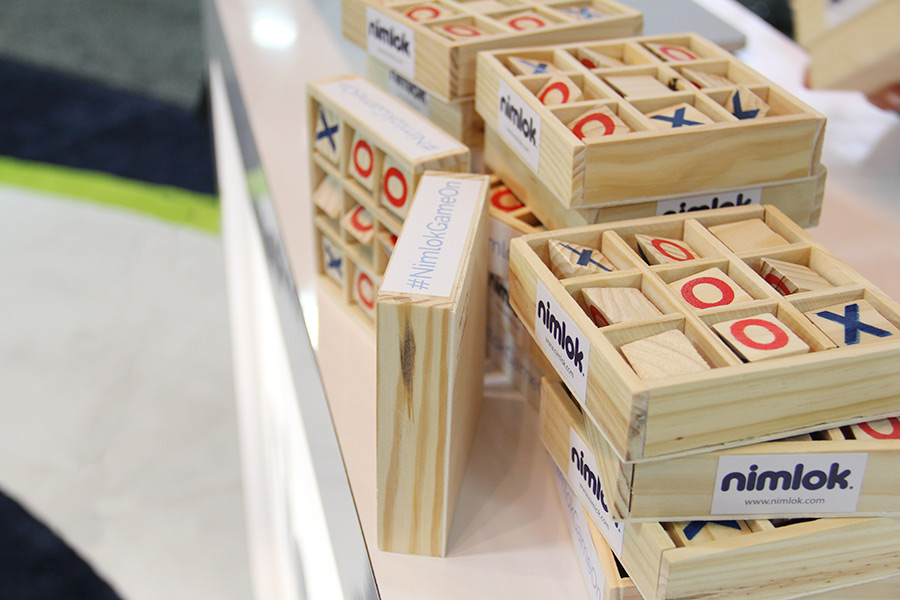 At the end of the day, trade show contests and games are one of the best ways to make connections on the show floor. Contests and games help attendees relax and forget about the stresses of business travel with lighthearted fun.
Contests and games are just one part of the trade show planning process. For help planning the rest of your next trade show, download Nimlok's Ultimate Trade Show Planning Checklist, which outlines common "to-do" items in the months leading up to and after an event: