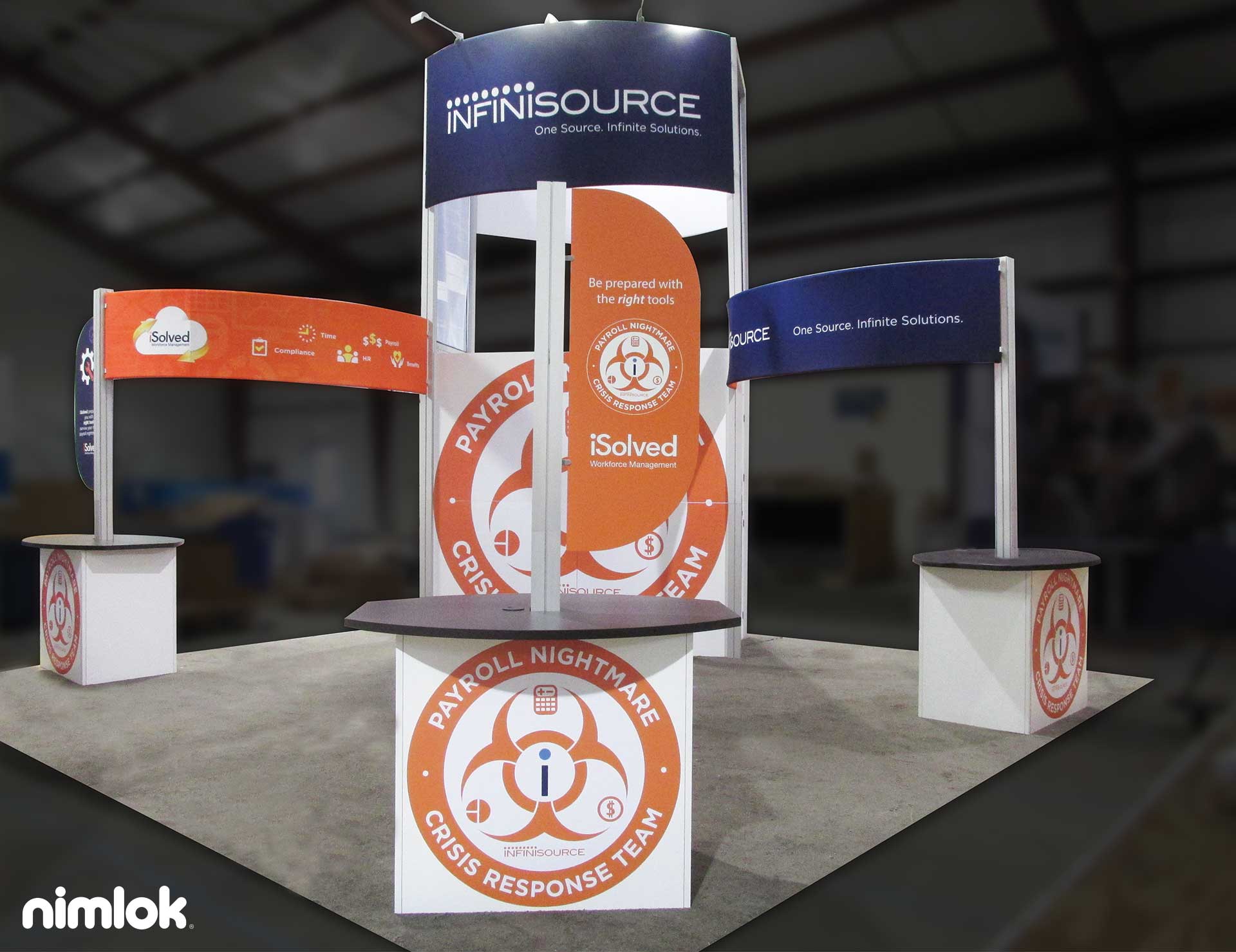 So, you've had it. You're done with figuring out where to store your huge, clunky trade show exhibit, you're tired of trying to keep the graphics from being damaged between shows and you are absolutely fed up with repairing, updating and – possibly – repurchasing exhibits and displays. Why can't it be easy? Why can't you just show up at the event to a beautiful exhibit and walk away once the event hall lights dim without a second thought to dismantling, shipping or storing?
And then you see an offering for simple, easy and affordable rental exhibits. That gets you thinking: Is a rental trade show display the right move for you? Rental exhibits can offer a lot of advantages over exhibit purchase in the right situations. Whether a rental trade show display is worth it or not for you depends on a multitude of factors. Take our easy quiz to see where you fall on the exhibit rental spectrum.
The Rental Trade Show Display Quiz
How far away is your next event?
__ < 2 weeks (1 point)
__ 2-4 weeks (2 points)
__ 5-7 weeks (3 points)
__ > 7 weeks (4 points)
What is your exhibit budget (the amount you have set aside to either buy or rent an exhibit)?
__ < $30 per square foot (1 point)
__ $30-$49 per square foot (2 points)
__ $50-$69 per square foot (3 points)
__ > $69 per square foot (4 points)
How many events do you plan on attending in one year?
__ < 2 events (1 point)
__ 2-3 events (2 points)
__ 4-5 events (3 points)
__ 6+ events (4 points)
How many times do you plan to use the same exhibit?
__ 1 time (1 point)
__ 2-3 times (2 points)
__ 4-5 times (3 points)
__ 6+ times (4 points)
Do you know what kind of exhibit you will need?
__ No, I have no idea (1 point)
__ I have some idea (2 points)
__ I'm confident in knowing what I'll need (3 points)
Does your exhibit have special custom needs, such as conference rooms, product displays or stage?
__ I don't know (1 point)
__ No (2 points)
__ Maybe (3 points)
__ Yes (4 points)
Results
Add up your points and refer to the below explanations to gauge if a rental trade show display is the right move for you. For more information on rental exhibits, download our Smart Marketers Guide to Exhibit Rental.
< 10 points | Rent, Rent, Rent!
You need an exhibit fast, affordable and easy. You are short on the time and resources required to find, design, buy and manage an exhibit and are a perfect candidate for a rental trade show display. Rental displays often come as kits, so everything you need, from the counter to the shelving to the lights, is included in one affordable sum. Nimlok offers over 100 kit rental solutions – some that can are ready to ship in as few as five days – so you can find the perfect exhibit quickly and easily.
10-15 points | Consider Rental
In short: a rental trade show display would probably save you a lot of headache. It's worth talking to an exhibit specialist to find out. Browse through sample rental exhibits online – Nimlok offers over 100 rental exhibits and display solutions, including eight offerings that reconfigure to fit 10×10 and 10×20 spaces – and see if anything catches your eye. If nothing seems to fit your needs, then you will probably have to purchase an exhibit. Also consider that rental cost is roughly 35% of purchase cost. Therefore, if you plan on using the exhibit three or more times, it makes more sense from a cost perspective to buy your exhibit rather than to rent.
16-20 points | Buy All or Go Hybrid
You're a seasoned, serious exhibitor with flexibility in time and budget. Buying a trade show exhibit will probably yield the greatest ROI. Keep in mind that the cost of renting an exhibit is roughly 35% of the purchase cost, so if you plan on using the exact exhibit more than three times, you're paying more to rent than it would be if you owned the exhibit. However, a rental trade show display is not ruled out! If you're not sure what you're looking for in an exhibit, renting allows you to "try before you buy" so you can test which features you need and which you don't.
Also, while renting an exhibit as a kit may not be the best option for you, supplementing a large-scale exhibit with rental components can help save money. This is especially attractive for multi-show exhibitors who maybe have a few shows with different size exhibits. You can rent components to make a smaller booth larger. That way you're not purchasing multiple exhibits but, rather, adapting one exhibit for multiple situations.
20 points | Stick to Exhibit Purchasing
You have time and budget flexibility, special exhibit needs and are a multi-show exhibitor. It makes more sense for you to purchase your exhibit. You can consider renting components to help offset the cost of ownership, but – generally – purchasing is going to be better off for your ROI. Consult with an exhibit specialist to discuss your purchase and rental trade show display options.
Learn More About Trade Show Exhibit Rental
Download Nimlok's e-book, Is Rental Right for You, to learn the many considerations that come into play when renting a trade show exhibit.
What's inside: 
Time required when purchasing versus renting an exhibit
Cost comparison between purchasing and renting
Tips that can help you save time, stress and dollars when renting
Insight into hybrid rental display solutions