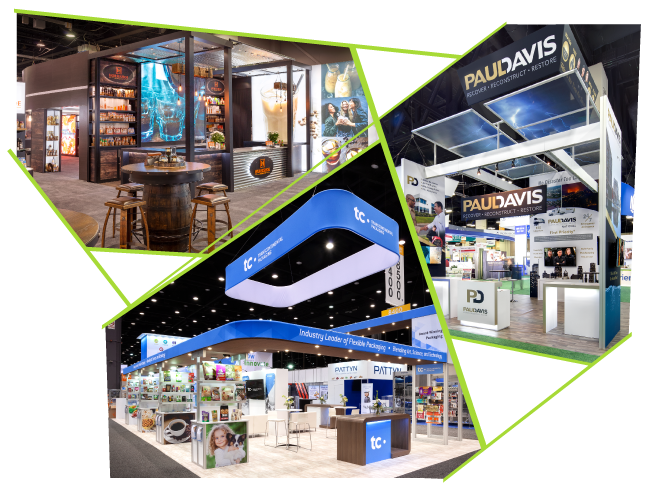 Every year, our expert Nimlok network partners with exhibitors to design, build and deliver hundreds of trend-setting trade show exhibit solutions. Here are the bold and creative exhibits that captured our attention in 2018. Learn more about our best in show!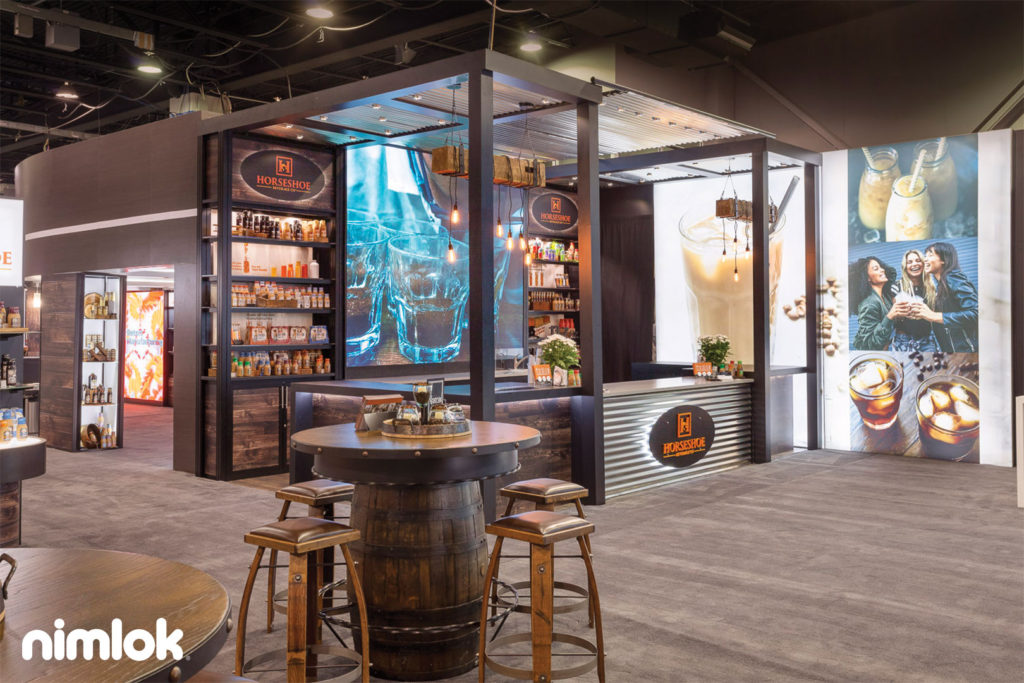 Trilliant: Captivating Café Experience
Now more than ever, attendees are drawn to carefully crafted trade show experiences. Trilliant's spectacular 80' x 125' island exhibit transported attendees to an immersive café environment that featured a fully-functional coffee bar and live entertainment. Different brand divisions were represented in each corner of the exhibit, allowing Trilliant to keep everything in one place. We love the creative vision that made this exhibit a don't-miss destination on the show floor.
Designed by: Nimlok Cincinnati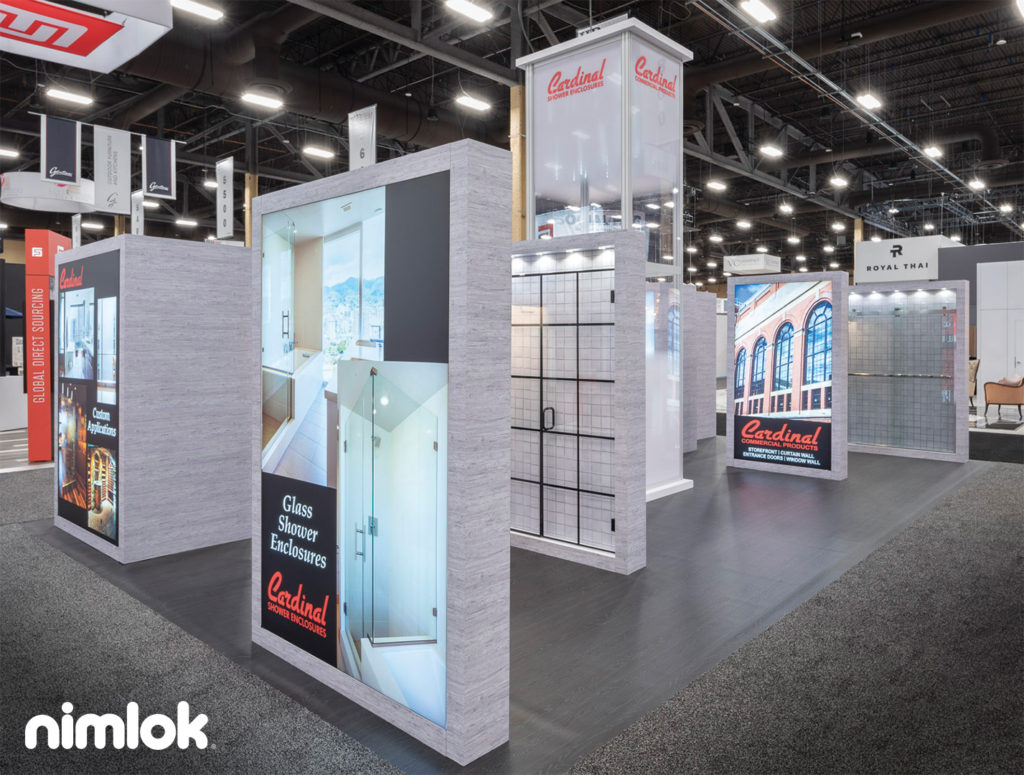 Cardinal Shower: Immersive Showroom
Want to take your showroom experience straight to the trade show floor? This sleek 20' x 30' island exhibit accomplished this task by creating a luxury environment that put Cardinal Shower's products in the spotlight. Illuminated displays integrated Cardinal Shower's products directly into the exhibit, allowing visitors to touch, feel and experience shower doors,handles, and a variety of material finishes. The unique product integrations and sleek displays made this exhibit a definite winner.
Designed by: Nimlok Kentucky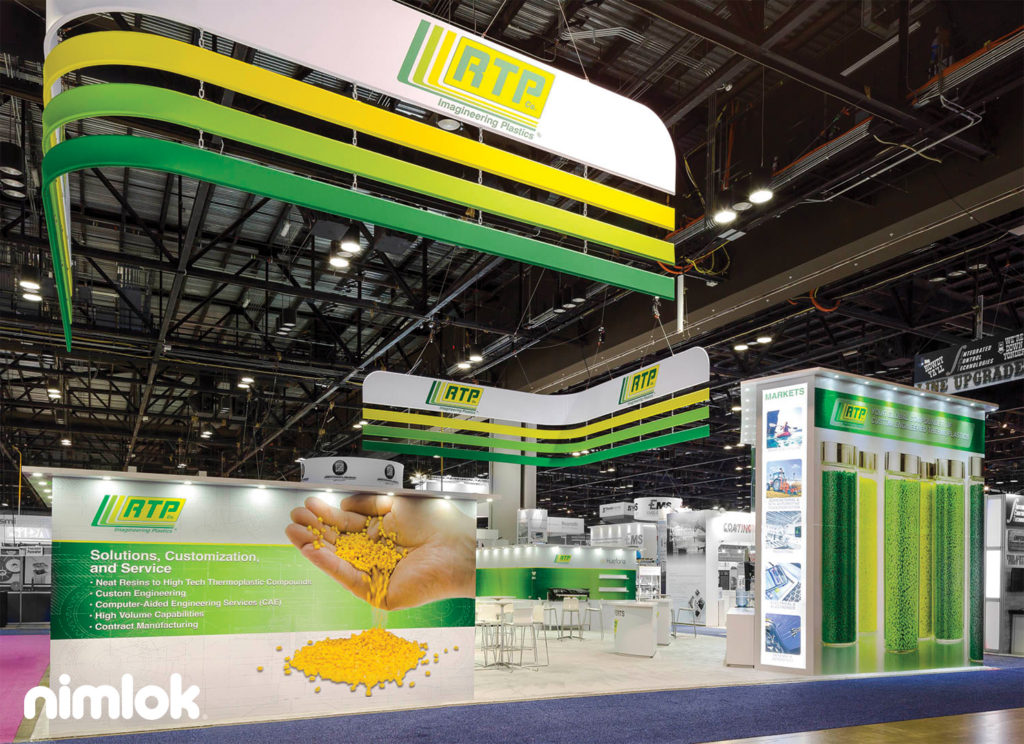 RTP: Brand-Forward Hanging Structure
Whether it's a logo or vital messaging, the simplest way to boost branding is to add a bold hanging structure that broadcasts your presence across the entire show floor. RTP's incredible 50' x 50' island exhibit features a hard-to-miss hanging structure that creatively mimics the brand's logo. The entire exhibit incorporates clever brand real estate to educate, inform and engage visitors from every angle.
Designed by: Rockway Exhibits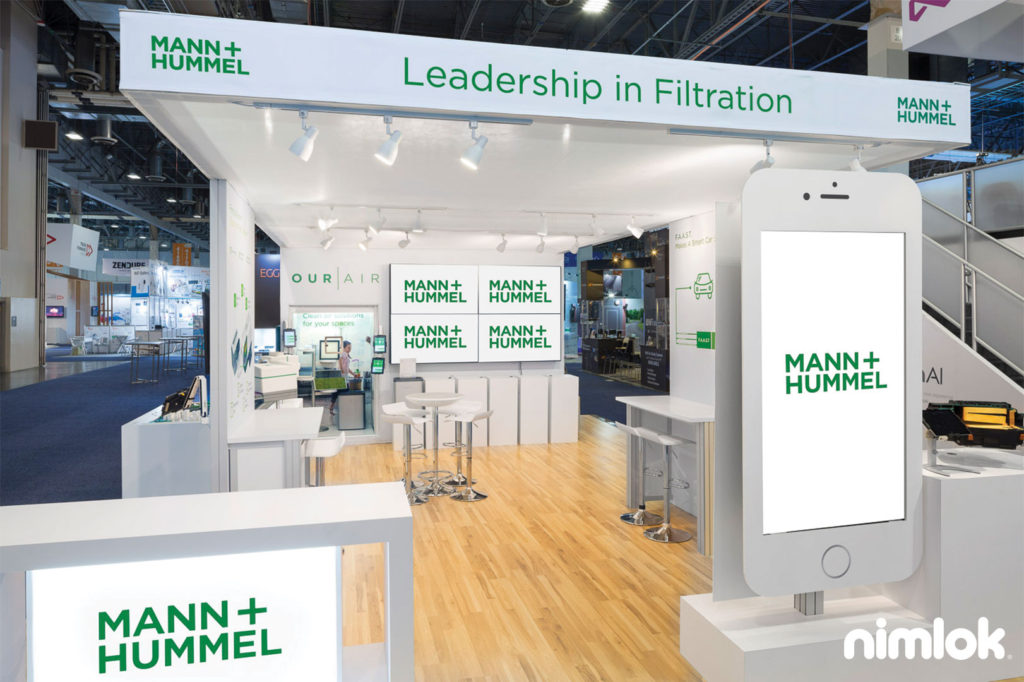 Mann + Hummel: Modern Displays
When browsing through a trade show exhibit, attendees want to visualize the benefits a company has to offer. Mann + Hummel's 20' x 30'island exhibit combines custom features with sleek modular displays to create a warm domestic booth that encourages attendees to visualize the company's air filtration products inside their homes. Interactive technology displays paired with comfortable seating areas created a relaxing environment that encouraged booth visitors to stay and engage.
Designed by: Nimlok St. Louis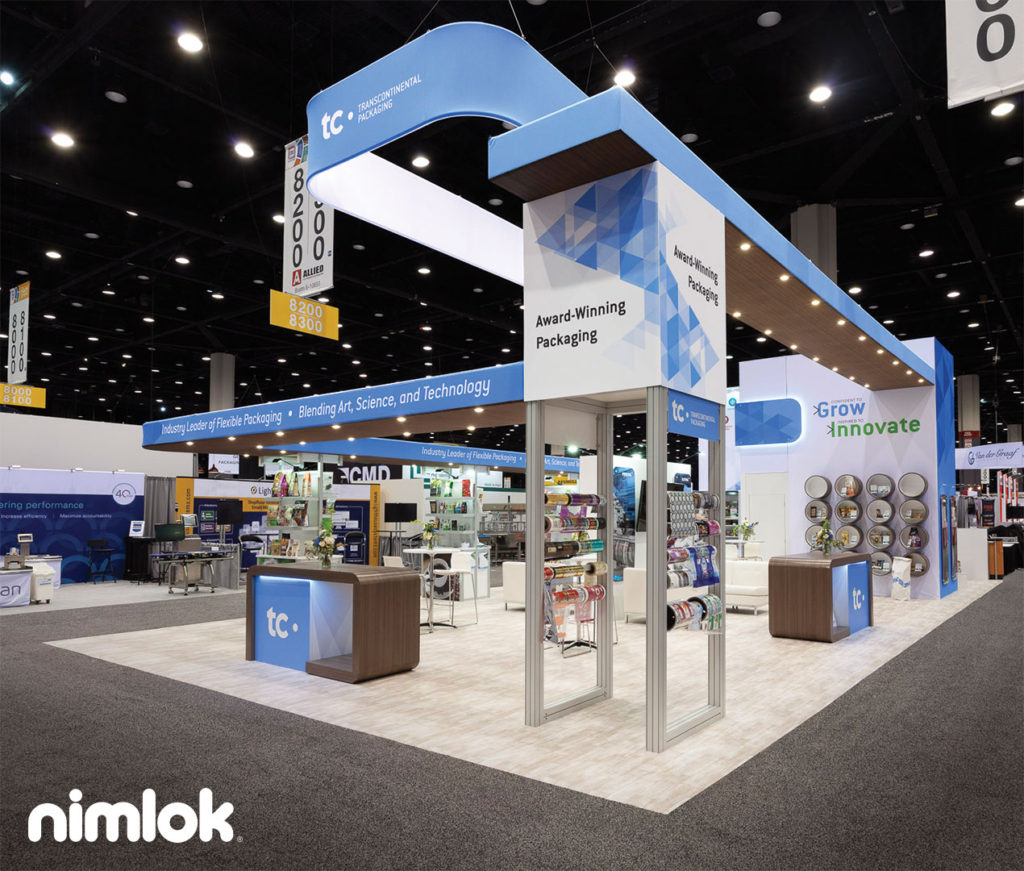 Transcontinental Packaging: Innovative Product Displays
Giving booth visitors a hands-on experience makes selling products a breeze. The challenge is to design an exhibit that keeps product selections organized, accessible and easy to use. Transcontinental Packaging's impressive 27' x 55' inline exhibit seamlessly incorporates interactive product displays.Made from Nimlok's signature extrusion, a tower structure functions as a product display while also promoting brand messaging. This winning exhibit features a delightful mix of clever product placement and inviting engagement points for maximum effect.
Designed by: Nimlok New York City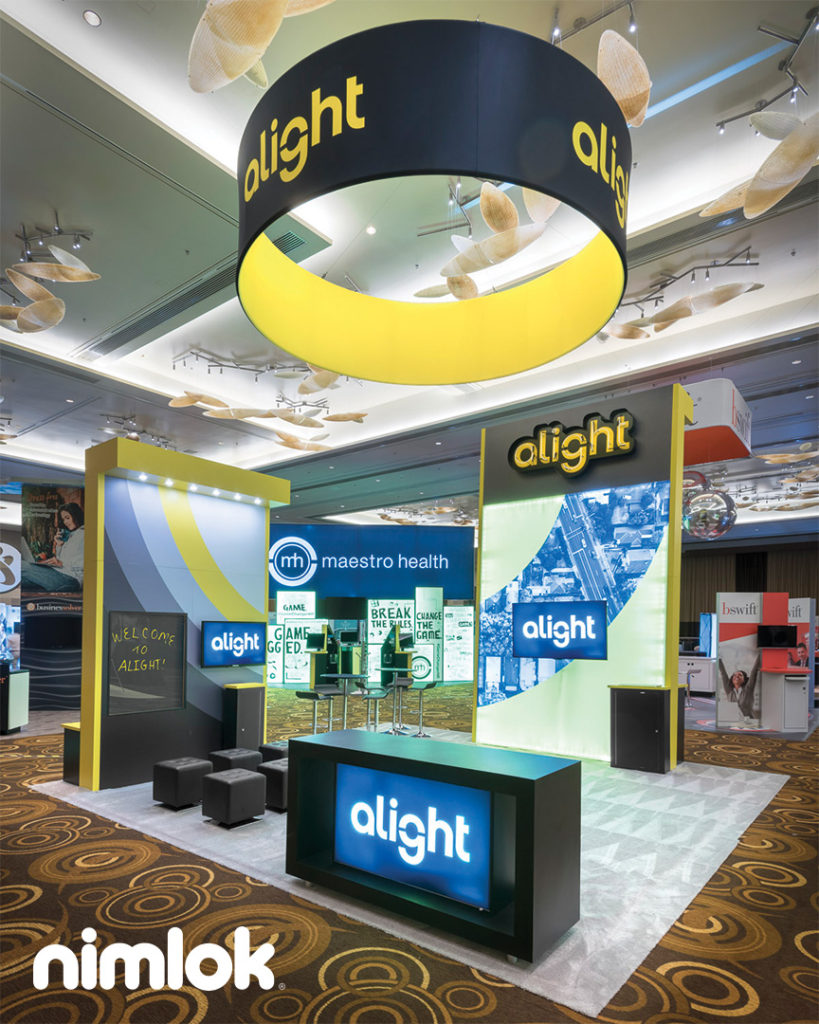 Alight: Exciting Booth Activities
Games are an exciting way to build buzz and increase booth traffic. Alight's 20' x 20' island exhibit is one of our favorites, with modern graphics and custom displays. This full-sensory experience captivated attendees and drew visitors into the booth. The central attraction of the exhibit was an interactive game and brightly colored candy dispensers. This exhibit allowed Alight to engage attendees in a fun way and generate quality leads at the same time.
Designed by: Nimlok Chicago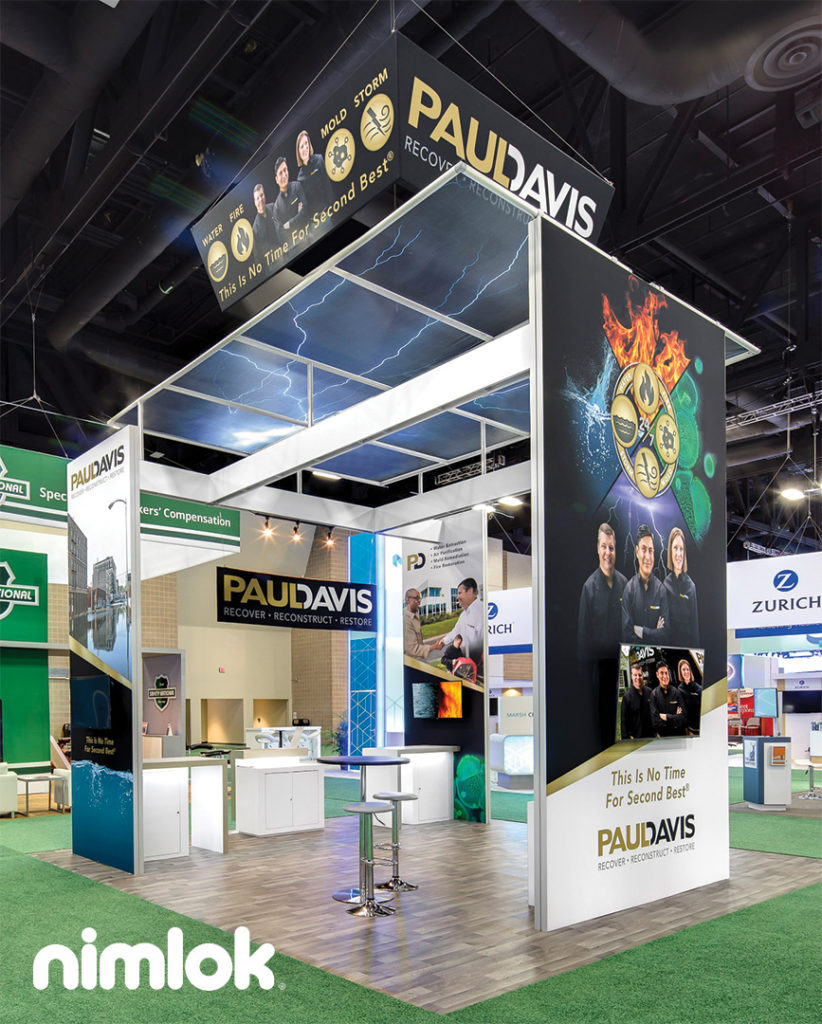 Paul Davis: Impactful Visual Elements
Attention to detail is important when creating a best-in-show booth and this custom 20' x 20'island exhibit does not disappoint. Floor-to-ceiling display elements captivated attendees' attention from near and far, including custom counter lighting and an impactful transparent graphic canopy. This exhibit attracted attendees with thoughtful details and dramatic accents.
Designed by: Rockway Exhibits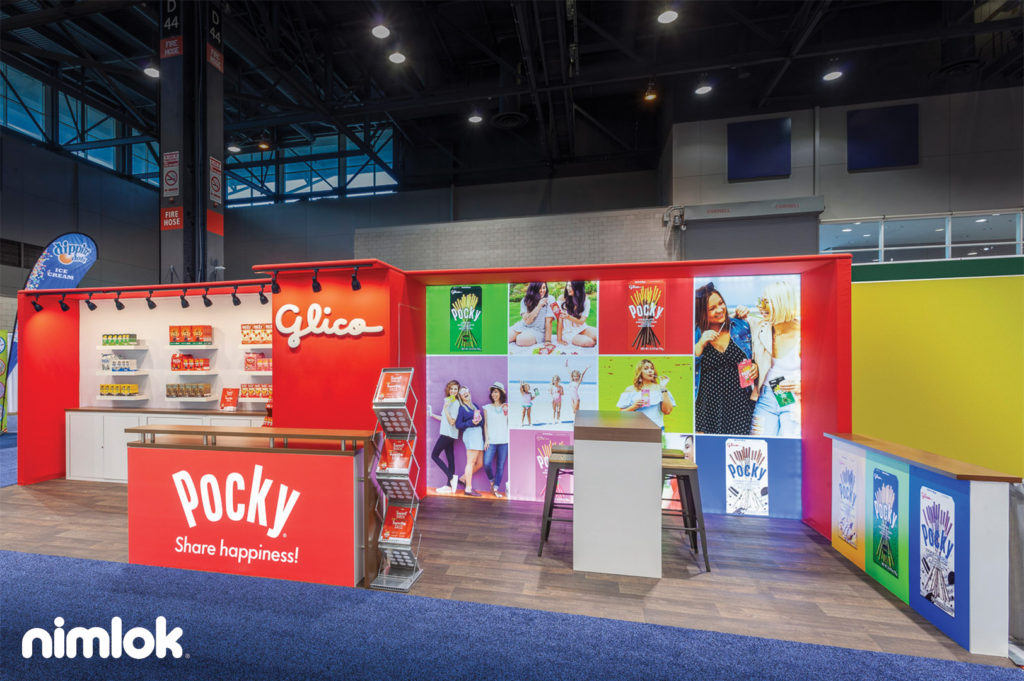 Glico: Fun & Colorful Inline Exhibit
An exhibit needs to match your brand's personality in order to reach the target audience. For this popular snack company, the emphasis was on communicating the brand's fun personality in this colorful 10' x 30' inline exhibit. Bright backlit graphics attractively communicated brand messaging, while custom floating shelves served as dramatic product displays. Glico's logo was featured prominently on the backwall using custom channel letters to further solidify the company's presence. A definite winner for sure!
Designed by: Nimlok Chicago