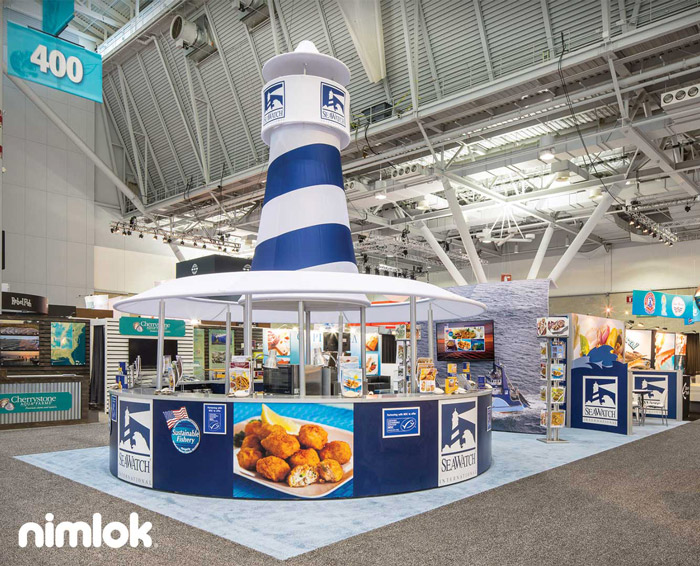 This week we sat down with Nimlok Chicago's marketing guru Julia Poroshkova to talk trade show display trends. She focuses on lead generation through traditional, web, event and email marketing, and for the past year she has been working one-on-one with clients to assist them with their pre/post show marketing efforts.
"…be open to inspiration all the time no matter where you are."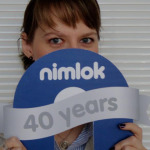 Julia walks the show floors in Chicago each year, and constantly has her ear to the ground keeping track of where the exhibiting industry is headed. So to help our readers, I asked her some basic questions on how she spots exhibit design trends:
Q: what's your general game plan when you attend a trade show?
A: When clients are at the show, I do take the time to pre-plan and look-up where their booths are at so I make sure to stop by. But, to be honest, I usually like to keep things loose so I can focus on taking everything in, rather than adhering to a strict schedule.
Q: are there any specific types of shows that are best for finding new trends?
A: I think design shows are an easy target because they tend to try new things sooner and more often than some traditional shows, which take a bit longer to accept new styles. Design shows are a good place to start because those are the trends that will trickle down to the rest of the trade show industry, but really you can pick up on trends at any show you attend if you keep an eye out for them.
Q: what is the first sign that you've spotted a trend?
A: First sign is if you see a similar thing over and over and over again. IMTS 2012 was a perfect example; we saw so many different interpretations of communicating a global presence in the form of a world map. It was kind of hard to miss!
Q: do you find that you think differently about booths when you walk the floor as an attendee vs. being on the planning side of things?
A: Most definitely that is the case. I get a different view as an attendee, and find I look more closely at details. I also pull from my experience in seeing how exhibits are built part by part, so I can see right away where a booth is lacking as well as if it has been executed flawlessly. This especially applies to design trends and taking note of what works, what doesn't and what trends we can improve upon.
Q: unfortunately not everyone can make it to shows to walk the floor, so what are other ways to keep up with trends in exhibit design?
A: Many industry leaders and design publications will release design trend reports. For example Pantone releases a color forecast each season and even color trends like these can have a big effect on the direction of exhibit design. I personally have learned a lot from reading Contract Magazine to better understand the interior design industry. Interior design and architecture trends translate to exhibits, so it's also a good idea to pay attention to the big publications like Architect Magazine, Interior Design and Frame.
Q: if you could boil down exhibit trend spotting to a few basic tips what would they be?
A: Just to be exposed to a lot of different types of design. Going outside anywhere helps, including shopping malls, museums, looking at buildings, fashion, advertising…it all has some point of convergence if you dig deep enough for it. Basic design elements are often similar from medium to medium. At the same time, I do think that the hardest part is making a connection between all the trends you see, but that comes with experience. Your ability to spot trends will grow exponentially the more you're exposed to trade shows and events and the more you allow yourself to be a sponge for everything design related. Be open to inspiration all the time no matter where you are.
Q: lastly, what are some trends you and your team are anticipating for 2014?
A: That is a tough one…but two of the most prominent trends are interactivity in the booth and thinking outside of the box about how you incorporate technology. Our clients are asking us to incorporate more technology into our designs–not just an iPad stand or a monitor–but more elaborate and creative elements.
One great example springs to mind from the 2012 National Restaurant Association show, and it blew me away. This coffee maker's booth (Nespresso, top) found a way to stand out from everything at the show by using a simple technology in a unique way. All they used were projections, but implemented them in a very cool and creative way. When we asked the Nespresso staff where the idea came from, it turned out that specific feature was designed for their European brand by a digital agency overseas.
There are also some technology trends that have potential, but are catching on a little bit slower than expected, specifically RFID technology. RFID would track an attendee without the need to physically scan their badge. I haven't seen this yet at the biggest Chicago shows at McCormick Place, but it's definitely something to keep an eye out for.
Julia Poroshkova is very involved in the trade show industry and marketing both in and out of the office. Have more questions for Julia on spotting trends? Ask them in the comments or tweet Julia @nimlokchicago!