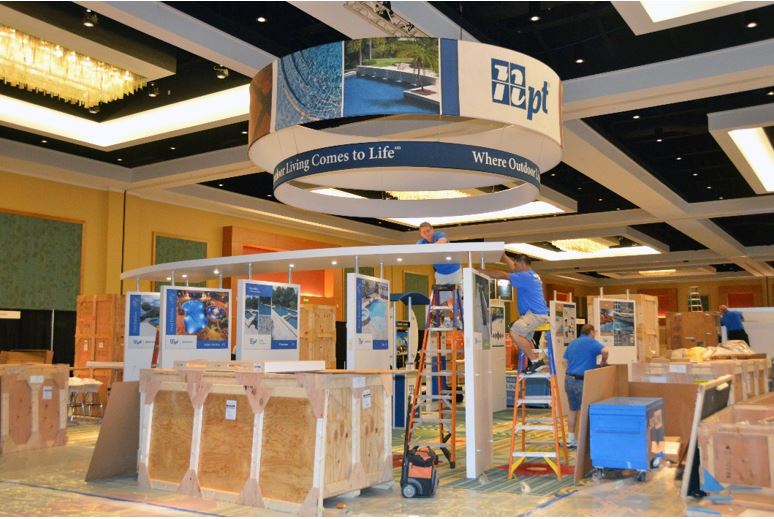 Having a dynamic and attention-grabbing trade show booth is essential if you are looking to gain an edge over your competition at your next event. It is important for your exhibit to look ready and be ready when the exhibit hall opens its doors. In this post, we outline how to strategically navigate the installation and dismantling (I&D) process to ensure a smooth and stress-free assembly and teardown of your trade show booth.
I&D Begins When Designing Your Trade Show Booth
As with all things trade show related, planning in advance is key. You should begin I&D planning while your booth is still in the design phase. You can work closely with your exhibit partner to design a trade show booth that will minimize on-site labor hours during assembly and teardown. This will help you save both time and money by avoiding or minimizing double-time and overtime labor costs. By making your exhibit as show-ready as possible, you also lower the chances of I&D teams making errors on the show floor.
Working With An I&D Partner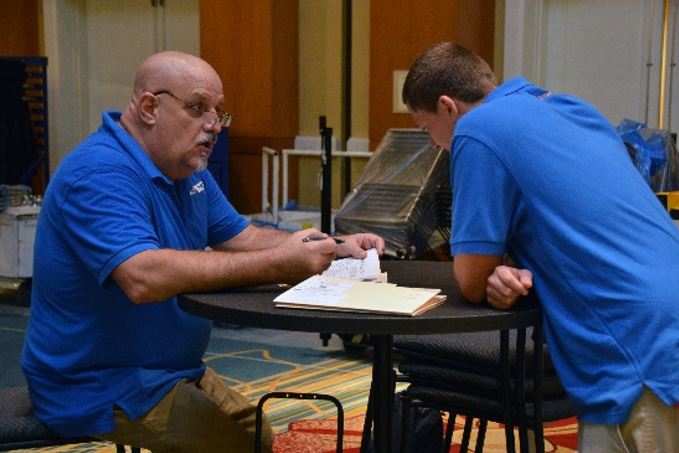 Picking the right I&D service provider is a vital part of having a seamless assembly and teardown process. A great I&D service provider will make the logistical and strategic challenges presented by a trade show easy to deal with. Below, we provide you with tips on how to work well and communicate with your I&D service provider.
Communicate early with the lead of your exhibit I&D team. Call or meet with them at least a month in advance of set up date to discuss the details and expectations. Proactive communication will limit unforeseen costs. In some cases, booth design changes to alleviate I&D challenges identified in earlier meetings with I&D leads.
Ask your I&D provider to check that the electrical and flooring has been installed correctly, and that your booth is clear of crates and other show materials. This will help to ensure no costly wait time when your installation team begins booth assembly.
Print and email copies of line drawings, renderings and staging photos of your exhibit. Also, include packets of this information in your exhibit crates, so there are copies for the I&D team to use at the event. You will save time, money and headache if everything is clearly organized.
Get There Early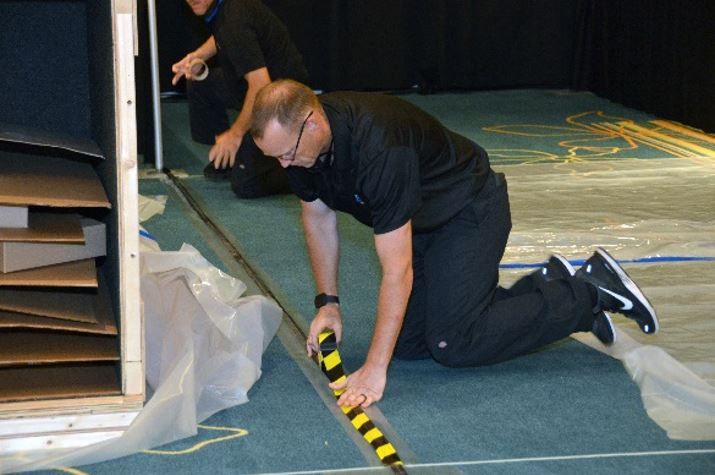 If possible, try arriving at your show during setup (or send your exhibit solutions provider) to monitor pre- I&D work. Determine if your exhibiting space is correctly prepared with under-carpet amenities such as electrical wiring, internet cables and electrical outlets. If there are missing or misplaced amenities you can have them corrected early, rather than delaying your trade show booth installation. Solving issues before your I&D team arrive will save you money on overtime or double-time labor rates.
On The Clock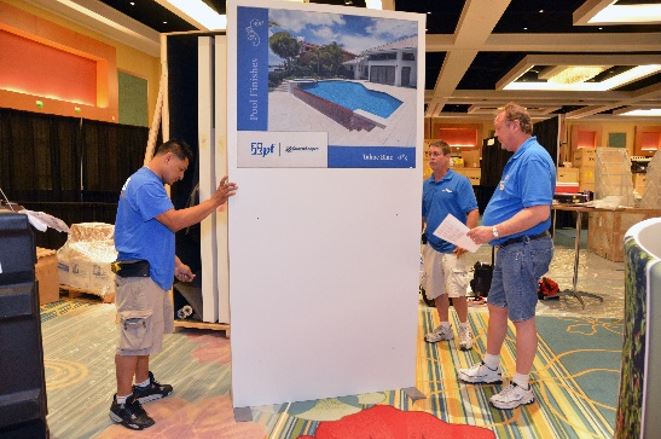 Knowing how much time it takes for your exhibit to be assembled and torn down will help you determine how many labor hours you should factor into your I&D budget. Your exhibit partner should perform a trial set up in their warehouse where you can preview your booth. Do not be afraid to ask your exhibit partner how long it took their in-house team to set up your booth to get an estimate of what to expect on the show floor. Typically, it takes twice as long to set up a trade show booth as it does to tear it down, so base your dismantle estimates on half of your booth's setup time.
DIY Trade Show Booth Installation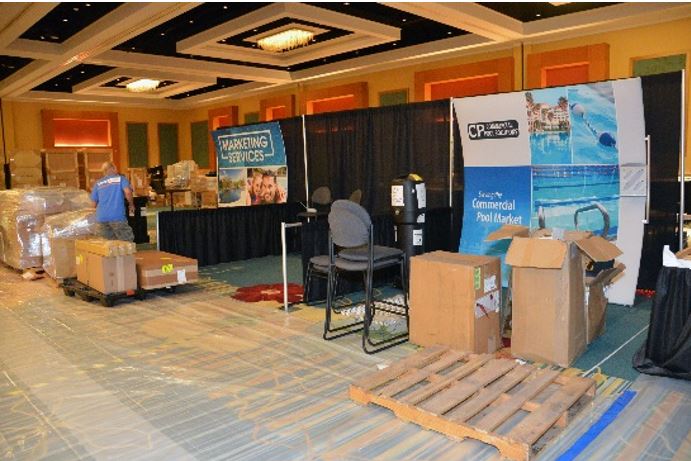 For off-the-shelf and portable displays, you may not need to hire an I&D team. Most portable systems are relatively simple to install and tear down in a matter of minutes. Also, many portable systems do not require tools in order to install or dismantle. By installing and dismantling your trade show booth yourself, you can keep your trade show expenses lower.
While having a portable display may make installation and teardown easier for you, you may only be able to perform non-union tasks. If your booth needs union-only labor, such as laying electrical wiring, rigging signs and banners, you will still need to contract unionized show service providers.
Dismantling Your Trade Show Booth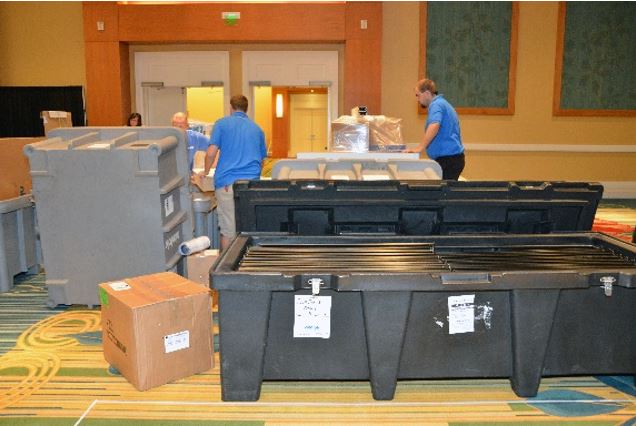 After the show has ended, your trade show booth needs to be dismantled and packed up for shipment back to your storage facility. Anything you can do to streamline teardown will save time, and in turn, will lower your hourly labor costs.
To avoid a dysfunctional and disorganized dismantling process, follow these tips:
Plan all of your setup and dismantle requirements at the same time. This way you can order all of the show services you need in advance, making it less likely that you will overlook teardown requirements and needs.
Make sure you confirm the date and time your I&D team will dismantle your trade show booth. If your I&D team arrives late, you may face double-time or overtime rates. Also, you may be subject to fines levied by the venue or show organizers for missing teardown deadlines.
Have copies of booth setup instructions on hand so that your I&D team can get straight to work breaking down your booth.
Observe your I&D team during teardown and instruct them on how to properly pack your booth in its cases and crates. You can also ask your exhibit partner to take photos of properly packed crates and provided the images to the teardown crew for reference.

Sho-Link is a preferred partner of Nimlok for installation and dismantle services.
Contact Information:
847-735-0640
sho-link.com
[email protected]
More Expert Exhibiting Tips
I&D is one of the most challenging parts of exhibiting at trade shows. However, if you properly plan and organize beforehand, you will reduce mishaps, save your company money and yourself from major logistical headaches.
For tips on the rest of the trade show planning process, download Nimlok's Ultimate Trade Show Planning Checklist, which outlines common "to-do" items in the months leading up to and after an event.