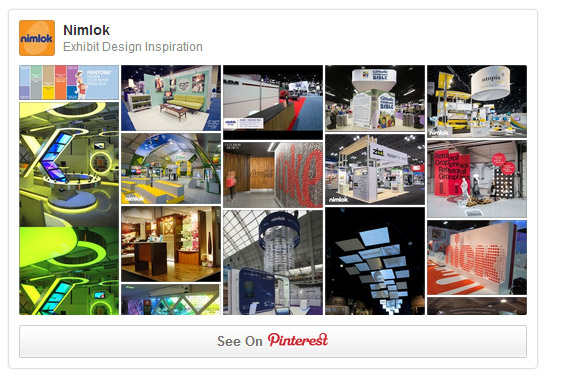 Pinterest is only around 3 years old, a baby in the world of the internet, but it's still one of the fastest growing social media platforms out there. While we're all well aware of the great recipes and pretty DIY projects our friends have found using it, that's not the only thing it's good for. If you're an exhibitor or a trade show and event planner now is the time to get on board (pun intended).
1. it will get you thinking outside the box
It's easy to stick with what you know when it comes to exhibit design. No doubt, there is a ton to be inspired by from an actual trade show. However, I've noticed as we start to use Pinterest for Nimlok that we're pulling inspiration from all kinds of places ranging from architecture and interior design to art installations and technology. Why? One board leads you to another, and while you may have started your search with "trade show design," before you know it you're browsing and pinning abstract sculptures and having grand ideas about how your next exhibit will be shaped.
2. it's your online mood board for sharing ideas
I once heard a great anecdote from a glass blower about the difficulty in communicating design ideas for clients. He said, and I'm paraphrasing here, "There are a million types of blues in the world so when a client says blue and I say blue we could both be picturing a completely different color." The same goes for trade shows when working with a team or a client. You could both say modern design and be imagining something different.
For this reason, Pinterest boards are perfect for preliminary planning of look and feel. If you're trying to decide between a few themes and styles, create a board to organize each idea and share with your team so everyone is on the same page. You can also create group boards so your whole team can start pinning and brainstorming together.
3. pins are more than just pretty pictures
We quickly realized that Pins went way beyond just an attractive image. Many of those great visual marketing ideas link up to case studies, articles and event blogs that are likely to spark even more ideas! Even if there's not a link, you can still create boards that go beyond visual ideas and instead move into marketing strategy and sales tactics. For example, we found and pinned this brilliant idea (right) for gaining more visitor feedback.
4. it's full of niche topics
Think unique giveaways, interactive activities, cool technology and much, much more! Give it a search, and chances are you'll find something related to the specific idea you have in mind, and if not reason number 5 clears that issue up…
5. you can pin the entire internet if you felt like it
Simply put, you can pin any image you see on the internet anywhere at any time. That's double the inspiration. You get the creative community sourced boards on Pinterest, but are also free to pull in your own images from other websites.
bonus reason: it's just plain fun!
So what are you waiting for, get out there and start pinning your trade show ideas! We're just getting started too, and you can find us at pinterest.com/nimlok/.
Have you already been pinning for trade show display exhibits and events? We'd love to follow your boards, so let us know how to find you in the comments!