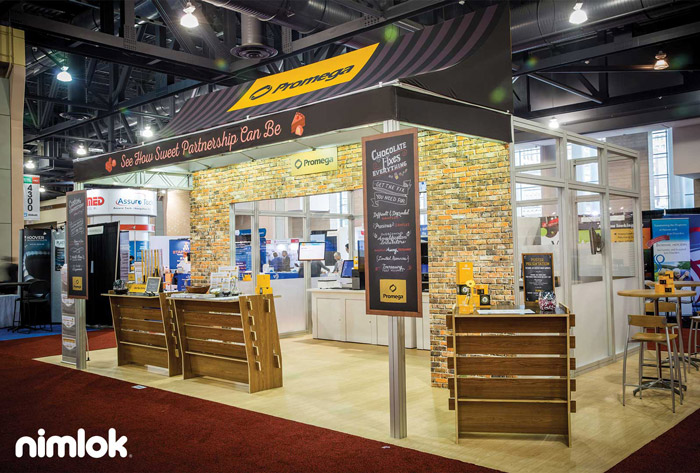 Looking for ways to freshen up your trade show and event marketing program? It can be a challenge to set your brand apart from the crowd. Here are some of our favorite creative trade show exhibits, from protecting product patents to increasing attendee engagement. Get inspired to adapt these creative concepts for your next event!


1. Keeps Products Under Wraps
At trade shows it can be crucial to keep proprietary products safe from sly competitors looking for the next big thing. In the highly competitive toy industry, many exhibitors are hesitant to show off their products for the world to see. Aurora World solved this problem with a unique closed-concept exhibit that concealed products from the general public and created an intimate showroom experience.
A closed-concept is a great idea for a company that wants to participate in trade shows and events, but needs to protect products from prying eyes. Consider ways to draw attendees in by promoting the exclusivity of the exhibit and creating an eye-catching exterior.
Related: Aurora World Case Study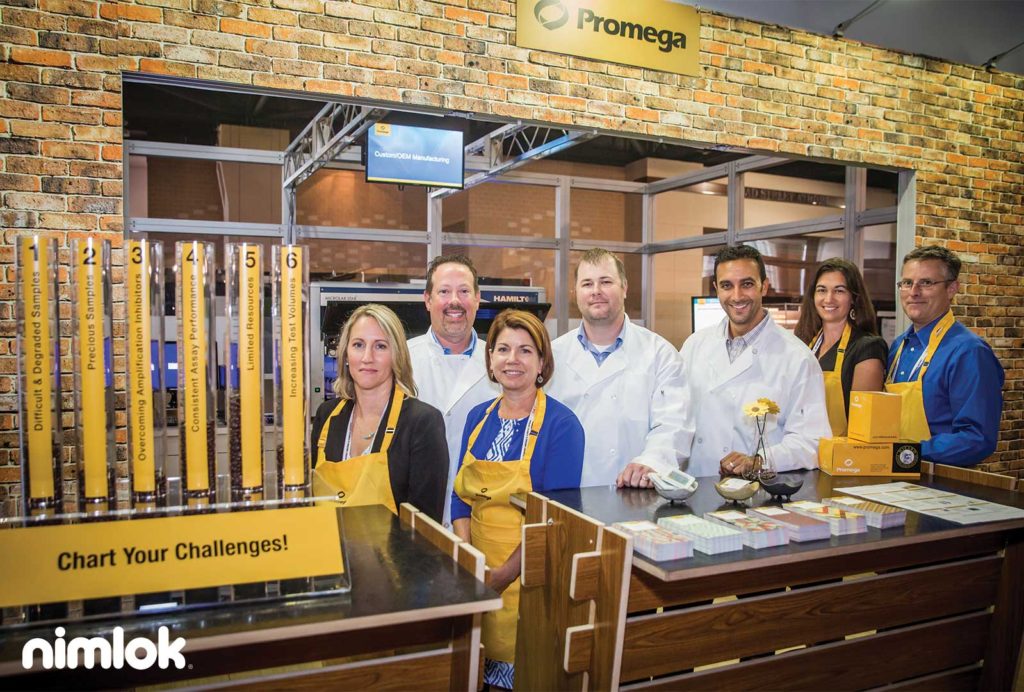 2. Attract Your Audience with a Themed Exhibit
Themed exhibits are a clever way to surprise and delight attendees. However, selecting a theme takes careful time, consideration and alignment with your target customers' interests. Consider how you can craft messaging that supports a theme, especially if it doesn't directly match your company's image.
Promega, a research software company, created a fun spin for a challenging product to market. The company's marketing team developed a "candy shop" themed event campaign they hoped would soften their brand image and help staffers better engage with prospects.  This stunning 20' x 30' trade show exhibit design, played on the candy shop theme, with chalkboard menus featuring Promega's life science services as coffee flavors, which helped sell the host of life science products.
Related Content: 3 Exhibit Themes that Rocked the Exhibit Floor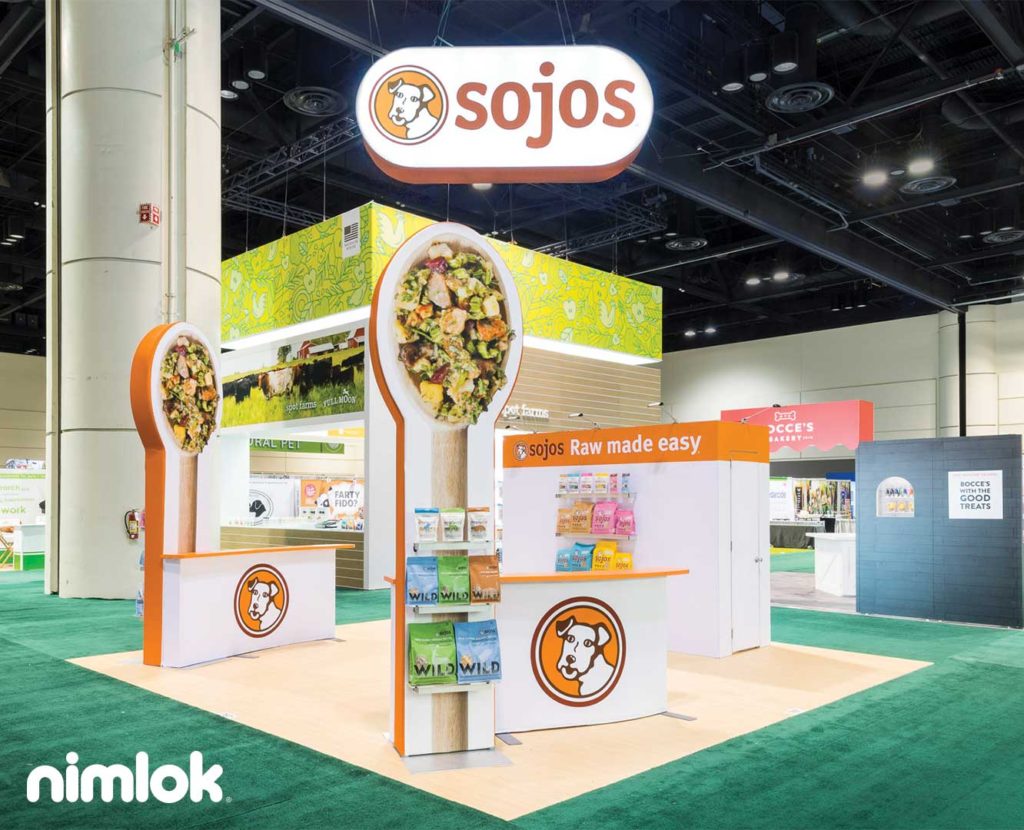 3. Utilize Unique Sculptural Structures
Custom exhibits offer a lot of versatility, especially when it comes to designing thoughtful structural elements to support the booth. Sculptural structures are the perfect way to add a unique design element, think creating larger than life versions of your products, logo or other supportive branding.
Sojos, an organic dog food company wanted to elevate their brand profile at the 2017 Global Pet Expo. Nimlok distributer Nimlok Minnesota picked up on a new trend, sculptural brand structures that helped Sojos achieve that goal. Featuring creative spoon structures and a minimalist hanging structure, this 20' x 20' island exhibit drew in curious passerby with attractive design elements.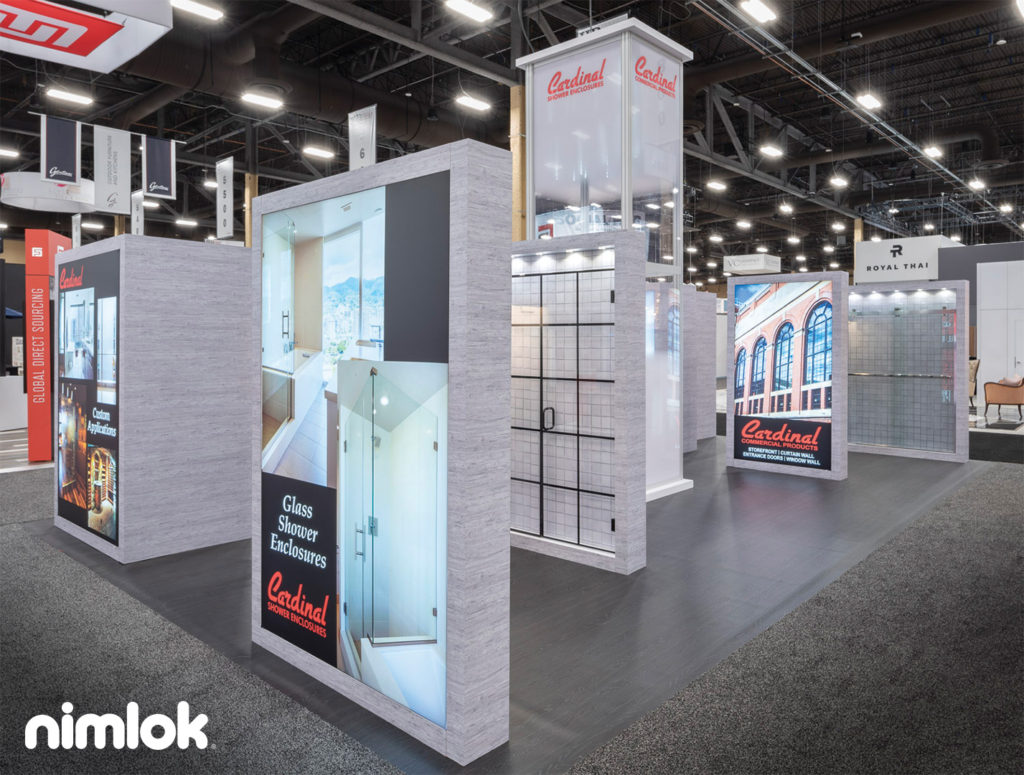 4. Bring Your Showroom to a Trade Show
Companies are shifting focus towards experience-based exhibits that highlight more than just product and service offerings. Exceptional exhibits go beyond traditional product displays to connect customers with a solution-based approach.
Cardinal Shower, a premier shower materials provider, enlisted Nimlok to create an exhibit that mimicked the company's showroom. Incorporating materials directly into the display, panels functioned to show off glass options, door handles and a wide range of fixtures. Strategic lighting created an elegant environment that made for a luxury shopping experience in the center of a busy trade show floor.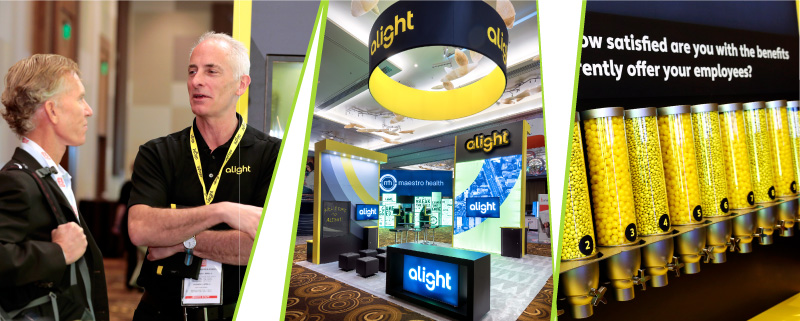 5. Thrilling In-Booth Games & Giveaways
Nothing builds buzz quite like an adrenaline boosting game or a coveted giveaway. But sometimes it can be a challenge to integrate games and giveaways into booths that are focused on achieving sales and lead generation goals.
Alight, a benefit management company, integrated a game and giveaway that closely supported its lead generation campaign. By combining interactive and colorful candy giveaways with an engaging digital Simon Says game, this exhibit was a full-sensory experience.
Related: Interactive Trade Show Design
Looking for more inspiration?
Nimlok's new e-book, Inspiring & Interactive Exhibits: Success Stories, follows the journey of 10+ exhibitors as they create interactive and fun-filled brand experiences for their customers. Learn how you can leverage games, product demonstrations and integrated technology to make an unforgettable trade show experience. Get inspired to go interactive at your next event.