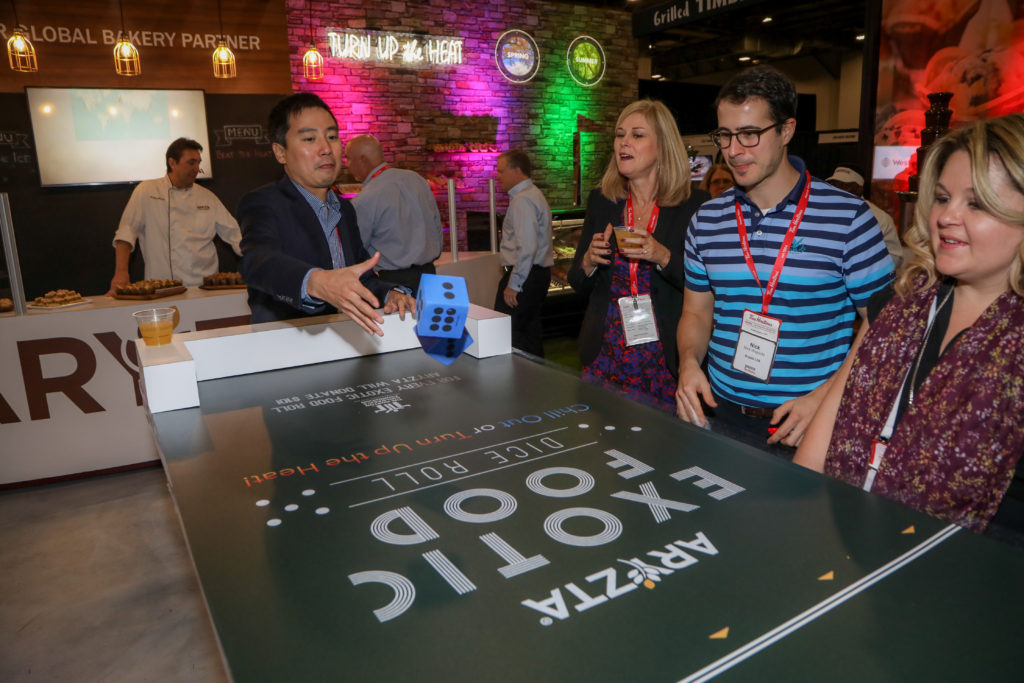 To the average trade show attendee, the maze of booths can seem a little dry at times. With many companies boasting similar products and services, attracting a crowd of interested visitors can be a challenge.
That's where experiential marketing comes into play. Face-to-face marketing events offer the unique opportunity to create an interactive trade show display, focused on boosting engagement and providing a memorable brand experience. In this post, we'll share fresh ways to design an interactive trade show exhibit, complete with buzz-worthy activities, games and display technology. Get inspired!

Design Your Booth with Interactivity in Mind
Whether you're a trade show pro or a rookie, you want your exhibit to stand out from the rest. However, creating an attention-grabbing trade show experience begins long before the show doors open, and it starts with effective exhibit design. Here are some things to consider before you dive in.
Create Space for Interaction
Designing a welcoming and functional space is the essential first step to creating an interactive exhibit. Take into consideration how attendees will move through the space, browse products and engage with booth staff.
For example, if your booth is in a high traffic area, then an open concept floor plan allows attendees to enter the exhibit from many directions. A welcoming reception counter at the front of your exhibit is a straightforward first engagement point. From there, visitors can learn more about your brand and explore the interactive displays within the exhibit.
Depending on the size of your booth space and the type of activities on the schedule, you can designate areas for a specific purpose. For example, for demonstrations it is important to have ample seating or standing areas that do not obstruct the aisle or other booth elements. Additionally, dramatic lighting adds a sophisticated touch to the exhibit and can be used to highlight interactive booth elements.
Use Your Brand to Build Buzz
Your company is more than just the products or service you offer. It's about your brand, and ultimately the story and experience that you want to share with the customer. On top of utilizing exhibit elements to introduce and engage visitors with your brand, you can use interactive media like monitors, iPads and kiosks to display videos of your story, employees and overall mission. Your marketing collateral and giveaways should also reflect your values and organizational ethos. Don't lose sight of your overall goal when creating an interactive exhibit. Keep the message straightforward and make sure it doesn't get lost in translation.
Create Engaging Product Demos
Attendees walk the floor in search of an exhibit that captures their attention and engages their senses. While they can be lured in by stunning visuals and strategically placed products, if they cannot interact with the displays then the exhibit loses its impact.
For real impact, have a product demonstration that allows your visitors and prospects the opportunity to try out your product right there on the trade show floor. If your brand created new software have computer setup and ready for your visitors to use, if you have a new material you are using in production make sure your visitors can feel it and compare it to older materials and it goes without saying if you have upgraded a recipe have food samples at the ready. By offering your prospects the opportunity to try or experience your product on the trade show floor you are tapping into the power of experience based marketing, which has shown to be a promising avenue for modern marketers.
Related: 3 Tips for Stunning Product Displays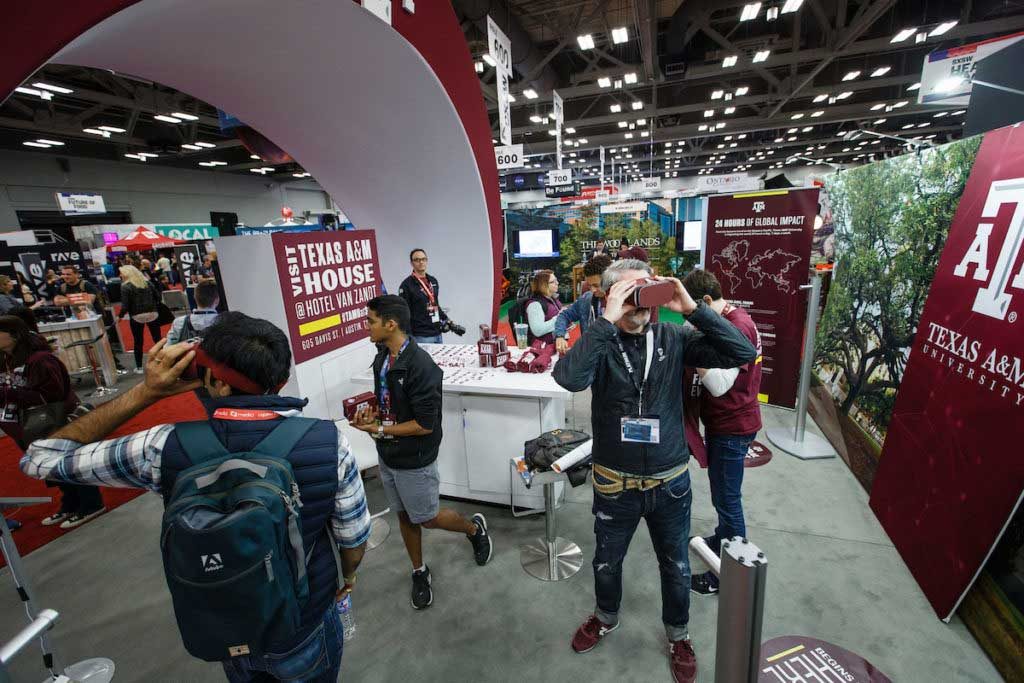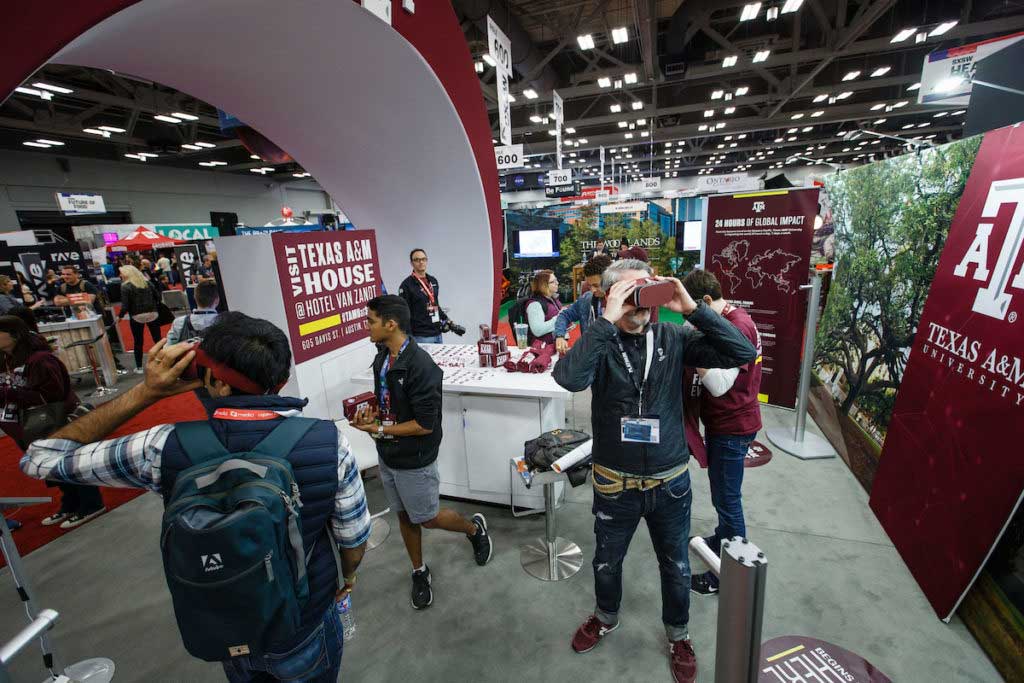 Interactive Media Displays
Technology has arrived on the trade show scene in full force, with most exhibitors utilizing integrations that allow booth visitors to experience the brand firsthand. Technology encourages visitors to stay longer and learn more about a company's offerings.
Creative digital integrations can support staff in their efforts to provide valuable solutions for customers and prospects. Digital media also enables you to create a personalized experience for attendees that suits their individual needs. Depending on the size of your booth, interactive media can be scaled to fill an entire wall, maximizing visual interest and promoting messaging on a large scale. Here are some ways to incorporate interactive media into your exhibit!
Virtual & Augmented Reality
This emerging technology has novelty on its side, capturing the attention of attendees and creating an immersive experience that keeps booth visitors excited and involved.
In addition to building hype, virtual and augmented technology offers incredible functional value to exhibitors looking to showcase entire product lines, complete service offerings or an expansive portfolio, all within a limited booth space.
Related Content: Captivate Trade Show Attendees with Virtual & Augmented Reality
Touch Screen Displays
People love having the opportunity to guide their own experience, so think of unique ways you can include touchscreen displays to accomplish that goal. Catalogs, virtual tours, company videos and portfolios are all great ways to connect with visitors using displays. Additionally, it can be a simple way to include a game, giveaway or contest within your exhibit and encourages people to connect with your brand after the show is over.
Consider adding a touchscreen kiosk on the corners of your exhibit, drawing people in from the aisle and doubling as traffic management for a busy sales team. This design feature can help boost the interactivity of your booth, without creating extra work for staff members.

Bonus Ideas for an Engaging Experience
Looking for more ways to make an interactive exhibit?
Games & Contests
Activate attendees' competitive side by coordinating a game that everyone wants to win. It should be simple, fun and not require too much effort from booth staff to manage. Prizes are a great way to encourage participation and can range from cash to coveted ticket items. Consider tying contest participation to lead capture in order to continue engagement.
Related: How to Use Trade Show Contests to Drive Traffic to Your Booth
Giveaways
Whether you call them promotional items, tchotchkes or swag, exhibitors at every trade show hand out countless trade show giveaways to attract and encourage attendees to enter their space.
The right trade show giveaways can help generate leads and support integrated marketing messages that will prompt attendees to tie that message back to your company long after the show has ended.
Related: Top 10 Trade Show Giveaways
Photo Booths
Nothing creates buzz quite like a photo booth, the exciting opportunity to capture a memory with friends and colleagues. Create a branded space that is similar to an awards show, offer props that promote your company or print your logo on the image for a lasting memento. Encourage attendees to share the photos to their social media to extend the reach of your own social campaigns.
Social Media
Which leads us to social media, one of the simplest yet trickiest ways to drive traffic to your exhibit. During the show, make sure you have an active presence on social media. Your followers will want to keep up with the trade show happenings, even if they can't make it in person. Be sure to engage with attendees via social media, inviting them to visit for an engaging experience.
Related: Download the free Social Media for Exhibitors e-book now!
Live Entertainment & Performances
Attendees like to be entertained and are more likely to remember a brand if they were engaged by the presentation. Consider hiring a professional entertainer to really attract attention to your exhibit. If the entertainment runs on a schedule, keep people in the loop by posting on social media. Find a performance that supports your brand when possible.
Looking for more ideas?
Nimlok's new e-book, Inspiring & Interactive Exhibits: Success Stories, follows the journey of 10+ exhibitors as they create interactive and fun-filled brand experiences for their customers. Learn how you can leverage games, product demonstrations and integrated technology to make an unforgettable trade show experience. Get inspired to go interactive at your next event.