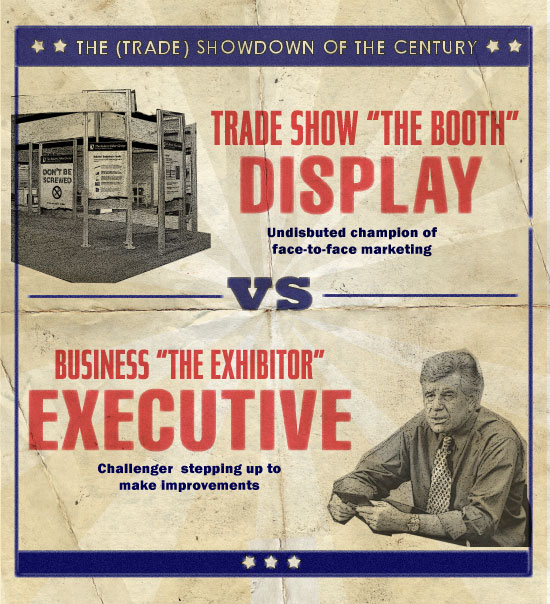 We're very grateful to have Ken Newman of the "Hey Newman" blog joining us as a guest blogger and trade show expert for this week's post.
Recently, I found myself in a rather interesting role. I was an attendee at a trade show. Now, that might not seem overwhelmingly interesting to you, dear reader, but as someone who has produced live trade show presentations for over 25 years, it's very rare for me to be on "the other side" of the padded carpet.
But there I was wandering the aisles, in the company of my fellow badge-wearing, backpack-toting, sales pitch-avoiding, attendees…
…and what I discovered, was that many of the trade show booths that I walked by,I…well …WALKED BY. Without stopping, without slowing down, and definitely without going IN.
Why?
Well, the simple answer is, I didn't feel invited. And I'm not referring to the behavior of the booth staff (Although that is a subject for another blog at another time). But in this case, I simply didn't feel invited by THE BOOTH. Yes, many of the structures I saw were stunning, multi-level marvels — architecturally interesting, colorful, yes. But INVITING? Not so much.
And I realized at that point that this was a perfect opportunity to conduct an experiment. And it's an experiment I recommend that every exhibitor conduct.
I call it "beating up your booth"
The trade show floor gives you the best possible opportunity to see what works and what doesn't. It's a literal laboratory of booth experiments taking place. You might stumble across something 'perfect' for you. But more likely, you'll want to play Dr. Frankenstein and assemble your own "Monster Booth."
With that, here's an experiment I suggest you conduct at your next trade show:
Go away! Go away from your booth. Far away. Far enough that you can objectively watch attendees as they approach your booth. I realize this won't be easy. I'm sure you have an emotional and considerable financial investment in all that wood, glass, and fabric, but for the moment, try to forget it's YOURS. Imagine you're just another attendee walking the floor. Look at the booth. Do you have a clear idea what these guys DO? Would you want to go in there? Are there walls, and desks, and stands, and kiosks keeping you from doing just that?
Take a walk. But this time with a different attitude: You're not cruising for clients and prospects; you're just an attendee strolling the grounds. Again, be objective. Which booth looks most inviting? Where do you want to go? What's drawing you in? Is it interesting or entertaining? Is it a catchy message or flashy graphics? Is it a magician submerged in a water tank? What's grabbing you?
And just keep walking. No doubt, you will blow past lots of small booths with dispirited folks staring at their smartphones. No problem. Channel your inner trade show attendee. Imagine you're on a quest for the ultimate giveaway. But, in this case, the "giveaway" you're looking for may be the one brilliant idea that will make your next booth a much better booth.
Now go home. On the way back to your booth, pay special attention to traffic flow and location. Now, granted, you may not have your choice of the prime real estate at the show, but you should still do some reconnaissance. Does the booth by the main entrance get the most traffic, or do people blow right past it to get deeper into the hall? Check out the booths near the bathrooms or Food Court. How are they doing? Is it worth considering positioning yourself next to some of the bigger players at the show? Or just to get as close to the Starbucks as you can?
Make a list. Consider the elements that really leapt out at you during your stroll:

Visual appeal: The booth was eye catching. The lighting was visually stimulating. The activity drew me in. The live presentation was captivating.
Flow: It was as if I accidentally strolled right into the booth and stayed there … or once I was in, something about the booth kept me there.
Personnel: The booth staff members were engaging, smiling at me from afar, were interested in what I was saying and asked interesting, open-ended questions that kept me talking and learning.
Location: I ended up in the booth because of what it was near. What was it near?
Clarity & power of messaging/signage: The message made me stop in my tracks. It was as effective and memorable as a great highway billboard.
Do this experiment. Record your results. And you just might walk away with something that will make your next trade show the best one you've ever done.
I'm going to end this post with asking something of YOU: Please post comments with your booth observations here or tweet @Nimlok. What did you see that worked? What can you change next time? What have you changed already that made a difference?
Our hope is to compile a list of your responses and post it for everyone's benefit. With your help, we can create a booth that people simply won't be able to resist. For more booth ideas download our free booth rental catalog here.