Successful trade show marketing hinges on three points: WOWING attendees, ENGAGING prospects and SELLING to customers. However, many trade show marketers have a difficult time figuring out how to incorporate these points into their custom trade show exhibit. Here are a few ways you can use a custom trade show exhibit to WOW, ENGAGE and SELL at your next trade show to reach your marketing goals.
WOW attendees with a unique exhibit or product display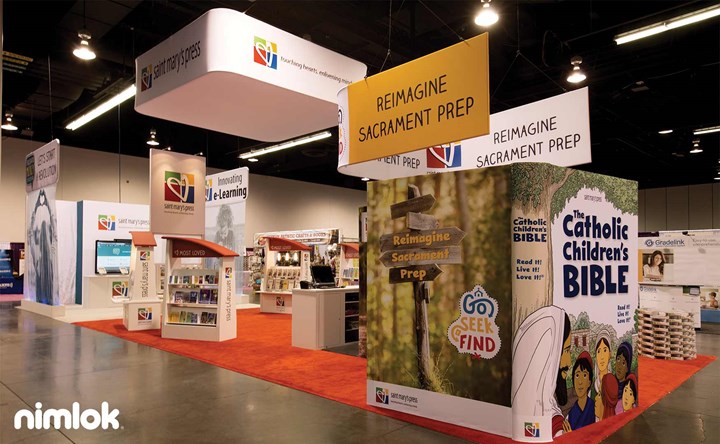 Within any industry, there are countless competitors all vying for the attention of the same pool of prospects and customers on the trade show floor. If you want to win the battle for attention, you need to WOW visitors in three seconds or less.
A custom trade show booth can help you to achieve this goal by showcasing your company's unique qualities. The design options available to you when you are designing your exhibit are nearly endless and include creative applications of lighting, graphics and materials options, furniture, inventive product displays and more.
For example, St. Mary's Press, a leading publisher of Catholic children's literature, was looking for a way to WOW attendees with its products on the show floor to achieve their event marketing goals. St. Mary's Press worked with Nimlok Minnesota to design a 20' x 60' exhibit that not only WOWED visitors, but also stole the attention away from their competition with a larger-than-life children's Bible replica complete with movable pages.
ENGAGE prospects with your custom trade show exhibit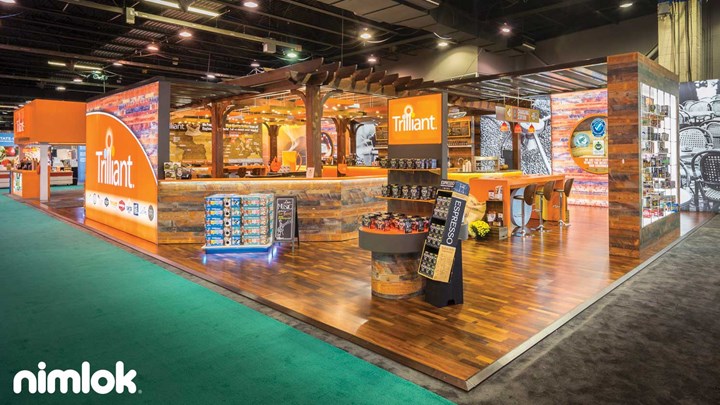 If you have a WOW-inspiring exhibit, you will no doubt attract attendees, but attracting visitors to you space is only one part of the puzzle. You will need to engage visitors inside your exhibit or they will leave just as quickly as they came.
People come to trade shows wanting and expecting to be impressed by the ingenuity, creativity and advancement taking place in their industry. An exhibit with product education elements, multi-media displays and a warm and friendly staff to ENGAGE attendees inside your space and reinforce your brand, marketing and sales messages.
Trilliant was able to ENGAGE attendees by working with Nimlok Cincinnati to create an all-in-one branded environment where in-booth visitors could ENGAGE with the brand and its offerings through vivid product-focused imagery, tasteful product displays and a refined coffee bar serving Trilliant's private label coffee.
The right trade show exhibit allows you to SELL products and achieve marketing goals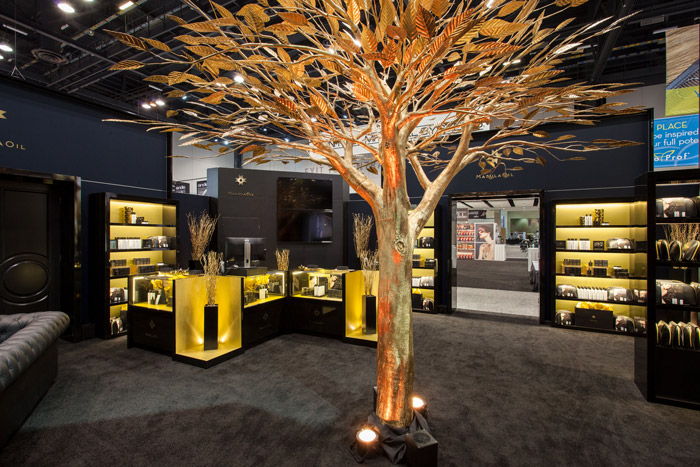 One of the reasons that trade shows are still an important and effective way to market is because they offer businesses like yours an entirely unique way to connect with potential customers. In fact, almost two-thirds of attendees at a trade show are new prospects who have not been reached by other marketing methods.
Having a smartly-designed trade show exhibit is critical if you are looking to effectively SELL products at a trade show. The use of retail-inspired product displays, browser-friendly open layouts and staffing your exhibit with product experts goes a long way in obtaining your sales objectives.
John Paul Mitchell needed to effectively sell products to achieve its aggressive sales and marketing goals. The company worked with long-time trusted partner, Nimlok Orange County, to design and build an exciting upscale trade show marketplace. The exhibit's elegant display cases and spot lit product displays showcased products and communicated product benefits to attendees.
As a result of the elegant and ENGAGING functional interior, John Paul Mitchell achieved their three-day SALES goal within the first day of the show.
Having a trade show exhibit that can WOW, ENGAGE and SELL attendees at a face-to-face marketing event is crucial for reaching your marketing goals, so before you begin designing your next exhibit, make sure you keep each of these three points in mind throughout the design consultation with your exhibit partner.
For more great trade show campaign and exhibit design ideas, download Nimlok's new Trade Show Ideas e-book today!