Reconfigurable trade show exhibits offer exhibitors an adaptable multipurpose exhibit solution perfect for presenting a custom look and feel from event to event. In this post, we highlight three dynamic reconfigurable exhibit solutions that not only provided their exhibitors with a stylish vehicle for their event marketing campaigns, but also won awards at their respective shows.
Aclara
Aclara needed a reconfigurable exhibit solution that could fit into multiple spaces, from 40' x 40' to 10' x 10'. Because Aclara provides a variety of services to a diverse array of industries, they needed an exhibit that could not only reconfigure, but one that could also effectively communicate relevant branded messaging from show to show no matter which configuration they used.
Aclara's exhibit was composed of freestanding elements rather than one large structure, allowing them to rearrange components as needed. The exhibit contained four workstations each adorned with fabric graphics that were interchangeable, allowing Alcara the ability to swap graphics quickly to display messaging and product areas relevant to an events audience.
Aclara's exhibit received a "Best of Show" silver award for its unique design and captivating in-booth experience at the American Water Works Association Annual Conference and Exposition in 2014.
Hiab
As part of their re-branding strategy, Hiab sought a reconfigurable exhibit solution to better communicate their brand identity. Hiab opted for an exhibit that could reconfigure to fit into a 20′ x 50′, 20′ x 30′, or 20′ x 20' space. Hiab's exhibit was designed with an array of tension fabric and custom modular exhibit components that allowed for quick assembly and easy reconfiguration.
Hiab's logo was splashed tastefully along strategic engagement points throughout the exhibit to ensure that Hiab's re-branding message would be communicated in each of the various configurations. The open floor design of the 20' x 20' and 20' x 30' configurations allowed the company to highlight their products boldly on the show floor while providing easy passage through the space so visitors could get a better look at their capabilities.
Hiab's reconfigurable exhibit was a hit, winning the "Best Booth Award" at the Lumber and Building Materials Expo for the 20′ x 50′ configuration.
VisitLEX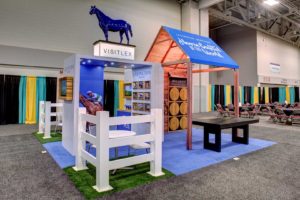 VisitLEX planned on exhibiting at multiple events throughout the year and need a collection of high-impact exhibit solutions ranging from a 10' x 10', two 10' x 20's and a 20' x 20' exhibit. To streamline exhibit design process and to cut down on logistical and construction costs, the 20' x 20' exhibit used elements from both 10' x 20' exhibits. The 10' x 20' configurations featured authentic bourbon barrel tops and southern-style picture frames that could be applied easily to the 20' x 20' exhibit, helping communicate the southern charm for which Lexington is known for no matter which configuration they chose.
At VisitLEX's first event, their 10' x 20' configuration won "Best of Show" and helped them highlight all that the city of Lexington has to offer to attendees at the show.
Considering a Reconfigurable Exhibit?
Now that you have seen the diversity and flexibility of design options reconfigurable exhibits can provide, it is time to contact a Nimlok specialist for your free custom exhibit consultation.