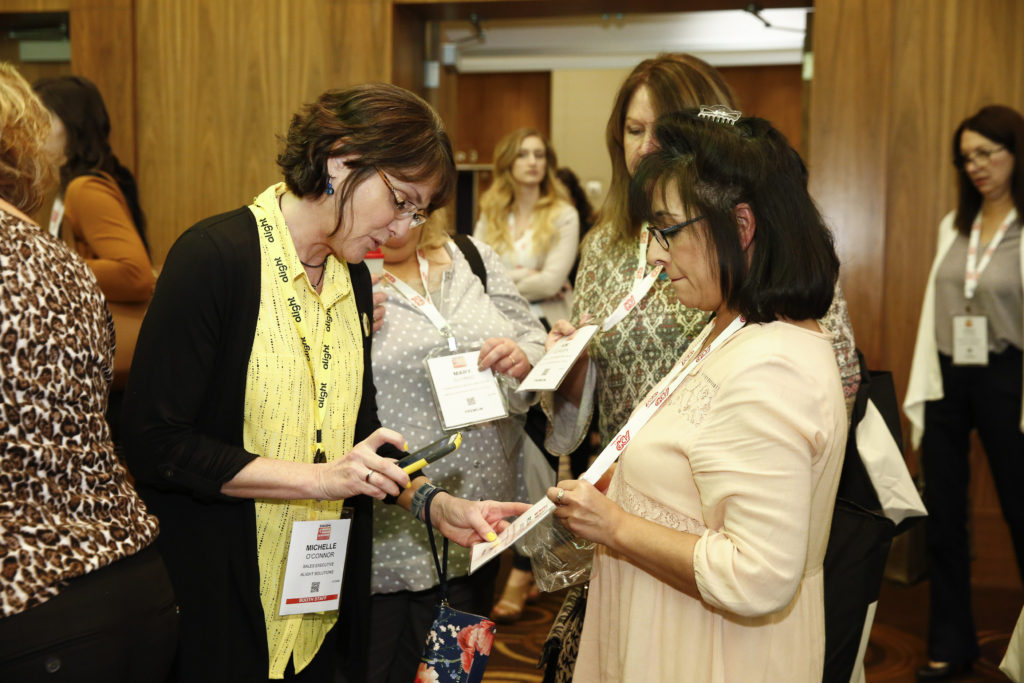 We live in the age of the self-directed buyer, and today's complex marketing and sales environment necessitates a strong lead generation plan to take full advantage of the self-directed trend. Trade shows are one of the most effective ways for a company to generate leads. With proper planning and attention to details, you can boost your trade show leads and create an environment that cultivates self-directed attendee booth staff interaction. This post will educate you on how to get the most trade show leads possible.
Create a trade show lead generation plan
Planning should be the first step in all areas of trade show marketing, especially when it comes to lead generation at a trade show. All too often, exhibitors will hit the trade show floor with a poorly briefed staff going through the motions. Before your event, sit down with your booth staffers and have an exchange of ideas. Ask them their thoughts on how they as individuals can succeed in engaging attendees. Ask them which assets they feel will help them achieve lead generation goals. Also give them a road map for success. Let them know what you expect from them and how your company plans on retrieving leads on the trade show floor. This will have the same effect as installing software to align your teams objectives, which all businesses are now doing as it helps all staff to be on the same page, working together towards the same goal and the overall success of the business.
Priorities and objectives to review with your team:
Define your high-level business goals (such as revenue targets, ROI, industry networking, etc.)
Define your campaign objectives (anticipated number of trade show leads generated, quality of leads gathered, product unveiling, presentation etc.)
Outline tactical objectives (event timeline and schedule, budget, logistics etc.).
By defining these objectives with your team from the outset, you are more likely to create a campaign that meets your trade show leads benchmark.
Good trade show leads don't come easy
At a glance, generating trade show leads seems like a simple concept: engage a prospect, collect contact information and follow up with prospect at a later date. Simple. However, try walking up to someone, just anyone, and ask them; "Excuse me, would you mind telling me your name, your phone number, your job title and your email address? I would be forever grateful." How do you think that would go? Do you think a random stranger would hand over their personal details that easily? No. The same can be said for trade show attendees. Yes, attendees come to a trade show with the expectation that someone may ask them for their info, but they are also very selective of who they give it to.
To make an attendee comfortable with filling out a lead form or leaving their business card with you, you have to gain their trust on the trade show floor. Trust comes in many forms. From the way your trade show booth is designed, to the way your booth staffers are dressed.
Consider having a representative from your company speak on a panel or deliver a presentation at the event. This way you can build further credibility in the minds of attendees making them more likely to turn from visitors into prospects.
Give something get something
In life people are far more willing to give when they have received. The trade show floor is a microcosm of the real world, so an exhibitor willing to offer attendees something in exchange for contact information is more likely to generate more leads.
In-booth giveaways are great for attracting visitors to your space. A great or alluring giveaways can be something as simple as a pen or as sophisticated as a branded flash drive. Simply ask your attendees to fill out their information on a table, scan their badge with a lead machine or hand in their business cards to earn the giveaway.
Product samples are also great giveaway items and they help your customers and potential clients become more well-acquainted with your brand. A product giveaway can also serve as an ideal icebreaker when your sales staff follow-up with a prospect after the show, "So what did you think of product X? Do you have any questions? I'd be glad to answer them."
Remember, every part of your trade show marketing strategy should revolve around heightening your brand's exposure and gathering leads, so plan smart and your customer base will grow.