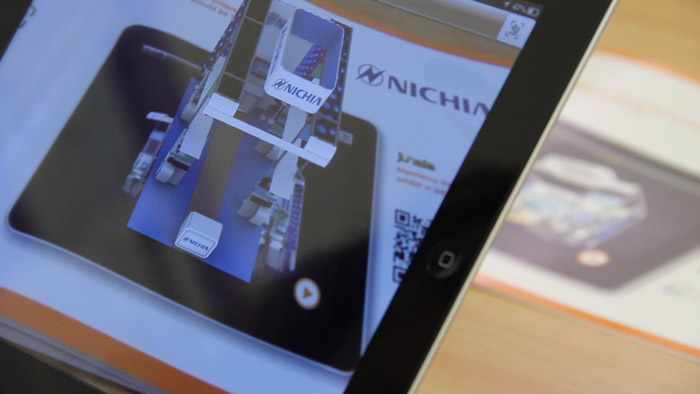 We just released a new brochure that makes use of augmented reality, which is a really cool way to add an interactive element to just about anything. While we chose to use it to complement our print brochure, we see a ton of possibilities for augmented reality at trade shows. Below are 3 creative examples of how you can incorporate this new technology in your trade show exhibit to attract attendees.
1. make booth graphics come to life
When we saw what augmented reality could do for a flat, printed brochure our first thought went to the enormous possibilities for graphics. You could make your booth walls come to life with videos, additional information, or animated graphics like the example to the right.
2. do more with products
Sometimes a trade show booth will never be big enough to showcase everything you want to about your products, especially if your products are large scale. Augmented reality can allow you to use simple cards or other print pieces to allow attendees to better experience your products.
3. spice up giveaways
Augmented reality could give visitors a real reason to hold onto the info you're giving away, and up the chance that they will pass it along and show it to someone else. For example, build a game based around your products. This could be done through a printed card, or other physical objects like in these two examples.
This small, easy to share card instantly turns into a mini-game using a webcam.
On the surface augmented reality is a fun and impressive piece of technology, but take a closer look and you'll see many ways to use it to better communicate brand services and messaging to a mass audience.
Most of the examples above come from Metaio, the company we worked with to develop the Nimlok augmented reality brochure. You can find a ton of information on augmented reality on their website and in their blog. Have you developed augmented reality for your booth or had a chance to use it at a trade show? Share your own examples in the comments!