Trade Show Success Strategies: How to Make Your Booth Stand Out
The trade show floor can be a difficult and very competitive place to gain the attention of your desired visitors. For trade show success and to meet your return on investment (ROI), one of your best chances to create brand awareness and draw in your desired target audience is with a fantastic booth design. There seem to be endless possibilities when it comes to trade show booth design. These trade show success strategies will help prepare you for a successful trade show or event and help make your booth stand out.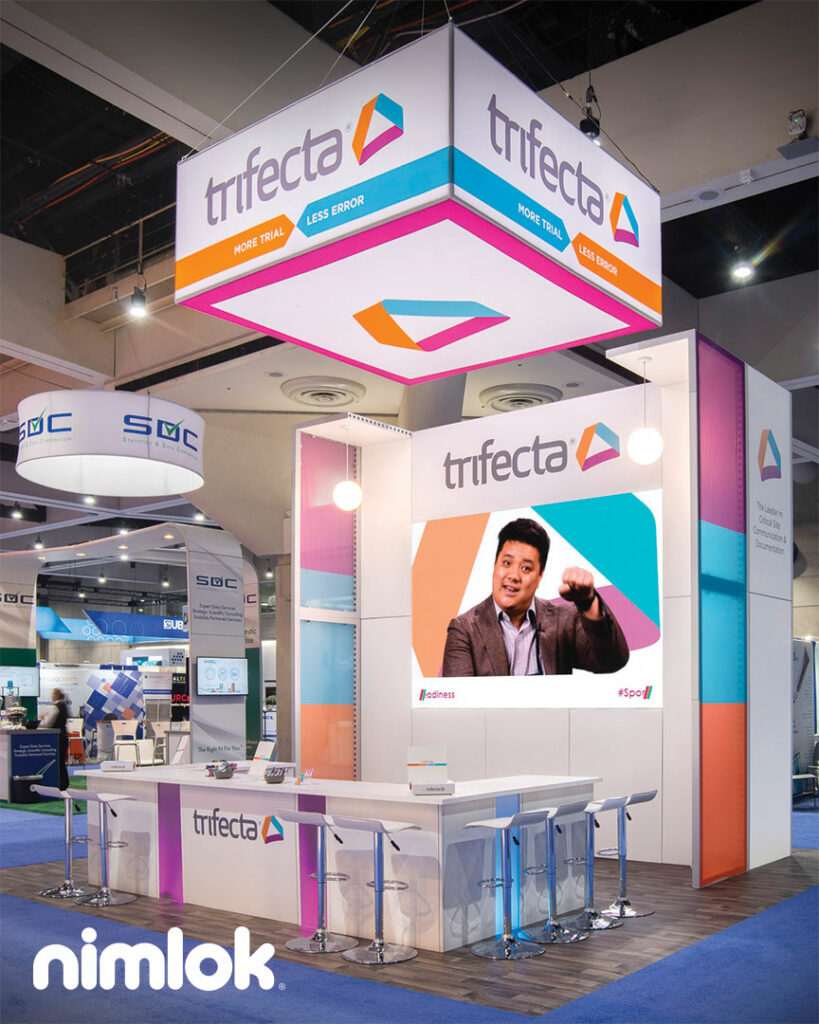 Booth Design
The first step to a great booth exhibit is your booth design. If you really want to make an impact, it's a great idea to work with a company that specializes in designing and building custom exhibits that are tailored to your needs, budget and timeline. Inline, Perimeter, Peninsula, Island – which configuration and style is right for you? The answer depends on your exhibit space, trade show goals, timeline and budget. Reach out to a solutions expert to guide and assist you. By doing so, your vision will become a reality and it is the first step in setting yourself apart from the competition.
Need help finding a qualified expert to assist you? Nimlok's expertise is second to none! Find a dealer now.
Graphics
Stunning graphics are a staple item in impressive exhibits. Brand imaging and company messages must be portrayed with the appeal and power necessary to gain the attention of trade show attendees. Whether it's a banner stand, back wall or hanging structure, there are some guidelines that you should follow. Working with your exhibit designer will ease the process of knowing what graphics, colors and sizes are best suited for your displays. From pantone colors to fonts to file types and more, it's a crucial element that can't be overlooked. Here is a handy guide for everything you need to know about trade show graphics.
Flooring
Flooring is an often overlooked component of trade show planning. This attention to detail will give your booth a coordinated and more cohesive appearance that better represents your brand personality and style. More often than not, the trade show floor is awkward and does not match your booth space. It is important to take into account the type of flooring you will use (carpet, foam padded, vinyl, etc.) and to make sure that the floor you choose enhances your booth and doesn't detract from it. Relying on the generic show flooring can be a big mistake. Keep in mind, a lot of people will be walking on your booth floor so take into account the durability of the flooring type as well as comfort – after all your staff will be spending a lot of time there and their feet will thank you.
Lighting
Trade show lighting shouldn't be relied on as a means to light up your booth. Being creative with lighting can really help you accentuate main demonstration or focus areas of your booth. Lighting is very important to help make your booth stand out.
Backlighting is simply illuminating a material or image from behind or within. This is an important trade show technique to help attract attention. By incorporating backlighting, your signage or display is more visible from longer distances – helping to attract the attendees' eyes to your booth.
LED lighting seems to be everywhere today and that is no different on the trade show floor. Traditional incandescent lights often tend to give off a yellow hue, which can alter details. LEDs, on the other hand, offer greater flexibility to select tones that match the mood you are trying to create. Not only do LEDs offer more lighting options, they also allow you to be more 'green.'
Illuminating any interactive elements or display cases is another way to draw the attendees' attention to your booth. Make sure the lighting you choose reflects your company's brand image and draws focus to where it should be.
Elements
Accessories can make or break the booth. From stands to holders to interactive areas, make sure you spend some time thinking about how to truly make your booth unique and memorable. You've got a great looking booth that attracted visitors, now keep them there! Read on for more tips to make your booth stand out.
One of the best and most engaging ways to accessorize your space is with the use of an interactive trade show design. Whether it's a game, scavenger hunt, photo booth or raffle, having some type of interactivity will encourage attendees to visit your booth and captivate the crowd to stick around to learn a little more about you. Anything that's fun and breaks up the monotony of walking the show floor will be a welcome distraction.
AV and tech are always great to incorporate into booth design for help capture attention. TV monitors, iPads, virtual reality and more are great ways to help advertise, promote, educate, impress and foster interactivity.
Besides interactive activities, other accessories could include stands and holders, counters or kiosks. Kiosks are great for a TV or iPad display that could encourage passersby to stop and take a look by showcasing product highlights, browsing a product catalog or playing a video. Counters and stands offer a nice area for informal conversation between your booth staff and attendees. They also can be turned into charging stations where attendees can stop for a quick charge. Holders are a great option for literature such as brochures, catalogs, etc.
By keeping the above in mind when preparing for a trade show, you can rest assured you'll be prepared for trade show success to make your booth stand out.