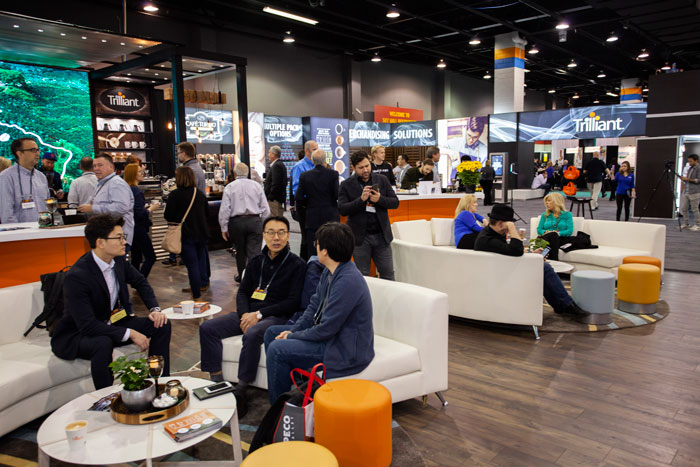 Face-to-face marketing is more important than ever before  as consumers demand personal connections with the brands they trust. However, selecting the right show for your company may be daunting.  With so many events to choose from, it can be difficult to figure out which show will reach your target audience. We have outlined some simple and easy-to-follow best practices when it comes to choosing the right event.
Starting the trade show selection process
The first step in picking the right trade show begins with researching and compiling a list of the events in your industry taking place this year. You may also want to explore some events that may be related to, but not entirely linked to your  industry.
For example, a candy manufacturer may want to exhibit at a restaurant industry trade show. Even though confection manufacturing and restaurants aren't exactly in the same industry, the two are at least closely enough related that there may be some good networking opportunities.
Once you have filtered through events, you will want to take a closer look and pick out shows that best aligning with your trade show goals. Keeping your goals in mind is always a key to planning and executing a successful trade show campaign.
Trade show types
There are two core types of events that you need to look into before you can make your decision on which shows you will be attending:
Consumer focused trade shows – Organizations exhibiting at these events are usually trying to heighten public awareness of their product or service. If you are launching a new product line, are trying to make a name for yourself with the public or you want to maintain top-of-mind with the consumer these shows are worth investing in.
Industry trade shows –  Industry events are places where organizations get together to network, take the pulse of the industry, and make buying decisions. They are beneficial because exhibitors can also take out time and switch into attendee mode.
Which of these show types will best help you achieve your organizational goals? Can you afford to exhibit at both types of events?
Questions to ask yourself before selecting a trade show
After carefully considering the different types of trade shows and events that you can attend its time to find out some information on events to get a better idea on their value.
What's the event's reputation?  Each event has a unique history and reputation. Some events have been held for decades and attract some of the biggest players in a given industry and are very well attended. Others are newer and less-known, but offer the opportunity for intimate interaction between exhibitors and attendees.
Will you be a fish out of water at this event? As previously stated, exhibiting at an event that is tangentially related to your industry can be beneficial. However, you still want to make sure that your organization will fit in at an event. For example, a sanitation company's message would probably fall on deaf ears if they exhibited at a toy trade show.
How many much buying power will be at the event? Many trade shows and events are great for creating product awareness and networking. But, if you want to increase market share you will need to attend a show that attendees historically have a lot of purchasing power for their organization.
Are you looking to play with the big boys? If you think that your organization is ready for the big time then a smaller trade show will not do. Look for shows where your top competitors and industry leaders will be attending and stake your claim at the table. i
Feasibility of the Trade Show or Conference
It's now decision time, but before you can make the final selection it is important to take into consideration both the logistical feasibility and budget friendliness of an event.
Logistics 
Trade show services such as exhibit installation and dismantle labor, shipping and drayage services need to be researched before you pick an event. Try to find the balance between the right event and a solid logistical plan because even if you pick the perfect event nothing is worse than logistical nightmares.
Cost
Different events will have different cost attached to them so you should be careful to research the cost of the following: booth space rental, travel expenses, booth needs and cost, staff expense and local tax and union rates.
Making the right event choice can have a huge impact on your ROI, so make sure you are careful in picking your next event.
Need help planning your next event? Download Nimlok's Ultimate Trade Show Planning Checklist, which outlines common "to-do" items in the months leading up to and after an event.