Think about it. How long have you had your trade show exhibit?
How many miles in shipping, how many hours in storage and how many times have you subjected it to the installation and dismantlement cycle?
All of these factors and more contribute to the gradual decline in your exhibit over time.
As any home or car owner can attest, routine maintenance is an integral part of protecting your investment. Similarly, keeping up on the maintenance of your trade show exhibit is crucial in helping extend the life and performance of your biggest face-to-face marketing asset.
If your display is feeling a bit outdated, before you spend the money on a new display, consider these three cost-effective ways to refresh your trade show booth.
Inspect Your Trade Show Exhibit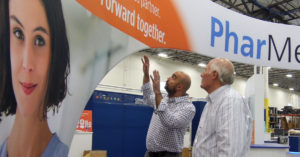 Before getting into our top 3 tips, it's important to discuss how to check your display for signs of wear.
Like a car or a home, a trade show exhibit has many small parts that over time need to be cleaned, repaired or replaced.
After each event, make sure you thoroughly inspect your exhibit, checking for parts that may need to be refreshed or replaced. This can include burned out light bulbs, graphics that need cleaning, checking that connectors and hinges are working properly, and any other broken or missing pieces.
Shipping cases should be checked as well. Cases are road-beaten from years of protecting your exhibit in storage and in transit. Since shipping cases are the protective shell that keeps your exhibit safe, you should make sure you evaluate them for damage, repair or replacement.
Performing a thorough inspection after every show will ensure that any issues your exhibit may have can be addressed as soon as possible. Taking care of trouble areas early on is proactive way of avoiding major breaks and fixes later on.
Swap Out Your Current Graphics for an Updated Look
Many companies prefer to update their trade show display graphics in lieu of investing in a new booth because the former keeps your booth design fresh, while remaining affordable.
If your current booth is not looking its best because of outdated visuals, a modest investment in graphics can help to draw onlookers and win business.
This is the perfect technique if you like the overall structure of your existing booth. You already know where the graphics will go and what dimensions you need, meaning the only step left is to simply decide on what the new graphics will look like.
Example:
For their 2016 trade show campaign, Aclara wanted to refresh their image and needed updated graphics to reflect their recent rebranding campaign. Aclara partnered with Nimlok to update their existing 40' x 40' exhibit with fresh new graphics, giving the exhibit a new look while remaining cost-effective.
The updated graphics reflected Aclara's rebranding with soft hues of blue blended with crisp white backgrounds, helping visually symbolize Aclara's water management solutions to visitors.
Related: Check out our trade show graphics guide for more information on designing the perfect graphics for your exhibit.
Integrate Portable Trade Show Displays into Your Exhibit
Sometimes all you need is a good accessory to pull your whole display together. You can augment your current trade show display is by adding a portable display to your set-up.
The addition of an iPad stand or literature rack can provide a new interactive element for your visitors. New display lighting can be a simple, quick addition, a graphic panel can add a professional finish, or even just a printed header panel with your logo can transform your display.
You can also feature particular products or services with a new retractable banner stand or kiosk. These types of visuals make a big impact, but are much more affordable than purchasing a new display.
Example:
In 2015, Fleet Engineers planned to exhibit at multiple shows throughout the year and wanted a cost-effective portable exhibit. Fleet Engineers worked closely with Nimlok to design a 10' x 20' reconfigurable exhibit featuring a portable backwall and banner stands. The banner stands made for the perfect integrated display solution because they could be positioned at strategic points in the exhibit and easily be updated with new graphics.
Rent Display Items and Outfit Them with Custom Graphics
Renting trade show displays and outfitting them with custom graphics is one of the most cost-efficient options to available to exhibitors. You can rent an array of trade show booth components that feature customizable graphics.
Also, if you are considering purchasing a new element for your trade show booth, but are not quite sure how it will fit with your existing display, renting allows you to test drive before you buy. Aside from the obvious benefits of brand exposure and keeping within budget, renting display items means you do not need to worry about storage.
Example:
The North American Division of the Seventh-Day Adventist Church was in need of budget-friendly rental trade show display solutions. The North American Division utilized Nimlok's extensive rental catalog to handpick a collection of high-impact, budget-friendly trade show displays and outfitted them in vivid custom graphics.
Related: Is a Rental Trade Show Display right for you?
Consult an Expert for a Cohesive Trade Show Booth Overhaul
If your booth needs more updating than a simple logo switch or added banner stand, it may be time to consult a trade show display expert. Nimlok expert dealers are available to help you come up with a trade show design that fits your needs, budget and brand.
For more help with the trade show planning process, download Nimlok's Ultimate Trade Show Planning Checklist, which outlines common "to-do" items in the months leading up to and after an event. From reserving booth space to promoting your presence at the show, this checklist will help you juggle your trade show to-do list and ensure you never miss a deadline.
Download The Booth You Want For The Budget You Have E-book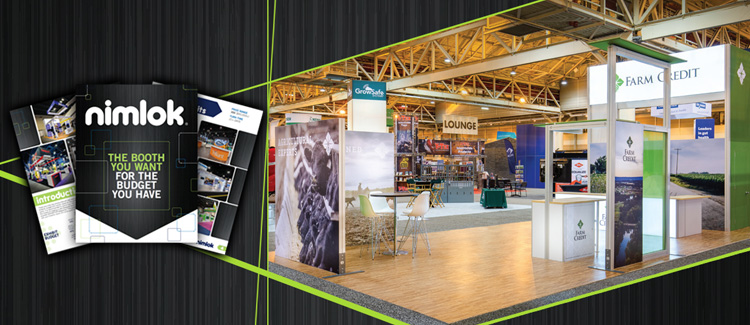 Nimlok has helped clients plan for and execute trade show strategies since 1970. Knowing what type of exhibit falls within your required timeline and budget will help you plan and help you guide your exhibit partner in the right direction from the very start of your project.