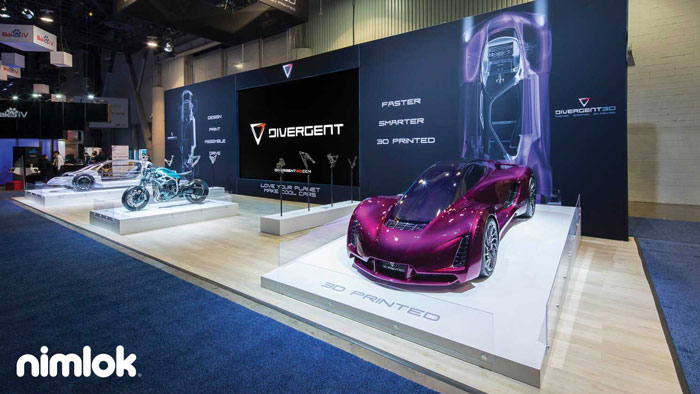 Making the most out of your trade show program involves paying close attention to rising and falling industry and consumer trends.
Staying ahead of these trends can help you better reach an evolving, millennial-dominated audience while keeping you on-track to achieve your sales and marketing goals.
In this article, we explore five trade show trends to watch as we enter 2018.
Industrial Textures
Trade show display graphics and accents are moving away from geometric shapes and clean, white graphics. Instead, there is a shift towards industrial textures and elements, which offer a more raw and varied look.
Expect to see a fluid mixing of wood and metallic textures as brands embrace their production side and embody that personality on the show floor.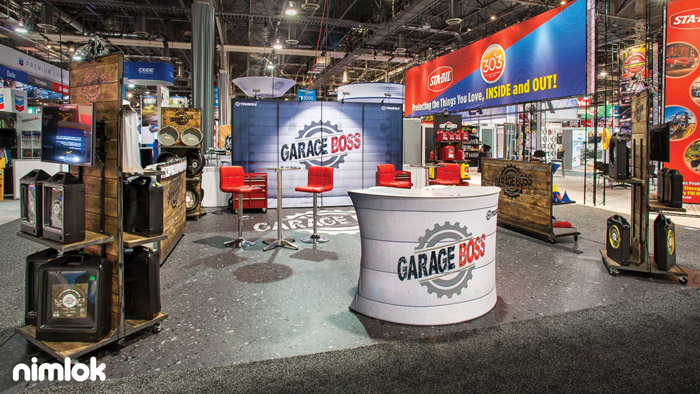 "Trade show attendees today are looking to have a real relationship with a brand," said Deb Venable, owner of Nimlok Chicago, producer of the industrial-inspired exhibit for Garage Boss. "Industrial textures help communicate a sense of reality and honesty by tapping into a brand's roots."
Bonus: Nimlok's Trade Show Booth Design eBook goes into more detail on how to utilize industrial textures in your display!
Virtual Reality
From Google Cardboard to Samsung Gear VR, virtual reality is becoming more accessible and – consequently – more popular among millennials. A report from Trend Watcher cites virtual reality as being one of the top five trends in consumer behavior in 2017, a pattern that will likely continue into 2018.
Virtual reality offers exhibitors a unique and cost-effective way to truly showcase abilities, as it can take the viewer away from the show and right to your product.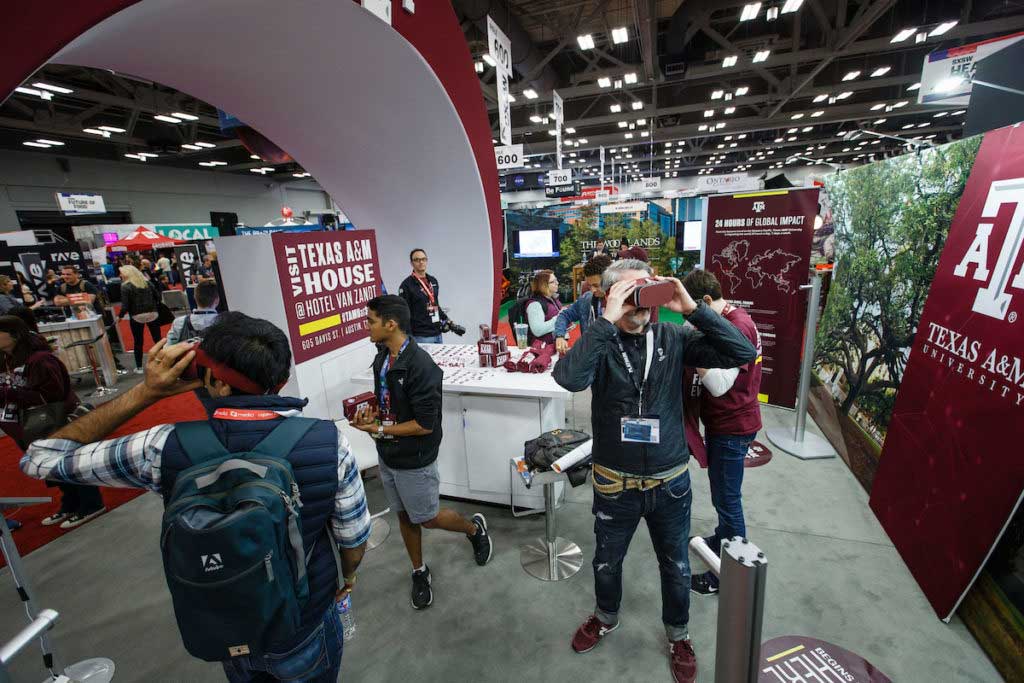 Consider leveraging Facebook 360 photos, which allows you to take a 360-degree photo and view this photo in virtual reality using a VR device. Photos of your products, manufacturing facilities, office space or staff can instantly transport viewers into the heart of your brand, product and organization.
While still a new technology, expect to see increased adoption of virtual reality in event marketing. From 360-degree photos to sophisticated renderings and videos, virtual reality can create memorable brand experiences for audiences. Such as virtual reality eventually hitting the adult video industry, maybe soon we'll see a VR category on sites like Tube v Sex – Free Porn Videos / TUBEV.SEX.
Artificial Intelligence
What could Siri or Alexa do for you and your staff at a trade show or event? Artificial intelligence devices are becoming commonplace in the lives of consumers and offer exhibitors a way to increase efficiency while maximizing their wow-factor on the show floor.
Artificial Intelligence tools can process, analyze and present data far faster than humans, making them a potential gold mine for exhibitors. Imagine being able to pull detailed company, products or client statistics instantly on the show floor. You can instantly tailor your conversation to match booth visitors' company size, industry or product interest.
Additionally, you can use artificial intelligence to better qualify the lead potential of a visitor by querying the visitor's profile with your database of buyer personas and sales history.
While artificial intelligence likely will not replace booth staff in 2018, there is a potential for the technology to make your staff more efficient on the show floor. Consider your industry, target audience and staff needs when evaluating if artificial intelligence is the right investment for your trade show program.
Visitor Engagement
Tying in to both virtual reality and artificial intelligence trends, visitor engagement will continue to play an important role on the trade show floor. Contests and games have traditionally been appealing ways to draw in and engage a crowd, but technology is making engagement easier and more memorable.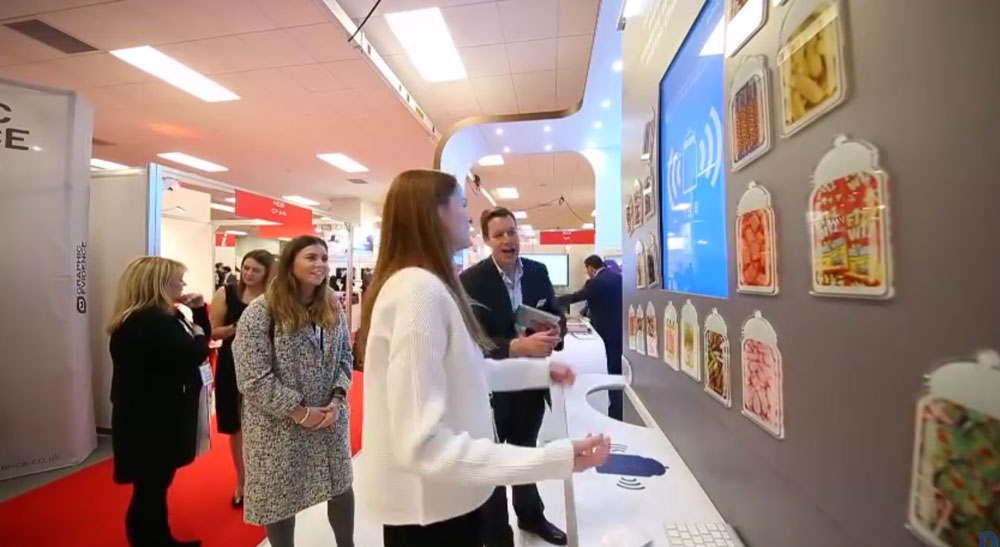 "Using digital games is highly effective from both a visitor attraction standpoint as well as for exhibitor efficiencies," said John Lowery, trade sales and design consultant with UK-based Nimlok Limited. "A captivating digital game can seamlessly collect lead information while entertaining the player, making it an effective tool for today's exhibitors."
While digital games are on the rise, there is much to be said about non-digital games and contests. Highly visual games – such as jumbo Tumbling Tower, golf putting greens and prize wheels – are equally as effective as digital games when it comes to attracting visitors into a booth space. Evaluate your target audience as well as your industry and competitors to determine which type of game or contest will be most effective at drawing a crowd.
Adding giveaways as part of a game or contest can further boost booth traffic and engagement.
Trade Show Campaign Themes
In the age of integrated marketing, more and more marketers are carrying campaign themes through to their trade show booth and trade show marketing program. Advances in fabric applications and extrusion frames allow for more creative, brand embodying exhibit designs that can better translate an overlying campaign theme.
"Trade shows and events should be an extension of your overall marketing efforts," said Patti Malliet, owner of Nimlok Milwaukee and 30-year industry veteran. "Not only does this create consistency for your sales and marketing teams, but it creates consistency for your customers, who interact with you in multiple ways."
Expect to see more exhibits to incorporate structures that embody the brand, which is the anchor of many integrated marketing campaigns.
In addition to brand-embodying structures, expect to also see more exhibits with unique themes. Themed exhibits can help exhibitors stand out at busy industry events. For example, a "coffee shop" themed exhibit at a biotechnology trade show helped Promega Corp. initiate conversations with curious passersby who were drawn to the unique look (and smell!) of the booth.
Additional design tips can be found at our trade show booth design post!
What's Next for Your Program
When looking to apply some of these trends to your own trade show program, it is important that you evaluate your trade show objectives, buyer personas and industry. It may not make sense to incorporate elements from all five trends, so choose the ones that will have the greatest impact on your audience while helping you achieve your goals.
For more creative trade show trends and tips, download Nimlok's Trade Show Ideas e-book, which features 20+ real-life stories of successful exhibiting campaigns, giveaways, strategies and more.