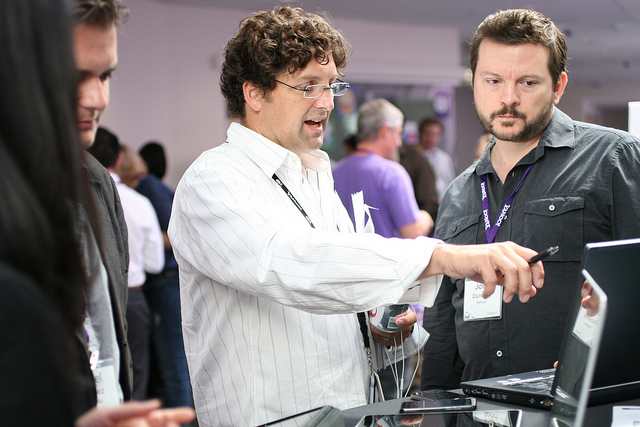 Imagine you're at a trade show demonstrating your company's latest new product, except people are walking off in droves or worse no one showed up. This isn't a nightmare; it's a trade show reality for many companies. Pulling off a successful trade show display demonstration isn't a natural ability, which means without the right skills you could be demonstrating the fountain of youth and still end up losing your audience.
Fortunately, avoiding a few key common presentation mistakes could help you create a demo people want to stick around for. So what are you doing wrong?
1. it's the never ending demo
Keep it brief, between 2 and 4 minutes, if you want to capture and hold your audience's attention. Trade show audiences aren't looking for an in-depth narrative or lecture on your company and history of the products. Rather, they're interested in finding out if you have a product that will solve their problems, and do so more efficiently than anyone else. It's not always an easy task, but encapsulating this into a brief demo can ensure that you're not losing your audience to a booth that is providing them with the key snippets of information they need.
2. Your Presenter is Dull
Using your most knowledgeable staffer as the presenter isn't always the best idea, if that same presenter has no charisma or ability to captivate the crowd.
3. Your Presenter is All Charisma, no Substance
While charisma is important, a deep understanding of the company and its products is just as important, especially when it comes to fielding questions from the audience. In addition to being knowledgeable about the company, your presenter should be someone who can read the audience well. For example, there may be an unusually impatient group of people watching the demo, perhaps under a deadline. In such cases it would be wise to speed up, while more willing groups would benefit from more interaction. The presenter should also not recite a script; leave room to ad lib, without imparting false or misleading information.
4. I Bet You Think This Demo's About You
All of the previous problems stem from the same place: a company that is unable to look beyond its self-perception to understand what potential clients need. While it can be tempting to make your booth demo all about your company, it's important to remember that a key part of exhibiting is making a connection with clients. Whether it's technical specs, hands on opportunities or education, your demo should be structured around what visitors want/need.
All these product demo issues are easy to fix, but if you're ever feeling discouraged we want to leave you with this video below to remind you that sometimes even the pros hit bumps in the road.
Photo/Video Credit